For many still filing into the fields of the University of Canberra (29 April), Groovin The Moo Canberra 2018 begins with Baker Boy.
It's as invigorating a start as one could ask for; the rapper/ dancer is all smiles and brimming with energy, quickly getting the crowd on-side and making the most of his half-hour slot through big-swinging hip hop and slick, sharp choreography.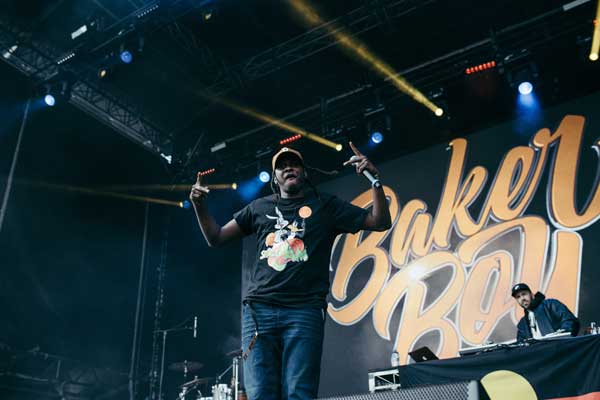 Baker Boy - image © Pat O'Hara
Over at the Moolin Rouge stage, Brisbane wunderkind Mallrat turns on the charm to satiate the early arrivals to the festival. She has two sure-fire hits on her hand that are saved until the end — 'Better' and 'Uninvited' — but it's not a 0-to-100 shift.
Much like Baker Boy, she also has a bilingual banger in the form of 'Bunny Island' (rapping in Japanese).
Skegss - image © Pat O'Hara
At this stage, if you haven't seen Skegss live you know at least five people who have. The slacker-rock trio have been putting in hard yards across headliners and festivals, and the amount of merch bearing their name among the crowd is a quick indicator of just the kind of pull they've accumulated.
Click here for more photos of 2018 GTM Canberra.
Highlights include the endearing 'You Probably Won't Die For A While' and 'New York California', the latter of which features Dune Rats' Brett Jansch on guitar.
It's followed in quick succession on the opposing stage by Alex Lahey, who's also had a massive 12 months and is carrying that ongoing momentum into bigger, better live shows. With an airtight backing band, there has never been a better time to see Lahey in the flesh — it's raw and loud, yet simultaneously accessible and inviting
.
Alex Lahey - image © Pat O'Hara
Bonus points for inviting one of the festival's most distinguished guests, Paul Kelly, on stage — not for a cover, but to turn 'Lotto In Reverse' into a duet. This cross-generational meeting ends up serving as one of the day's true highlights.
It's safe to say that Public Service Broadcasting aren't exactly the usual clientele for a festival like GTM. Their experimental, primarily instrumental take on math-rock-flavoured soundscapes is certainly at odds with the poppier, more accessible artists they share this bill with.
It's this antithetical and fish-out-of-water aspect, however, that makes them all the more intriguing — and, as it turns out, one of the best on-field for the festival. Their mix of sampling, archival video footage, gridlocked grooves and big crescendos is fascinating in theory and completely mesmerising in execution.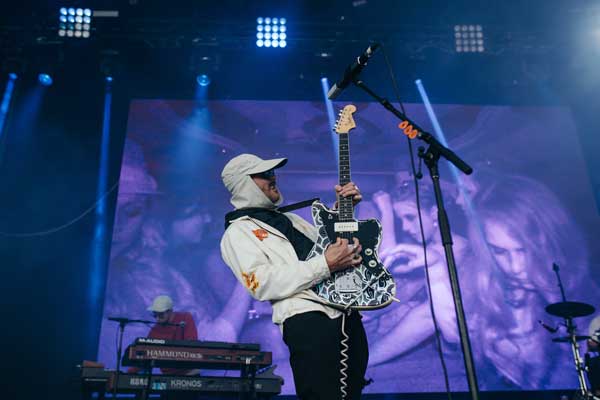 Portugal. The Man - image © Pat O'Hara
A few years ago, Portugal. The Man wouldn't have really fit in either. That all changed, however, with the release of 'Woodstock' and the runaway success of single 'Feel It Still'.
They're still quick to poke fun at the whole thing, though. Their intro has Beavis & Butthead watching the 'Feel It Still' clip, followed by the band jamming out on Metallica's 'For Whom the Bell Tolls'.
Their psych-heavy rock set may not what be what most attendees bargained for, but the crowd rolls with it easily enough. Plus – inevitably, unquestionably – 'Feel It Still' completely goes off.
It's around this point of the day that the heavens completely open up. The sprinkle that gently fell during Portugal. The Man's set has turned into a steady downpour. Many make a break for shelter, but just as many make the point of sticking around.
Tkay Maidza - image © Pat O'Hara
After all, there's business to attend to. Tkay Maidza is here to party and no amount of precipitation is going to stop her shine. What follows is the best set of the day; if not for the defiant context of dancing through rain, then for Maidza's relentless energy and breathless, rapid-fire flow. Maidza is the living embodiment of sunshine on a cloudy day.
"Are there any queens out there?" Sampa the Great is empowered, fearless and bold, and she wants to bring that out of everyone that sees her perform.
It's incredibly easy to get caught up in the grand-scale majesty of Sampa's live show, especially on days like today when her full band are in tow, giving her hip hop leanings a deeper soul, R&B flourish. This is particularly exemplified by both a rousing 'F.E.M.A.L.E.' and by a surprise rendition of Lauryn Hill's 'Doo Wop (That Thing)'.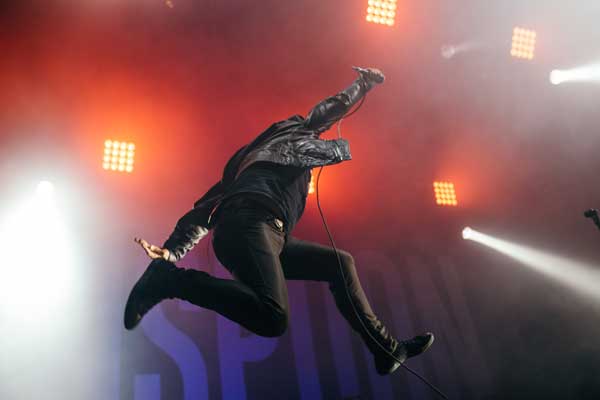 Grinspoon - image © Pat O'Hara
As one of the two veteran acts of the festival, Grinspoon know exactly what to do with a tight 45 minutes. Whether you've been following them since the '90s or your parents got you into them, basically every song the Lismore natives play is etched deep into the collective conscience.
'Chemical Heart' makes for a massive sing-along, while the mosh heats up during the chugging 'Lost Control' and mid-'90s throwback 'Champion'. Throw in some confetti cannons at the peak of closer 'More Than You Are' and you're home and hosed.
By contrast, Confidence Man are very new to the festival circuit. In the short time they've been doing the rounds, however, they've become higher and higher in demand. It's very easy to see why.
Confidence Man - image © Pat O'Hara
The Moolin Rouge tent is heaving at well-above capacity when the semi-anonymous quartet launch into 'Bubblegum' and set off an en-masse dance party. When they say jump, we say how high. And when we're requested to get down on the ground during 'Boyfriend (Repeat)', we immediately, unflinchingly oblige.
Few acts have the kind of control and presence that Confidence Man have — and that's only going to grow bigger and bigger from here.
There's no real power move quite like Paul Kelly. Such a move also makes one realise that basically all of Kelly's catalogue could be considered his signature songs: the rousing 'Dumb Things', the heartfelt 'Deeper Water', the lovelorn 'To Her Door'.
They're all present and accounted for, and their sentimental value to this audience is completely indescribable. Onya, PK.
Royal Blood have the unenviable task of following on from this on the opposing stage, but lest we forget they're one of the closing acts of the festival for a reason.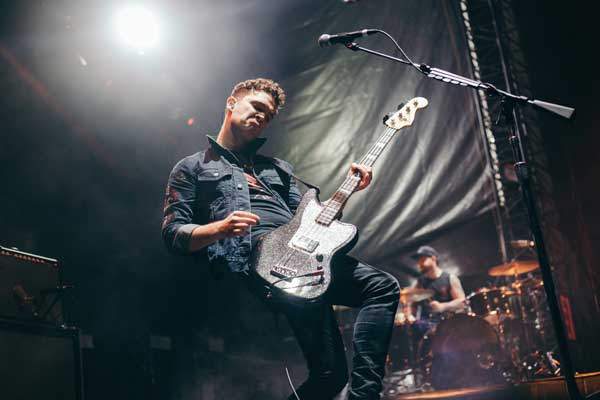 Royal Blood - image © Pat O'Hara
Born out of leather-jacket cool and big-riff retro in the middle of the 2010s, the English duo exude rockstar confidence — and have the songs to back it up. Points off for giving in to the crowd's peer pressure of doing a shoey (it's 2018, people), but blistering renditions of 'Little Monster' and 'Out Of The Black' more than make up for this misstep.
All that's left after the final, distorted note rings out is to let what's left of our voices go straight to Ball Park Music. From the second Sam Cromack emerges to lead us through 'It's Nice To Be Alive', it's clear there was no other way this festival could have ended.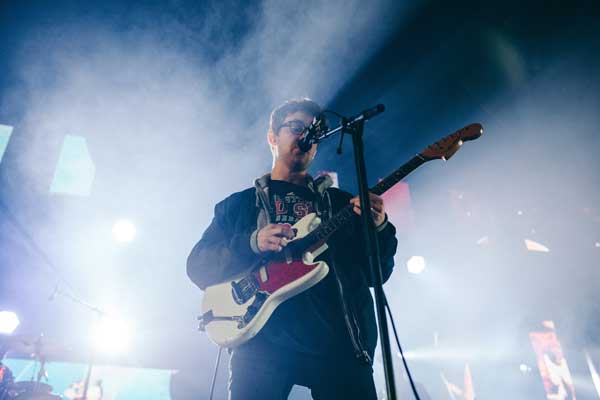 Ball Park Music - image © Pat O'Hara
The Brisbane band have ruled the 2010s with a slew of indie anthems and big, bright, live shows. Their latest album, 'GOOD MOOD', has only kept this momentum up, and a career-spanning set-list allows for the last dance of the night to be the most joyful.