A.B. Original have continued their incredible 2017 last night at the third annual South Australian Music Awards (SAM Awards) winning a total of six awards including Best Release and Best Song.
While 'Carry On' rapper, Sudanese-born Tkay Maidza won Best Female Artist. Tkay also made a surprise, confetti-filled entrance to the night performing 'Carry On' to a packed Thebby Lane at Thebarton Theatre.
Rising South Sudanese-born rapper, recording artist and producer DyspOra won Best Male Artist after the release of his 2017 release, 'The REBELUTION'.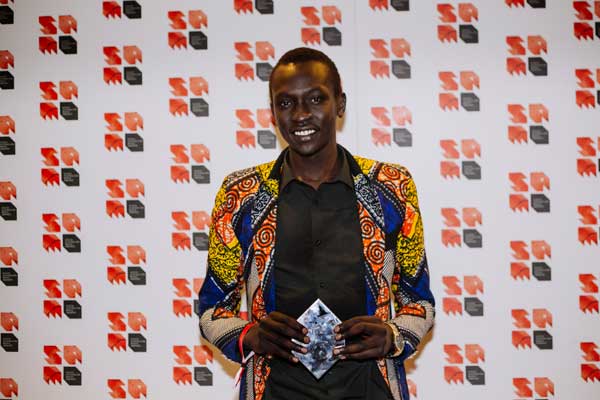 DyspOra - image © Laren Connelly
It was energetic-pop trio and Triple J favourites Heaps Good Friends who won Best New Artist after a soaring year featuring highlight performances at Groovin The Moo and BIGSOUND.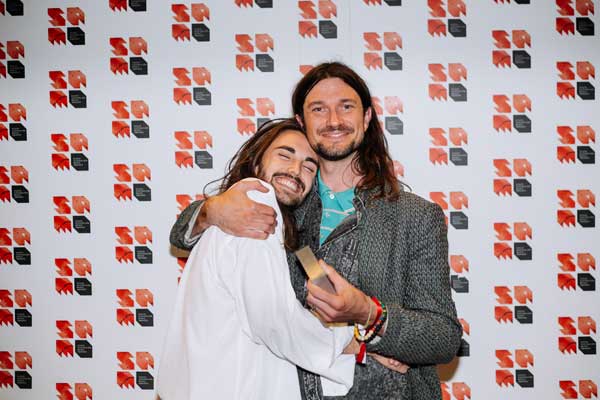 Heaps Good Friends - image © Lauren Connelly
A.B. Original also won the awards for all round Best Group and Best Aboriginal or Torres Strait Island Artist. Richard Coburn from Kojo brought another win to A.B. Original with his direction of the Best Music Video for 'January 26th'. In the People's Choice Award category, A.B. Original won the Hip Hop Award.
The rest of the night's entertainment featured special performances as some of Adelaide's finest took on the challenge of reinterpreting hits from the SAM Award finalists. Timberwolf performed a reinterpretation of A.B. Original's 'January 26th' with full band as well as his latest single 'Ikaros'.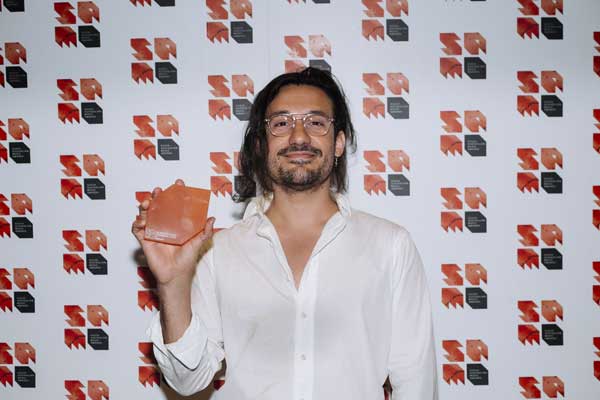 Timberwolf won the Experimental Award - image © Lauren Connelly
Lonelyspeck and Allume took on a stripped-back version of Bad//Dreems' 'Mob Rule'. Glass Skies and Hana & Jessie-Lee performed a soulful version of West Thebarton's hit single 'Moving Out'.
DyspOra, Elsy and Prospeks covered Tkay Maidza's 'Simulation' and to close the night Grenadiers performed their latest single 'Long Way Down' with a little help from Bec Stevens in addition to a heavy hitting twist of Timberwolf's 'Washed Out'.
Music SA's General Manager Lisa Bishop said she was delighted to recognise these overachieving artists and industry members for their work. "It's fantastic to see A.B. Original polish off their epic year taking home six more awards honoured in Trials' home state," she says.
"Upcoming artists such as DyspOra and Heaps Good Friends are leading examples of the new talents coming out of South Australia, it's great to recognise them and all of these artists and industry members for their contributions to the South Australian music industry."
On the industry side of the awards, the Grace Emily won Best Music Venue for the second year in a row. For the first time, the travelling bohemian backyard festival Porch Sessions won Best Festival/Event after another ever-growing year.
Craig Lock from 5/4 Entertainment won Best Manager for the third consecutive year. Tom Barnes from Mixmasters Studios took out Best Engineer for the second year in a row.
The Ryan Freeman Live Music Award, which provides $4,000 to assist a person or group to continue their contribution to live music in South Australia, was awarded to Robert Dunstan, Editor of B Side Magazine.
Music SA's Lifetime Achievement Award was presented to The Gov in recognition of their continued support of South Australian music.
The Adelaide UNESCO City of Live Music Award for Best International Collaboration was presented to the House of Songs project, which saw three Adelaide musicians (Dan Crannitch, Taasha Coates, and Kelly Menhennett) collaborate with musicians from Austin, Texas on unfinished songs by the late Albert Brumley.
The Peer-Voted Awards
Ryan Freeman Live Music Award
Robert Dunstan
Best International Collaboration
House of Songs project
Lifetime Achievement Award
The Governor Hindmarsh Hotel
Best Studio
Chapel Lane Studios
Best Engineer
Tom Barnes
Best Music Festival / Event
Porch Sessions
Best Music Venue
Grace Emily Hotel
Best Manager
Craig Lock
Best Cover Art
Henry Stentiford - The Bitter Darlings 'Stuart Highway'
Best Music Video
Richard Coburn - A.B. Original's 'January 26th'
Best Song
A.B. Original - 'January 26th' feat. Dan Sultan
Best New Artist
Heaps Good Friends
Best Aboriginal or Torres Strait Island Artist
A.B. Original
Best Group
A.B. Original
Best Male Artist
DyspOra
Best Female Artist
Tkay Maidza
Tkay Maidza - image © Lauren Connelly
Best Release
A.B. Original
The People's Choice Awards
Blues/Roots Award
Wanderers
Wanderers - image © Lauren Connelly
Country Award
The Bitter Darlings
Electronic Award
Abbey Howlett
Experimental Award
Timberwolf
Folk Award
The Winter Gypsy
Heavy Award
Ice On Mercury
Hip Hop Award
A.B. Original
Jazz/Art Music Award
Ross McHenry
Pop Award
Rachael Leahcar
Punk Award
Young Offenders
Rock Award
Bad//Dreems
World Music Award
Adam Page