Two days of sun, one of cooler, cloudy skies and then one of much welcomed rain on the Sunshine Coast.
This was the 2017 Caloundra Music Festival (29 Sep to 2 Oct), where crowds enjoyed four days of brilliant music and awesome, community vibes.
This festival, presented by Sunshine Coast Council, unites young and old, introducing international music that doesn't get radio play along with showcasing all that's great about our home-grown talent.
There are gems to be found among the four stages open to the general ticket holders along with the more intimate sets for those wanting to experience the festival and hang out at the Kings Club VIP bars and facilities.
Day One
The crowd numbers seemed to be slightly down on last year's 10th anniversary festival, which may have been a trick on the eye due to the increase in the teen market who seemed to dominate the crowd in the walkways and chill-out spaces instead of actually being part of the music watching/ dancing crowd.
Local band Bearfoot kicked off the 2017 proceedings on the Soul Stage with a superb set that had the punters that got in early up and dancing.
There were long queues at the gate with some waiting an hour and a half in line to get in which meant that the first couple few acts didn't have the crowds they could have and punters missed seeing some bands they'd arrived early to see.
Click here for Day One photos.
As is tradition the All Star Show Band opened one of their two sets on the Sun Stage with alternative folk three-piece act TOWN opening on the Surf Stage.
The old Songwriters Stage was switched out for the new Sand Stage which sat right on the beach, allowing beach goers to get a taste of the festival. Sand, beach chairs and umbrellas made for a very unique, cool, crowd experience.
Increased ability access was literally rolled out this year with wheelchair accessible matting, provided by 121Care, taken right to the waters edge and an entry/ exit point was right on the boardwalk for those wanting to cool off in gorgeous Kings Beach.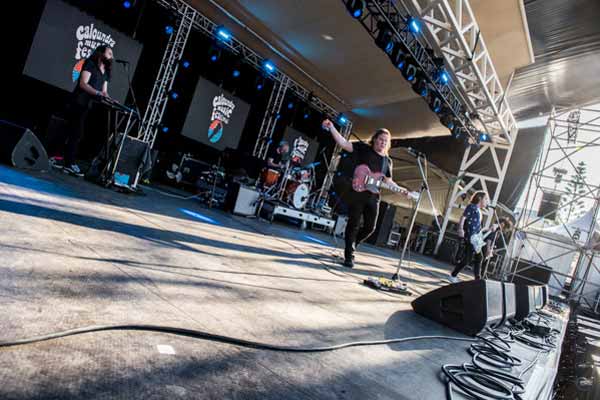 British India - image © Marc Austin-Zande
Melbourne four-piece British India played the 4pm slot on the Soul Stage to an increased crowd and powerhouse Z-Star totally rocked the Sun Stage.
Nthfectious brought soul to the Surf Stage in one of their six performances in one line-up or another (The Nth Power, Nthfectious, Rebel Music) before Pseudo Echo tore the roof of with all their hits from decades past.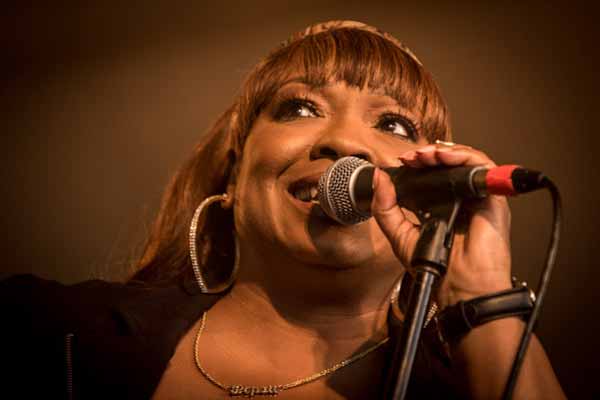 The Nth Power - image © Marc Austin-Zande
Clairy Browne didn't draw the crowds I thought she should have which was a shame as her performance was superb. The Soul Stage rounded-up the night with Kingswood, Spiderbait and CMF regular, Xavier Rudd.
Spiderbait was my highlight, they rocked hard as is their usual kick-arse style! I didn't catch much of Xavier Rudd's set as I've seen him at CMF twice already.
Spiderbait - image © Marc Austin-Zande
Over on the Surf Stage George Clinton & Parliament Funkadelic made me feel like I'd entered another sphere, on some sort of funk trip absolutely killing it. Clinton, who's career has spanned over 60 years showed no signs of slowing down and Parliament Funkadelic put on a show everyone should see.
Erica Falls finished things off on the Sun Stage topping off a freakin' awesome first day.
Day Two
Saturday was a huge day with the likes of Z-Star again rocking out and Old Crow Medicine Show, a Tennessee band, touring with a set drawn from Bob Dylan's 'Blonde on Blonde' album and actually sponsored by the Tennessee Tourism Department.
Deep Purple's (and later Black Sabbath's) Glenn Hughes belted out many Deep Purple classics rounding out the afternoon on the Soul Stage.
The Lachy Doley Group, THUMP and Rhythm Killers also had slots during the day on the various stages.
Click here for Day Two photos.
Smaller spots on the Sand Stage went to the Sunny Coast local acts: Nyssa Ray, Chris Flaskas Trio and Dosed with Bearfoot taking to this smaller stage in their second festival set to a crowd of enthusiastic revellers. The Sunshine Coast has some brilliant local talent, which is why festivals like this are so important.
Another great thing about this festival (there is so much) is that a lot of the acts will play at least two shows over the four days, so with a little planning you can catch so much different music.
Groovement - image © Marc Austin-Zande
Because of that I skipped Hot Potato Band, caught the first half of Baby Animals killer set (OMG, will Suze DeMarchi ever age?) and watched a fantastic set from Groovement, caught rockers Wolfmother, snuck up to see Clairy Browne again and back to Wolfmother to cap the night off brilliantly.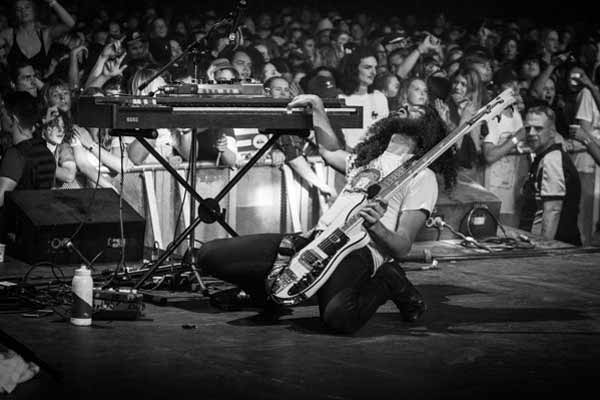 Wolfmother - image © Marc Austin-Zande
Day Three
Cooler temperatures were a welcome change for day three and we started out the day with Dosed playing the opener on the Sun Stage.
Mason Rack Band who are always entertaining to watch nailed a set on the Surf Stage while Hot Potato Band and local singer/ songwriter Bri Green hit the Soul Stage and Sand Stage respectively.
Ukulele Death Squad showed just how bloody cool the good ol' uke can be, entertaining a huge crowd on the Sun Stage and living up their name by killing a ukulele.
Click here for Day Three photos.
The Nth Power appeared again on the Soul Stage in the first evening slot. Killing Heidi, celebrating their 20th anniversary, followed and they were bloody brilliant; you wouldn't have known that they'd been on hiatus for ten years. Ella Hooper is just like Suze DeMarchi in that she doesn't seem to age.
Killing Heidi - image © Marc Austin-Zande
Dual Aria Award winning hip hop act Drapht had everyone jumping and dancing in a packed out Surf Stage.
Thundamentals were next up with an even bigger crowd and one of the most awesome marriage proposals I've seen (CMF MC Mick rhymed his proposal to his girlfriend).
Wedding proposal at Thundamentals - image © Marc Austin-Zande
I skipped Ronan Keating for Thundamentals but by all reports he was a crowd pleaser.
Thundamentals - image © Marc Austin-Zande
Day Four
Monday is traditionally the quietest day of the festival and with the rain I wondered if many would actually show up.
We packed ponchos and warm clothing and braved the day as did plenty of other people. The young ones had dropped off a bit, but the semi-young and the young and heart made up for them.
I spent most of the day down at the Surf Stage having planned to see all the repeat acts like Rebel Music, Erica Falls & The Nth Power.
Due to the weather the Sand Stage was moved up next to Surf Stage, so all you had to do was turn to the left to watch Dear Willow, Mason Hope and Iluka in between Surf Stage sets.
Click here for Day Four photos
.
Loads of people braved the open air of the Soul Stage to catch crowd favourite Daryl Braithwaite, who never fails to put on a great show. The Funaddicts had the undercover Sun Stage pumping with an epic set that I caught the tail end of.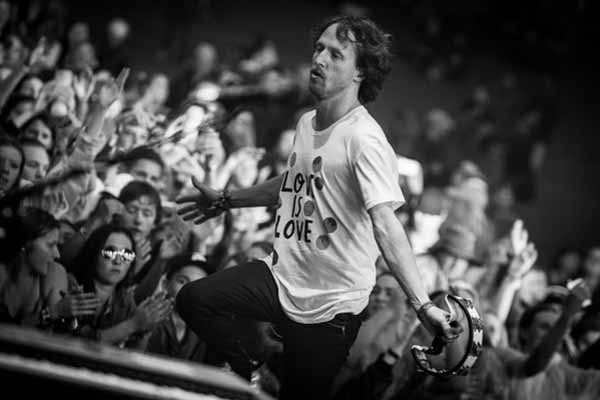 Art vs Science - image © Marc Austin-Zande
Art vs Science had the crowd dancing before Grinspoon rocked out the rainy final spot.
The Black Sorrows put on a great show to a packed Surf Stage. Joe Camilleri is another festival regular is some way or another and has never failed to show off what a great entertainer he is.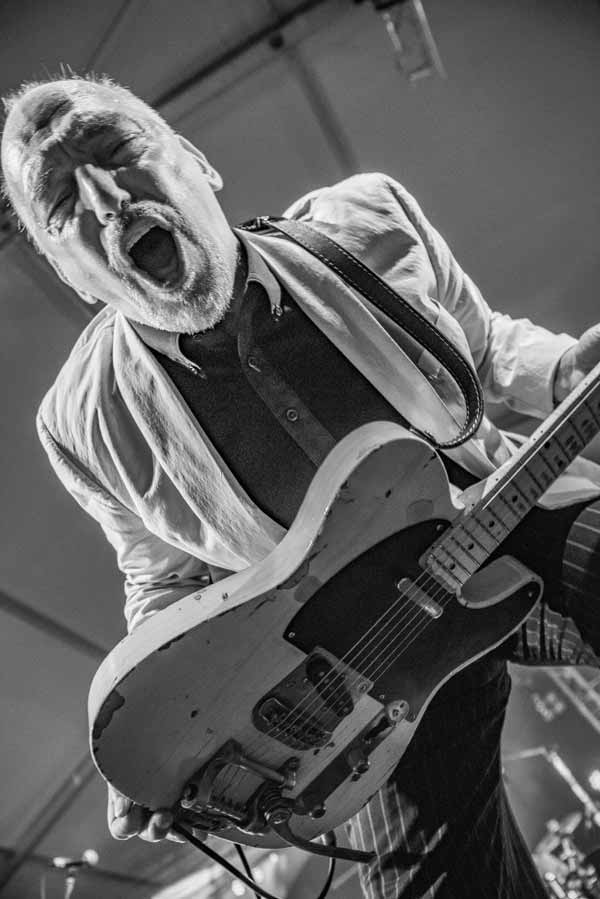 The Black Sorrows - image © Marc Austin-Zande
As someone who has been attending this festival for the past six years I always love how the programme is put together.
Scheduling local acts shows that the Sunshine Coast has a super-diverse pool of amazing talent, while bringing in interstate and overseas acts of so many genres means that if you can't find something you'll like then you probably just don't like music.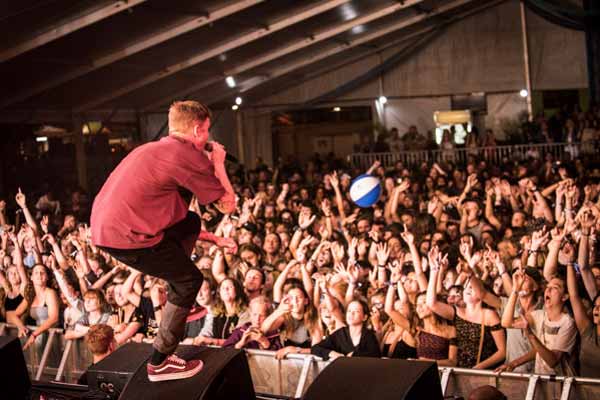 Drapht - image © Marc Austin-Zande
All in all this festival is fabulous event for the Sunshine Coast. It doesn't just target a certain demographic. If you're somewhere between birth and death you will be entertained.
Click here for social photos.
Whether you go as a family, go with friends or rock the festival solo the atmosphere is all about fun and everyone is encouraged to have a great time; and a great time is what everyone did have.
Every year I say this, but huuuuuggggeee thanks to the entire crew who turn the cogs of this festival. The council team, the volunteers, all the various stage, sound and lighting crew, and not to forget all the delicious food vendors and kids entertainment providers.
You should all pat yourselves on the back for another successful Caloundra Music Festival. See you all again in 2018!