On 27 May, 1967, the Australian people overwhelmingly voted 'yes' in a landmark referendum that removed racist clauses against Indigenous people from the Australian Constitution.
The 50th anniversary of the decision in 2017 is being celebrated in style with the performance of '1967: Music In The Key Of Yes' as part of
Adelaide Festival
, featuring an impressive line-up of Indigenous performers including Dan Sultan, Thelma Plum and William Barton to name just a few.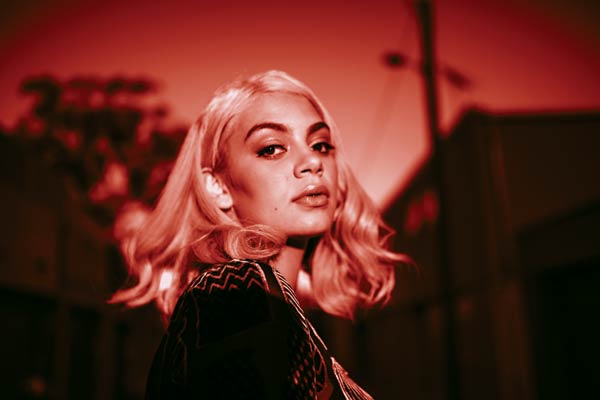 Thelma Plum
Sydney hip hop and soul vocalist David Leha aka Radical Son is also on the bill, and speaks highly of the rare opportunity to perform as part of the celebration alongside his fellow musicians. "To be involved with this show has been an honour and a privilege," he says.
"There are many Indigenous artists out there and I'm proud to be selected and be one of those artists. I'm going to sing an Archie Roach song, 'Took The Children Away', and a Sam Cooke song 'A Change Is Gonna Come'.
"It's definitely good for me as an artist to work with other artists who have 'made it' so to speak, and they're a very cool bunch, I met them in Melbourne already in our rehearsals. They're very good at what they do and I'm happy to be doing harmonies alongside those artists."
Melbourne singer-songwriter Alice Skye echoes David's sentiments. A proud Wergaia woman from the Wimmera region of north-west Victoria, Alice grew up in the Grampians and is excited to be bringing her music to the event. "It's actually really surreal for me," Alice says.
"While we may have progressed, I think we have a lot further to go."
"I wasn't really expecting to be doing anything with my music at all until probably last year, and sharing the stage with people like Thelma Plum, Dan Sultan and Leah Flanagan, they're people I have grown up respecting and admiring, so it's pretty crazy to be a part of it.
"A lot of it is being done as an ensemble, so lots of people singing backing vocals for Dan's songs and there are lots of iconic covers. The song I'm singing is one of my originals and it's one of the first songs I ever wrote, so it's really special that they asked me to do that one in particular. I'm really excited to do that and it still hasn't really clicked in my head that it's reality."
Alice has most recently released her single, 'You Are The Mountains', ahead of her debut album due out in mid-2017. For Alice, her music is a way to connect with a father and background she never knew. "I'm from the Grampians in Victoria and we have family property out there where my dad grew up; he passed away before I was born and he's who I gained my heritage from.
"So music to me a lot of the time is a way of connecting to him and my heritage at the same time. The song's really just an ode to my dad, the mountains and outlands, and also his and my dream for equality."
Primarily a pianist and vocalist, she has been carving her career around a stripped-back acoustic dynamic of "just me and my piano" and for the first time ever, Alice will step out from the piano for the '1967' show. "Because there are no breaks, someone will be accompanying me, which is something I've never done before with my song," she explains.
"So I'll just be standing up the front with a microphone, which is pretty daunting; just me, and someone else is playing the piano.
"My piano has always been a bit of a shield for me when I perform so it is a bit scary, but I like trying something different and for the sake of the performance I think it will be worth it. I'll just throw myself in the deep end."
The 1967 referendum returned a 90.77 per cent 'Yes' vote to include indigenous Australians in the census, and allow the Commonwealth government to make laws for them as well.
Despite common misconceptions, the referendum did not give Indigenous people the right to vote (which had been given in 1962), nor did it grant them citizenship or equal rights. Its goal was to pave the way for the Commonwealth government to enact reforms, which might achieve better conditions and rights for Indigenous people.
A poster from the 1967 referendum
A positive step for reconciliation at the time; half a century on and there remains avid debate over what has been accomplished and how far there is still to go with the reconciliation process. "That's a tough one," David admits.
"The fact that in '67 90-odd per cent of people changed for some reason and voted for Indigenous to have rights, does that mean there was a shift in the way that people thought about Indigenous people? And is that pattern of thought still there today? Because I often wonder if people actually give a damn about Indigenous people of this country, I don't know."
Alice is also reticent in giving any hard-and-fast solutions to a persistent cultural and social issue that is rooted deeply within and obfuscated by the colonial origins of the nation.
Both David and Alice offer mixed opinions on race relations in Australia, as well as what it means to be Indigenous in today's modern society. "I'm not sure I can say as to what can be done," Alice says, "but it makes me think of when I was talking to my aunties and thinking about the year 1967, and 50 years isn't really that long ago.
"My dad would have been in his early 20s and it makes you stop and think that this was happening just 50 years ago. While we may have progressed now, I think we have a lot further to go. Especially growing up in a small, country town, I know there are people there who need to progress, change their views and realise what being an Aboriginal person really is, as opposed to what they may think it means."
For Alice, being indigenous in modern Australia is about maintaining a connection with her heritage, which she does through language. At the time of colonisation, there were approximately 330 distinct Aboriginal dialects in use, which had dwindled to just 250 by the late 18th Century. In the early 21st Century just 150 remain, all but 13 being highly endangered.
Radical Son
Alice has been preserving the Wergaia dialect of the Wimmera region and is in the process of researching with the aim of producing an album of songs composed entirely in the language. "I really would love to write in our language," she says.
"My sisters and I have been digging through archives to uncover a bit more of our language. We've found some dictionaries and a recording of my great grandma, which is really exciting. Hopefully one day I'll be able to piece together enough phrases, but at the moment it's very fragmented and lost. One day, that's my mission.
"It's that sinking feeling you get when you hear statistics like that because it makes you think a culture is being lost and it's disappearing. While that does hold some truth, it's still so alive and I'm thankful I've been given opportunities like this with my music to show just how alive it still is for a lot of people, that it's still there.
"It's sad, but it definitely gives me hope when I'm involved with things like this and talk to people that share the same feelings."
'1967: Music In The Key Of Yes' plays at Adelaide Festival Centre as part of Adelaide Festival 15 March.