Since 'Pitch Perfect' burst onto the film scene in 2012, the world of a cappella has been given fresh new life under the hot spotlight of popular culture. In 2018, six years on, the film series (up to its third instalment) is coming to a triumphant end.
The Bellas, a long-surviving a cappella group born at Barden University, have moved into full-blown adulthood in 'Pitch Perfect 3'... And full-blown adulthood isn't serving any of them well. When the opportunity arises for them to reunite for a string of performances for the USO Tour, the entire squad jump at the chance and thus begins the story of their last hurrah.
This time around you'll see a great chunk of the familiar faces of the first two films, including Rebel Wilson, Anna Camp, Anna Kendrick and Brittany Snow.
Brittany Snow, who plays the quirky and slightly insane Chloe Beale, says it's a new take on the seemingly calm, collected nature of a cappella.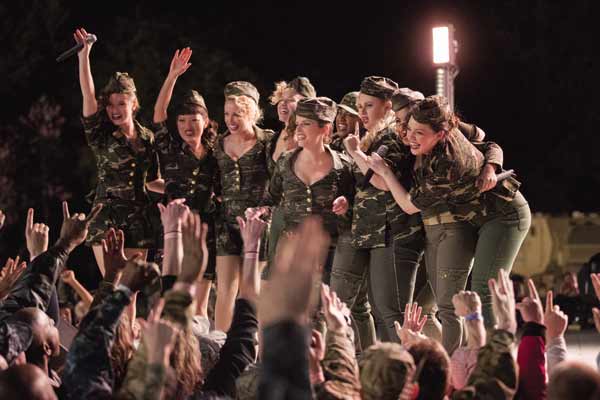 Image © Universal Pictures
"This one is genuinely different than the other two. I think specifically because we've never incorporated action into our singing and dancing repertoire," she laughs. "There's danger... The stakes have not been as high as yachts and money and international intrigue!"
With such an action-packed premise there must be some wild on-set memories... Right? One comes to mind when Brittany looks back. Spoiler alert...
"Well, never before in any other movie have I stuck my hand up a cow's ass... It was a fake cow but it was replicated to be real enough."
"It was not something that I thought I would ever do in my professional life and it was really crazy. I have it all on video. 90 per cent of that scene did not make it into the movie and so I feel like I did that for no reason," Brittany laughs.
Over the years, since the birth of 'Pitch Perfect', Brittany says The Bellas have formed real life friendships as a group, even outside of filming. She is proud to admit she organises most of the social events that bring the girls together.
"I'm very much Chloe in that way, I'm like 'you guys! Let's get together and hang out!' and people always make fun of me," she laughs. "We spend so much time together, which I love."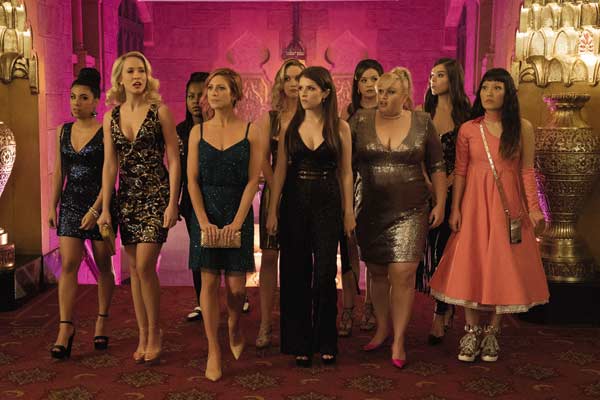 Image © Universal Pictures
"It's a long rehearsal process but we enjoy it because it's kind of like summer camp and for this film we all lived together as well."
Speaking of friendships and bonding, the internet has run wild with ideas about supposed sexual tension between Chloe and Beca (Anna Kendrick) ever since that famous 'Titanium' shower scene not too far into the first film.
The writers and producers are aware of this and even play on it in the third instalment, as Brittany explains: "Jason Moore ('Pitch Perfect' Director) and I created this idea that Chloe was just a person that doesn't understand boundaries, doesn't understand closeness when talking. The people took that as what they wanted to perceive and so by the third one, we kind of are laying into the fact that although you may think this is what is happening, honestly, Chloe really is just down for anything."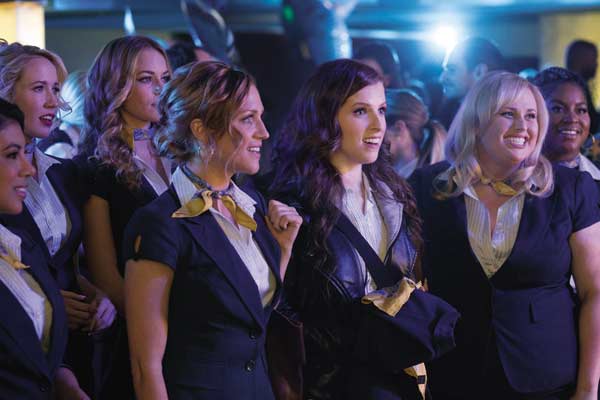 Image © Universal Pictures
'Pitch Perfect 3' injects a new vulnerability into the main characters which opens their world up to audiences just as the film series comes to a satisfying conclusion. Even the relationship between the cast off-screen, Brittany says, is at its strongest possible point.
"I have such a great support system behind me in these women. We really do love and support each other and help each other in terms of our career. I've definitely learned a lot about myself and about them as well."
'Pitch Perfect 3' is in cinemas New Year's Day.