In this new survival film directed by Luke Sparke, a small group of town residents are forced to band together after a horrific extraterrestrial invasion threatens to take over the planet.
The group manage to evade capture but must use all their strength to strike back if they want to survive.
The film stars Temuera Morrison, Stephany Jacobsen, Rhiannon Fish and Dan Ewing, among others.
Here, Dan Ewing talks about the experience of being a part of 'Occupation'.
What first attracted you to the story/character?
I'd heard Luke (Director) discussing this storyline for a little while, but I was really interested in the small town POV. I liken it to a 'Red Dawn'-esque type vibe, where in the original film it was Americans in a small town fighting off Russians. I like that. We see so many movies these days – such as the second 'Independence Day' – where millions of people died in London and they kind of laughed it off as if they were saying a funny joke. I think pulling this back and making it a small town vibe was quite interesting. I think it resonates with people a bit more.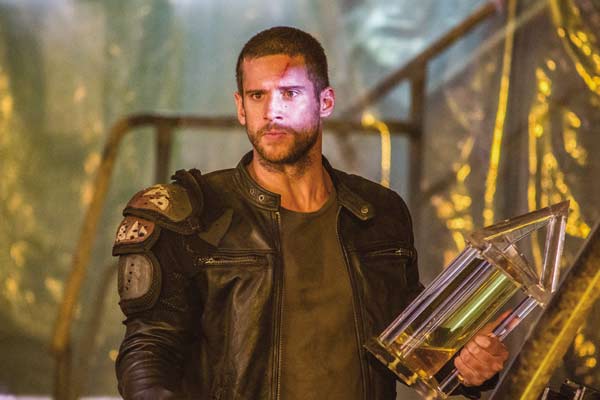 What information can you share about your character when we first meet them in the film? And in what ways does your character evolve over the course of the film?
When we first meet Matt he is no Captain America. He is fighting a lot of demons. In one of the original drafts he was actually doing alright. But I collaborated with Luke for a few more obstacles to be put in Matt's way – and not just the imminent threat. Luke was very receptive to those ideas. So when we find Matt, he's dealing with depression, alcoholism, addiction to painkillers and antidepressants. He's had a bit of a fall from grace, so he really has to make some changes as a man. It's a tough fight. He's got a long way to go to find himself before he can help the other people that he meets along the way and his fiancé of course. I did a rugby movie before 'Occupation' and that's kind of why I wanted to build in these ideas. There are a lot of players out there who are struggling with life after football and they were very generous with their time and with their stories. So to me it was about showing how we get this man back on track and ridding him of all these dependencies and sort of finding his way back to the man he was and being able to serve these people and help these people survive. I'm not going to say that he ends up a super hero, but he is certainly walking towards being the leader that humanity needs him to be.
Do you have a favourite scene or moment in the film?
With this film we had so many favourite moments, but I've got to mention working with my girlfriend Kat. I've worked with her a lot and I've worked with her once on another film before. She played the character Chloe and she's probably got one of the toughest emotional jobs in the film. In her first scene she's getting tortured and then she's escaping and sitting in a freezing cane field begging for help. That was certainly a highlight to be able to work together. Something we may do again or something we may never get to do again in this business. She was amazing and there were compliments coming from the crew who had been there watching us saying "wow she was really special". That was really nice to see her get accolades.
You worked with Luke Sparke on 'Red Billabong' – what is it like getting to work with him again on 'Occupation'?
It was great. For me just to see the progression for him as a writer and director was incredible. From the journey of 'Red Billabong' – the ups and downs of making your first feature film and everything they went through there – it was amazing to see not only the progression of him as a writer and director but just the progression of the team. To make a horror film or an action-adventure film like 'Red Billabong' for your first film is an incredible achievement. I've seen the level of professionalism just go through the roof and I can't wait to see what's next for them. We did this in the same amount of shooting time as we did 'Red Billabong' and the scale of this is just like tenfold of what 'Red Billabong' was. I'm extremely proud of Luke and his team.
The film has a very prominent female cast. How important is this?
Very. I can't stand when female characters are just there to advance the male story lines. I think that's chauvinistic and unrealistic. Female characters are just as compelling as male characters. The female characters in this film are fantastic. Obviously headed by Stephany Jacobsen. She's fantastic. For her to come back from the US and do this film is just a massive coupe for Luke and his team. I mentioned Jacqueline McKenzie. She is just one of the icons of Australian film and television and she's done a lot of international work as well. Even characters like the ones played by Erin Connor and Izzy Stevens. When I say ensemble it's not an exaggeration – it really is an ensemble cast. I'm so excited to see a swing in the industry of casting more female characters. It's very important to film and television.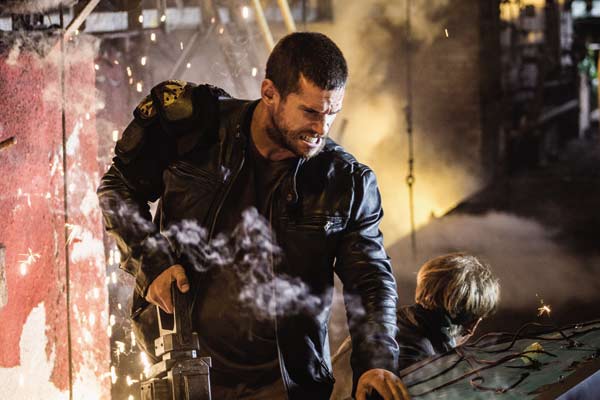 What is it like working on an independent production like 'Occupation' compared to bigger productions?
To me 'Occupation' is no small production especially in terms of the Australian industry. The scale of it was actually massive compared to a lot of Australia productions and that's a testament to Luke. I think the scale of it is huge. Just judging by the special effects and the level of actors they were able to sign on and get back from the States. It is an indication of the changing of the guard here in Australia and the quality of projects that we're able to produce here.
Is there something that stands out about working on an Australian film and in the Australian industry?
Yeah. I think there's something nice about it. You speak to actors like Charles Mesure who are based overseas. He said to me, "Mate it's just so nice to come home". I think what he meant by that is that films of this size and in this genre weren't made in Australia before and weren't made consistently. It's just indicative of where Australia is at and where the industry is at and the level of talent we have here – not just actors but crews, production crews and teams, post-production teams and the studios and facilities. We can do it all here. Sure there's a few less zeros in the budget because we don't have as big a market here. However, the talent here is amazing. I really hope we create more content here and I think with everything that's streaming now there's more demand for content and hopefully more and more stuff gets made here.
'Occupation' is in cinemas 12 July.