Elliot Loney and Neel Kolhatkar star side-by-side in a new Australian indie film premiering on 9GO! at the end of December before streaming on Stan for 12 months.
The two comedians play surf pros caught up in their own rivalry after an incident caught on camera at a surf competition.
Directed and written by Connor Fairclough, the film is a true Aussie comedy that also highlights some important aspects of our culture.
Here, Elliot (EL) and Neel (NK) answer some questions about 'Head Above Water'.
First of all, in your own words, what is this film all about?NK:
'Head Above Water' is about a surfing rivalry pulled apart by a freak incident. It's about the highs and lows of fame and the way today's media can turn you from a hero to a villain in no time at all.
EL:
It centres around a crazy rivalry, a major event takes place that really defines the story. But for me I think it's about how quickly someone can rise to fame and how quickly one event can send it all crashing down.
Neel… What do you bring to 'Head Above Water'?
I play Ricky Scrotun, I bring a unique line of budgie smugglers and I like to think some humour.
And Elliot, how about you?
My crook lid.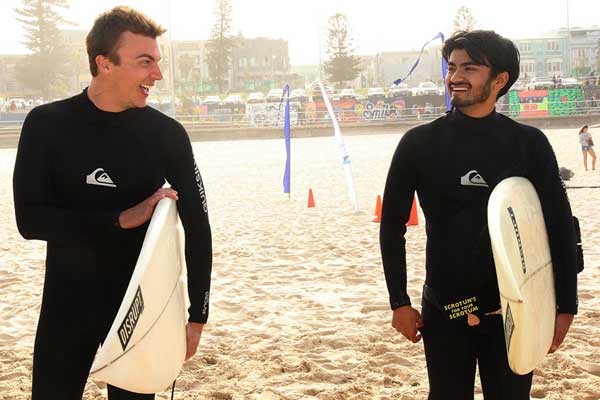 What are you each hoping audiences take away from this film?NK:
Well first and foremost, mountains of laughter and secondly just a great experience.
EL:
Their dignity.
Any real-life rivalries that you can apply to your on-screen rivalry?NK:
Well since (Elliot and I) are both in the social media world we probably have a friendly rivalry over the amount of likes and views we get.
EL:
I grew up playing a lot of sport as a kid. Tennis ended up being the one I was half decent at. As a kid I had a hectic rivalry with another player who also happened to be a school mate. We began playing at the same time and sometimes even played on the same teams, but when we played each other.. Boy was that a spectacle. Racquets flew, code violations ran rampant, looking back on it I find it hilarious because the stakes weren't that high, but I would have rather died than lose to him. I snipped him up in the state championship though so cop that ya bastard!
What has it been like to work together on this film? Any particularly memorable on-set moments?NK:
It was the most fun I've ever had on any set. Brilliant from day one. Countless memories, particularly on our last celebratory night ;)
EL:
There was a really good vibe on set, great camaraderie. Some pretty rare cats floating around which was good for banter. We hung out a lot off set too and for me I definitely laughed till I cried more than once. I can't go too much into detail because I'll lose what little credibility I have left.
Any actual experience with surfing? Which one of you is better in real life?NK:
I grew up in the shire and I did try my hand at surfing in high school but unfortunately wasn't particularly good at it. I got to my knees once. I'd say Elliot being a much more naturally gifted athlete was considerably better.
EL:
Haha, I've surfed a little bit. But I'm no good, however in my delinquent years I told girls I was a pro surfer in the off chance I'd be able to get amongst it. It never worked though.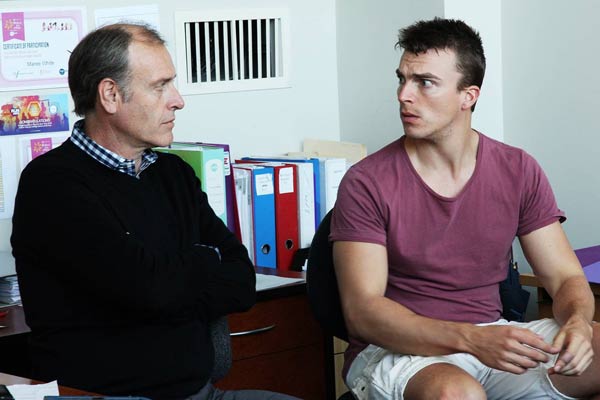 What's been the best thing about being part of this film?NK:
Just the memories to be honest, and meeting so many great people.
EL:
Getting to know Connor the Writer/Director was great, he's a really genuine down to earth bloke. One of those guys it's impossible to say a bad word about. I'm looking forward to working with him in the future. Also the banter and laughs we had was all time.
Sell 'Head Above Water' in a sentence each.NK:
The most fun you'll ever have without actually getting in the water.
EL:
I couldn't sum it up in a sentence, but the word that best describes it would be 'loose'.
'Head Above Water' premieres on 9GO! on 30 December before streaming exclusively on Stan for 12 months from 5 January.