There's an alarming trend in the mortality statistics among Australia's road crew fraternity — actually it's ugly.
A disproportionately high number of roadies are taking their their own lives, dying in poverty and dying alone. However, one organisation is seeking to provide a 'Whole Lotta Love' in the form of moral and financial support to roadies – past, present and future.
The Australian Road Crew Association (A.R.C.A.) has an active committee, and it counts Russell Morris, Kevin Borich, Steve Kilbey (Church), TMG, Captain Matchbox, Angry Anderson (Rose Tattoo), Air Supply, Paul Christie (Mondo Rock, Party Boys), Roger McLaughlin (Loose Change, LRB), Shane Howard (Goanna), Phil Manning and more, among its promised supporters.
A chance meeting with ARCA directors, Ian 'Piggy' Peel and Adrian Anderson, at BIGSOUND in Brisbane ten days ago opened up these insights: "These industry icons are talking of putting some gigs together for us with bands of the '60s, '70s and '80s to raise money. All have said this is a great cause and have put their hands up to help give something back to the crew. We have solid support.
"30 years ago, Billy Thorpe wanted to do a gig at the Myer Music Bowl to put a trust fund together for crew. Maybe it's time. There was no super or protection for us."
Peel has worked with many acts over the years. In 1978 he did Olivia Newton-John's 'Totally Hot' tour as production manager — and he assures me there have been a few more since.
"We represent an industry labour force that did not get any recognition until it was too late for 97 of them. Many suffered and still suffer low self-esteem and depression, so we are trying to give them a bit of dignity and help. It's very sad that many of them died without any help."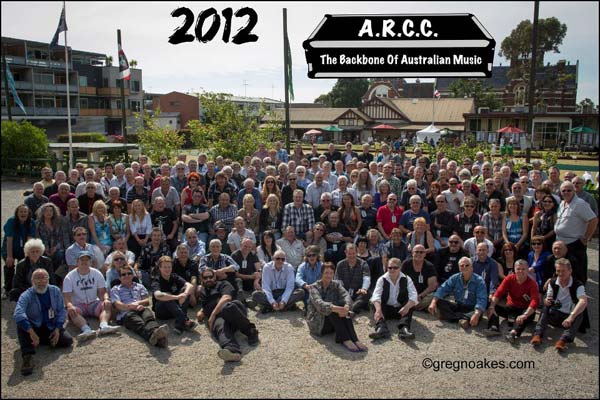 To illustrate the point — or perhaps make it more poignant — Peel supplied a the list of 'the 97' which details the tragic circumstances under which many of them died. "They are the unsung heroes of the music industry and deserve recognition for their efforts and contribution. When was the last time the crew were acknowledged for their efforts? Especially at awards functions or just at a gig?", he said.
In Melbourne, November 2012, 176 pre-1982 crew came from all over the world to celebrate and initiate ARCA. The following year, in Sydney, there were 146 pre-1992 crew where Jimmy Barnes brought the family and played.
A web-site is coming. This will assist in myriad ways including that of communicating with its members, the music industry and the wider community, fundraising, disseminating information, and remembering those who have died and leaving a legacy for the future. There are apparently crates and crates of memorabilia; and there are plans to digitise it all as well as to create a documentary.
Expressions of interest in supporting ARCA can be directed to Ian Peel on 0415 667 221.