UK's Ben Cullen of 'Extreme Cake Makers' is headed down under to show off his skills in the kitchen at the International Cake Show in Brisbane.
Known as The Bake King, Ben started off in the creative world doing graphic design and tattooing... Before his life took a rather sweet turn!
He specialises in creating cakes that, let's say, don't look like your average cake, and the International Cake Show will be his first Australian venture.
Ben answers some questions about his line of work, and what to expect from his appearance at the cake show, below.
What got you into the world of cake-making?!
I've always been into everything art ever since I was a child. I studied art ever since I was able to, and then went in to study fine art and graphic design at uni. This lead me into a few different artistic careers... I sold paintings, illustrations, worked as a tattooist and a graphic designer all before knowing anything about the baking and cake art industry. It was while tattooing a customer that I was made aware of the industry... This girl's mother showed me some SugarCraft on her phone and I was gobsmacked by it so knew I had to try it out for myself... After a few (a lot) of failed attempt I began making small cakes for family and friends and as I went along I became more obsessed and determined to up my skills and aim to be the best that I could be.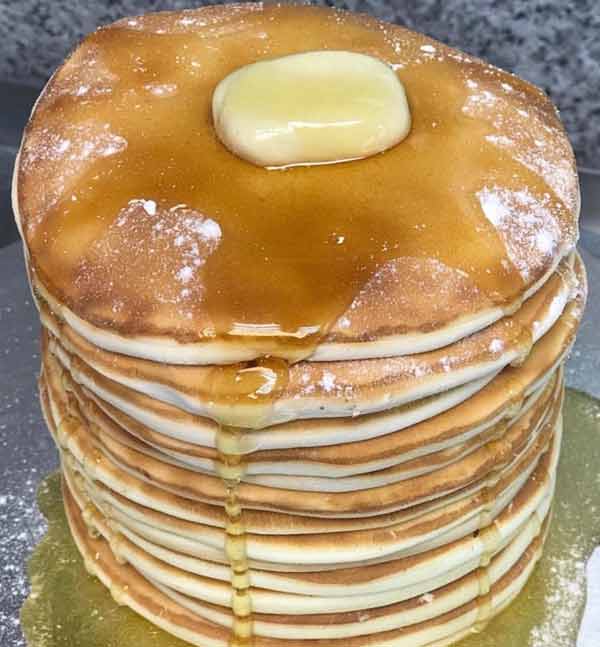 You've got a talent for making cakes that look like other foods… Do you have any kind of food or person you haven't made yet that you'd like to explore?
The list that I have of cakes sculptures that I haven't made but would love to is longer than any list I've ever seen, haha! Every single day I find new inspiration around me that I'm determined to turn into cake! I'm really enjoying making the food illusions cakes at the moment as I think the thought of something looking so savoury and being sweet is so funny... And also I love a good practical joke and playing with people's minds.
This event is open to the public. What are you hoping to show people about the art of cake when they head along to this?
At any event like this my main goal is to always open peoples minds to the possibilities within our industry... Just like mine was opened when I first got into this career. Before I knew about cake art I had no idea of the amazing things that could be made and the incredible talent that lies in this industry... My goal now is always to expose that more and more and get people excited about the type of art that I work with! If it gets people creating art themselves and having fun with it then that is ultimately the main goal!
And what are you hoping to see?
I get so excited to visit shows like this because of the incredible standards that you see... The art on show at these events is always mind-blowing and the atmosphere is electric. Having so many talented people in one room also gives you a great opportunity to meet people whose work you admire, pick up tips and and get loads of inspiration to take away and re-awaken your excitement for creating pieces.
You'll be part of Team International in the International Cake Sculpture Challenge. How do you handle pressure in cake-related situations like these where you're competing to win something?
I think that I am very good under pressure. I'm very confident with what I do because I spend my entire life working so hard to push my standards higher and higher. I'm also very competitive and love a good competition... I will 100 per cent be fighting for and ready to give my best. I will get my head down and create the best work that I can but I also plan to have a good laugh and wind anyone else up where I can... Hahaha!
You studied Art and Graphic Design… What were some of the most important things you learned during that that you think may have helped you in the cake world?
My studies at university definitely have impacted my career in the cake art world... While studying these subjects you learn so much about how to exhibit images and colour in certain ways to invoke certain emotions and excitement to the viewer... Graphic design especially is a subject that really shows how the way that you position or lay out aspects of a design can impact the whole visual so much and this is a key thing to keep in mind when making a cake sculpture.
And your cake-creating career essentially took off when you were shown as an example to someone. How did that make you feel, and what did it trigger within you that made you pull this into focus?
From the moment I got into creating cakes I was determined to aim as high as I could... I was aware that people trained for lots of years to get to be at the top, but I have always been so focused and driven that I knew I could turn this obsession into a career. I love creating my own style of art and when people respond to it in a positive way it means the world to me. I knew from the start that my style may not be conventional and my appearance wasn't naturally associated with the cake industry which really drove me even harder to overstep those obstacles and try and get my work out there.
Have you been to Australia before? What are you looking forward to about coming here?
I am SO excited to visit Australia. I have never been before and have always wanted to go. I know very little about the country and have only heard such great things about it. I can't wait to explore and learn more about the places and people there. I'm going to try my best to not be a massive tourist (and dress like Mick Dundee)... But I seriously can't wait.
The International Cake Show plays Brisbane Showgrounds from 17-19 May.