The Hemp Health & Innovation (HHI) Expo is Australia's largest cannabis and hemp event, featuring over 80 exhibitors and expert panels across 2 days in Sydney.
Michelle Crain
is the founder of the HHI Expo and also runs her own hemp health food company, Tilba Hemp Foods. With the passing of Australian hemp food legislation last November, Michelle says it's time people take a closer look at the many benefits the plant provides.
"It's the plant of many uses," Michelle says.
"It's from the cannabis sativa variety and so, as you will know, there is hemp that can be industrial and is very low in THC, and then there's obviously cannabis that people choose to partake in and that's generally much higher in THC."
THC, or delta 9-tetrahydrocannabinol, is the cannabinoid chemical compound associated with the psychoactive properties of marijuana. Industrial hemp contains low levels of THC and can be used in a wide variety of applications as fibres for textile and building materials as well as for beauty, health and medicinal purposes.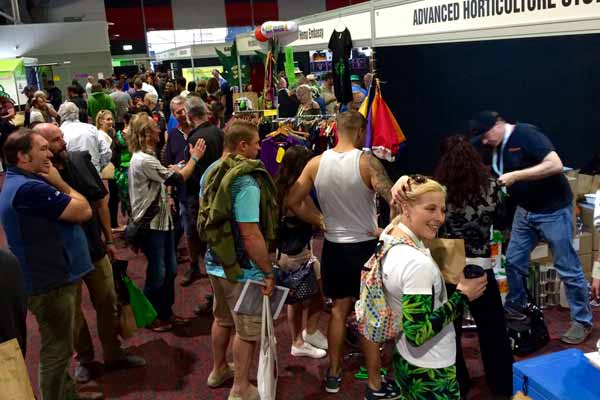 The 2017 Hemp Health & Innovation Expo.
"Our event covers both sides of things because we're going down the hemp road as far as food, fibre and building products," Michelle says.
"And then on the other side of the coin, we also of course are pushing for legalisation of cannabis for medicinal purposes. We're really trying to get the whole plant in all its varieties legalised."
Though a fierce advocate for cannabis and hemp, Michelle says a big part of what the HHI Expo strives for is to dispel the stigma around cannabis and the associated 4/20-stoner culture. "I'd personally like to remove that tag away from it altogether," she says, "only because it's really not about that anymore.
"I think maybe, and dare I say it, younger people still like to have the stoner tag put to them. But at the end of the day there's elderly people that I know partake in it for a variety of reasons, whether it be for pain or whatever, and yet they are still just every-day, regular people walking down the street.
"There's nothing odd about them, they're not crazy or anything and you would never know, but that's why we need to make it mainstream. If we can make it mainstream it will become acceptable in all quarters. I don't advocate it for teenagers or young people unless there's a medical reason for it."
In pushing for further legalisation of marijuana, be it for medicinal, recreational or industrial uses, Michelle says the greatest benefit lies in the sheer monetary potential of replacing black market supply with a regulated and taxed system of distribution.
"We need to get a handle on the fact that [cannabis] is something that's out there," she says. "You're never going to change it so let's take it out of the black market and bring it to the fore.
"That way the government's making money and everyone is really happy because the money is being made, people who need it for medicinal purposes are getting it and we can make an industry out of it; mining is going down the gurgler at the moment whereas this could take over from mining, it could be massive."