Beer, BBQ and bands; with this swarm of Bs, the Adelaide Beer and BBQ Festival (28-30 July) has again turned Adelaide Showground into a hive of activity during winter.
Severe storm warnings did not deter a capacity crowd from making a pilgrimage to the land of smoked meat and fermented hops (29 July).
As gates opened, the skies were curiously and deceptively calm. Punters made small talk about the weather: "gee, nice night for it. Thought it was going to rain." The heavens did open, though, at about seven and when they did, the ingenious layout of the festival was made apparent.
Click here for more photos from the event.
An outdoor event in winter seems counterintuitive; destined to fail. Even in the most extreme of conditions, though, punters could remain shielded from the elements for most of the evening; you did, however, need to make intermittent dashes through the slosh as you migrated from one district to another.
The festival, now in its third year, has done more than survive the harsh winter; it has thrived to such an extent that next year they may need to expand to meet demand. We examine why it has become the place to be.
Beer
With over 50 exhibitors ranging from backyard to breweries like Shifty Lizard to international giants like Coopers and Hofbräuhaus München, steins were readily and merrily filled with every imaginable alcoholic fluid. The event also provided a vital opportunity for brewing students from Regency TAFE to test their creations on a discerning public and search for a niche in the market.
Image © Erin Eustace
As it stands, the hoppy Indian Pale Ale remains the beer style de jour but there was plenty of refuge for drinkers who have saturated their taste buds with IPA. Saison, an acidic Belgian style, is emerging as a contender to the IPA throne, although it may be too fruity for some.
BBQ
Adelaide meat maestro Duncan Welgemoed, the 2017 ABBF Ambassador, was responsible for curating the menus of BBQers and his influence was evident. This year there was a clearly apparent cohesion to the fare on offer.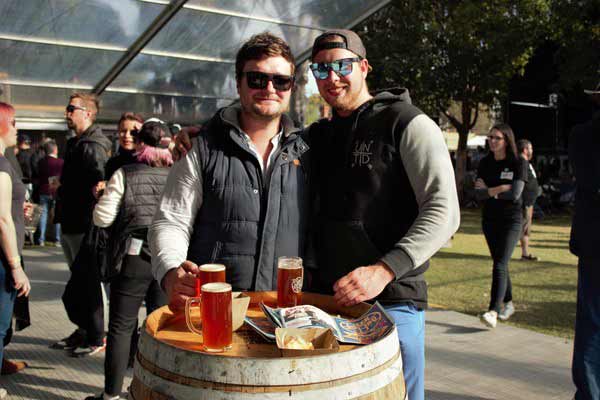 Image © Erin Eustace
There were wings and ribs galore, but we wielded and then gnawed upon an entire chicken leg, replete with feet and toe nails. Sure, it was tasty, but it was also fun to wave about during conversations. We were also game and devoured Alana Brabin's venison sausage, which was quite reasonably priced; it wasn't dear at all.
Bands
The immense popularity of the Saturday night session was in no small part due to the headlining appearance of '90s indie legends Regurgitator.
While they appeared on stage half an hour late, they proceeded to unleash a flurry of their hits, with many cuts from 'Unit' early on: 'Everyday Formula', 'Black Bugs' and 'Polyester Girl'. It was worth the price of admission to watch bemused onlookers respond to fervent fans passionately singing "I will lick your asshole" and "I sucked a lot of cock to get where I am".
The Gurge were appropriately supported by the similarly genre-mashing Ecca Vandal, who has dropped her new single 'Broke Days, Party Nights'. Earlier in the evening, Mane and Donnarumma both won new fans with their enigmatic stage presence.
ABBF has now nestled itself into the winter calendar, again proving that the phrase "winter is coming" need not be uttered with dread by event organisers.
Click here for more photos from the event.