This Friday (30 September) Matt Cornell will release his new single, 'In This Town'.
After the success of his chart-topping single 'Feels Like Yesterday' earlier this year, 'In This Town' is a song about a beautiful little town, a place where everyone wants to live, where everyone's got your back no matter who you are, what you do or what you look like.
Written with Allan Caswell and produced by multi, award-winning producer Matt Fell, Matt says: "When I played the chorus idea to Allan, it really struck a chord with him, he immediately came up with the line 'nobodies a nobody in this town'; that went on to set the tone for the rest of the song. From there, Matt Fell weaved his magic, he worked so hard on this track, sonically it sounds so different to my other albums, I love his production on this song."
Coffee
Coffee is important to me. I love the smell, taste and culture that comes with it. I reside in Ermington in Sydney and my 'local' café nails it. Laziza Coffee & Juice Bar is just down the road from my house. The first time I walked in, it felt like home. The walls are draped in old-school vinyl record covers and relics from yesteryear; lots of old cameras, telephones etc.
I am also a diehard Rabbitohs supporter and couldn't help but notice the black Rabbtioh sticker on the fluro yellow coffee machine and thought: "This place just keeps getting better!" Laziza also features in my recent film clip for my single 'In This Town'.

Food
I love to cook and I love to eat out, and always try discover little gems in and around Sydney. One of those is Zebra Lounge Café Pyrmont, situated right on the harbour. There is a village in Pyrmont that you wouldn't expect: even though you're right on the cusp of the city.
The Rabbitohs
ANZ Stadium is a regular hang out every winter: it's the home of the South Sydney Rabbitohs. My neighbour and I head out early for beers and 'pre-game analysis' with the other diehards. I love the 'tribalism' that comes with being a passionate supporter and you don't get much more passionate than Bunnies fans!

Sydney Suburbs that start with E
Eastwood is somewhere you need to visit. It's located about ten minutes from my house. Eastwood has a strong Asian community and over the years has become a hub for amazing Asian cuisine. I love my Pho soup and if dumplings are your thing, Taste Of Shanghaia is a must.
Darling Harbour
Darling Harbour is a definite place to visit, whether you are visiting Sydney or a resident. Even as a Sydney local I recommend exploring and re-visiting. The Sydney backdrop is one that never grows old.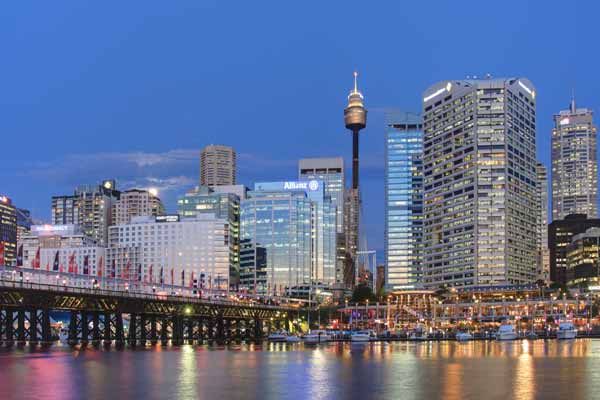 By
Adam.J.W.C.
-
Own work
,
CC BY-SA 2.5
,
https://commons.wikimedia.org/w/index.php?curid=11928672
'In This Town' is released 30 September.