In 1932, inspired by the opening of Tutankhamun's tomb a decade earlier, 'The Mummy' first lumbered onto the silver screen, unleashing carnage while in search of lost love.
Next month British actress – and new Hollywood it-girl – Annabelle Wallis stars alongside Tom Cruise and Russell Crowe in a fresh incarnation of 'The Mummy', with Sofia Boutella flipping the gender norms as the titular character.
In the Golden Age of cinema, Universal Pictures built a rogue's gallery of monsters, most of who have never been far from the screen for long ever since: Dracula, Frankenstein, men both invisible and wolf-like.
"We are clearly in the age where audiences are thirsty for female protagonists and respond to strong females."
As a child, it was the conflicting emotions evoked by Mary Shelley's 'The Modern Prometheus' that stoked a love of monster films in the heart of Annabelle Wallis. "I grew up watching all the classic monster films, but my favourite was 'Frankenstein' because it was the first time I felt for the scary person and I could see he had heart, so I had empathy for him and so it was very confusing."
Films within the monster genre have regularly being farcical in their nature, particularly throughout the 1950s-70s. But when done properly they are haunting parables about the human condition; stories laden with such depth and meaning they are essential rites of passage for each generation.
Annabelle Wallis in 'The Mummy'
The privilege of helping to tell such tales is not lost upon Annabelle. "These are the stories that we all grew up with and I think were passed on from our parents and our parents' parents and they're cyclical and it was such an honour to be able to turn it into a modern legend for a new audience and a new generation."
Designed as it is for a new millennium, the Tom Cruise led 'The Mummy' has not conformed to gender stereotypes, casting Sofia Boutella as the ancient Egyptian character.
Annabelle explains the motivation behind this choice. "We wanted [The Mummy] to be a woman because we wanted the allure and for the audience to be drawn like a moth to the flame; and there's something about her stature that seems as though you can contain it and intellectualise it: 'oh it's a woman' and for that to be then thrown on its head and to be the complete opposite, and for her power and her menace to be so deeply within her and when it's unleashed it's bigger than anything."
Boutella's Mummy, like Frankenstein's monster, is not simply a blunt force of evil; all the hurt she inflicts stems from hurt she has suffered, an amplified manifestation of the darkness that resides in all of us says Anabelle. "Her look is of a human, but she's been through a lot. She's had heartbreak and she's like all of us; the through line to all of us is that we have a dark and a light and when we are hurt and feel pain, we react."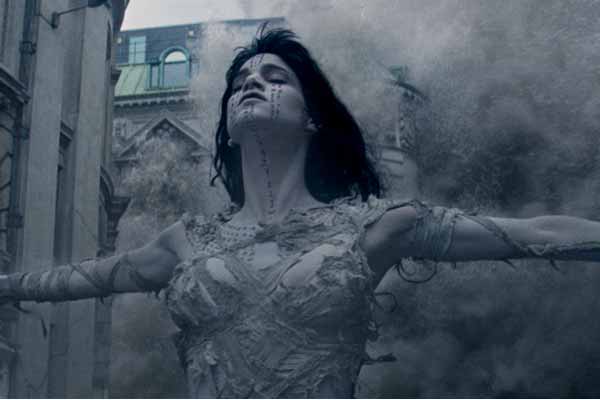 Sofia Boutella in 'The Mummy'
Originally in monster films, female characters were simply the damsels in distress. In 2017, not only is the monster female, but Annabelle's archaeologist character Jenny Halsey is a kick-ass action star. "We are clearly in the age where audiences are thirsty for female protagonists and respond to strong females.
"I try my best to represent women as I see them and as I present myself in my life. I do think the studio was on board making sure that their female lead is strong and equal to Tom's character and Tom was [too]."
While Annabelle has starred alongside Cillian Murphy in 'Peaky Blinders' and Sacha Baron Cohen in 'Grimsby' and has been a queen on 'The Tudors', basking in the aura of cinematic royalty like Tom Cruise was beyond even her most ambitious flight of fancy.
Tom and Annabella
"I grew up with Tom Cruise, he's such a part of our cinematic upbringing. I've experienced so much Tom Cruise on the screen and in my living room. I don't think anyone hasn't daydreamed about running through an action scene with Tom Cruise or hasn't referenced a line from one of his iconic performances."
Such praise could also be extended to Annabelle's other iconic co-star, Russell Crowe. Annabelle recalls the day that she shared a scene with Tom and Russell. "It's going to be a day I remember for the rest of my life; I have a scene where I confront the two of them and totally let them have it. I'm the girl between the two of them in the movie.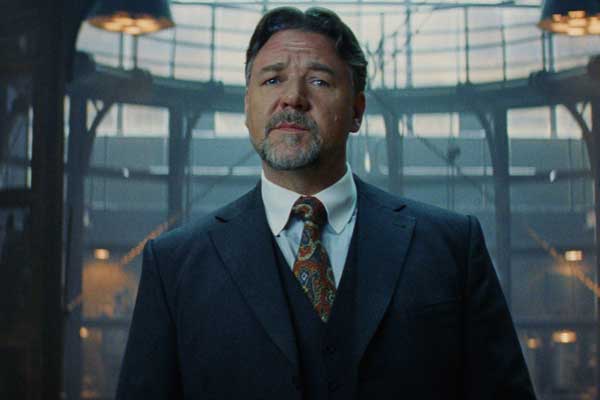 Russell Crowe in 'The Mummy'
"To see them both play off each other; they have a huge sequence where they tussle and it's amazing." Not only does 'The Mummy' offer star-power and a fresh take on a timeless tale, it also features one of the most expensive and belief-defying stunts in cinematic history, filmed in a zero-gravity plane.
It is another day Annabelle will remember forever. "It was so surreal and it's an unexplainable feeling, you know, and I knew I was so spoilt in that moment; like people pay to [experience zero gravity] and I never would have been able to have done that unless I'd been on a film like this… I'm such an adrenaline junkie, I just loved it. I was like again, again, again!
"Nobody on that plane had ever done anything like that before, so there was only so much that we could prepare for. It was a very expensive 'let's just see what happens' moment. That full-on exhilaration and fear [in the movie], that was all real because it was the first time we had ever done it."
All the signs are pointing to a box office-topping jaw-dropper and with Russell Crowe's character named Dr Henry Jekyll, 'The Mummy' may be just the first phase in a new, supernatural universe.
'The Mummy' is unwrapped nationally from 8 June.