Jordan and Josh, from Sydney and Perth respectively, have both always appreciated quality 'stuff': food, clothes, experiences, shoes...
Jordan was travelling along the edge of the Mediterranean when he stumbled upon a shoemaker, making shoes that had been practically unchanged for the last 800 years.
Jordan instantly noticed the quality and detail of the shoes.
Meanwhile, Josh was in Marrakech trying to find a pair of Moroccan slippers that weren't multicoloured. He failed, but the idea stuck with him. The boys decided to pick up their combined ideas to get Joab off the ground, over fish and beers in Montenegro. It took almost a year to get everything right; there were plenty of redesigns, visits to tanneries, and understanding that with the advancement of technology, working with an old shoemaking process is going to be a lot different and more challenging than using newer ideas.
Fashion and mass production both take a back seat in Joab's products. They believe it's all about quality and hard work.
Each pair is shaped and stitched by hand, making every pair as charismatic and individual as its wearer. The production process means that the shoes are suitable for modern living, featuring a durable rubber sole, but wearing the shoes means taking a journey to another time and place.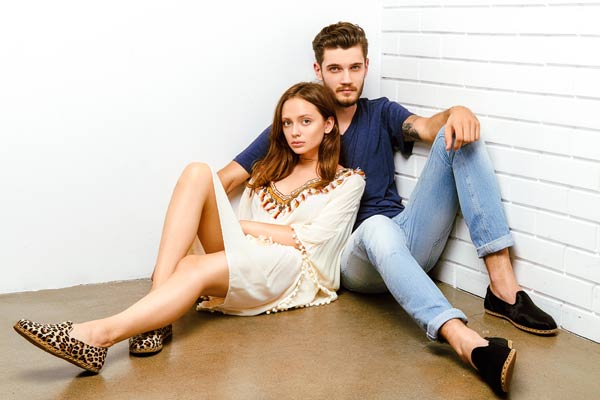 Every hide that makes up the shoes is selected individually, before being hand cut to size. The soles are sourced from Central Asian water buffalo hide which provides strength and durability, which also means the shoes can be worn without socks.
No two pairs are exactly alike as a result of the artisan production process. This gives them a perfectly imperfect vibe, and the comfort of the wearer to know no one else will have a pair like theirs.
Joab: More than just a shoe.