If you are not aware of the inequality of female representation within the creative industries, you must be hiding under a rock.
Particularly in Australian media there are many efforts being made to raise awareness of this issue. One of the most potent strategies in overcoming this struggle is encouraging empowerment through collaboration within your own creative circles. Now more than ever, artists from all sectors are banding together to combine their strengths and produce incredible results – such is the case with head designer Cindy Vogels from Racy & Lucky building dynamic collaborations in fashion and music.
The story of Racy & Lucky is a pretty amazing one that starts on social media. Cindy's millinery work was discovered on Instagram by Brandon Maxwell Studio, the New York agency that was styling Lady Gaga. Shortly after, Cindy in a stroke of genius, crafted some fashion designs to include in the photos for her millinery designs that the New York stylists fell in love with. Next thing you know, Cindy had to establish a fashion label for her pieces to travel to Manhattan with a separate identity. Since then, Cindy has built an impeccable reputation in 'dressing the music'.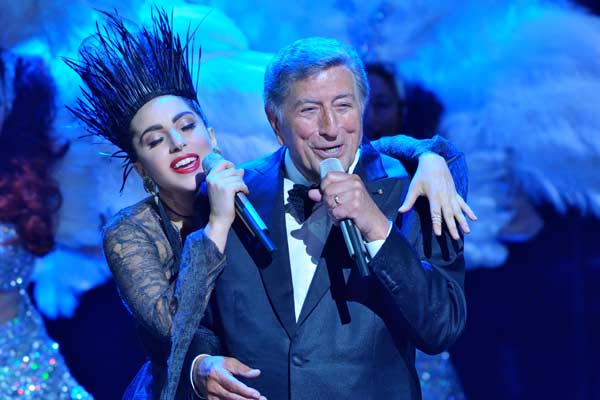 Lady Gaga and Tony Bennett
Strength in relationships is built when we initiate our own collaborations and promote them to empower others to take the same step, for Cindy, co-designing super innovative outfits with artists is her trade secret. Considering this, 2017 was the activation year for some great relationships. Cindy has a strong focus on initiating dynamic collaborations, particularly between females and she initiated and nurtured relationships with Sydney band RACKETT, and Queensland artist Doolie.
Cindy and Doolie met at an industry event where a keepsake memento, in the form of a pom-pom ring, sparked a promise to work together in the future. Initially hitting it off at the Sunshine Coast Turn Up event, the ladies went on to co-design wardrobe's for Doolie's opening at Sunshine Beach surf club performing with Middle Kids and Cubsport, appearance at the Landsdowne in Sydney for her electronic music conference showcase, then a subsequent three other occasions in November of that year, including a Brisbane Lions TV commercial.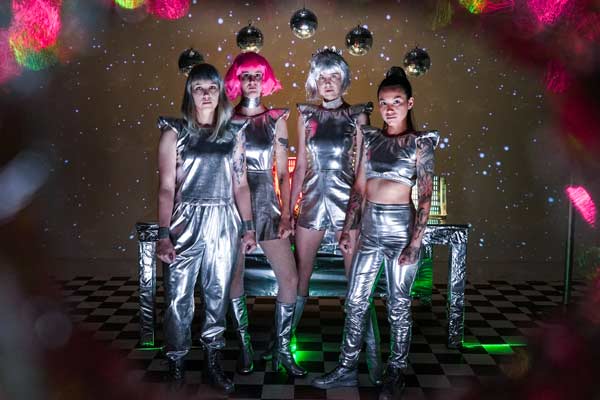 With RACKETT, it was social media that played a pivotal role in their connection. Measurements were extrapolated from social media photographs, costumes were drafted, then sent to RACKETT as a blind creative pitch for a collaboration. When Cindy sent her package off, she never dreamed the girls would instantly step out on the Long Jetty stage in their new outfits. There were tears of joy from the designer as she viewed the incredible pictures shared on social media. The RACKETT girls were 'over the moon' to don the costumes, they felt so honoured that Cindy had taken an interest in them.
Artist: Doolie. Image © Somefx
The effort Cindy has taken to bring visibility of talented women into focus through her co-design projects, her ability to bring the fundamental elements of music and costume together and her encouragement behind inclusion and promotion through these dynamic collaborations are truly commendable. Cindy will be co-creating several industry professionals for the upcoming Queensland Music Awards, including top gun Brisbane PR manager KC Kitty Kitty Bang Bang and artists Doolie and Tia Gostello. Keep your eye on their social pages for upcoming events and their super cool, co-designed wardrobes.