Cindy Vogels of Racy & Lucky is bringing her styling expertise to Queensland's Turn Up music industry conference.
Fresh from a recent Festival Fashion editorial adventure at Gympie Muster collaborating with Akubra Australia and Agave Blue (photos to follow), Cindy took some time out of her day to talk about the parallel lines between fashion and music, her time working for Lady Gaga, and what she'll be bringing to Turn Up.
First of all, your 'big break' so to speak was when you designed for Lady Gaga back in 2014. How has your life changed since then?
I happened to check my emails early that day, I still remember the chaos of that morning, my kids were getting ready for school and I opened what looked like spam (honestly). I read the email over and over that insisted Lady Gaga's style team were inviting me to contribute headpieces, they had been admiring on my Instagram page overnight. Even when I finally reached out to the New York team during their contact hours later that day, and began understanding the truth and enormity of the opportunity, there were moments of doubt and fear it was not real right up until she actually posted herself in my work on her Instagram account four months later. I had worked so hard during that four month period, which also coincided with a separation after 15 of marriage, and included being a main caregiver for my four gorgeous children. My life has definitely changed for the best and I continue to work hard to perpetuate the opportunity and experience onwards to all other artists who wish to engage my services, the experience with Gaga is really the driving force behind Racy & Lucky.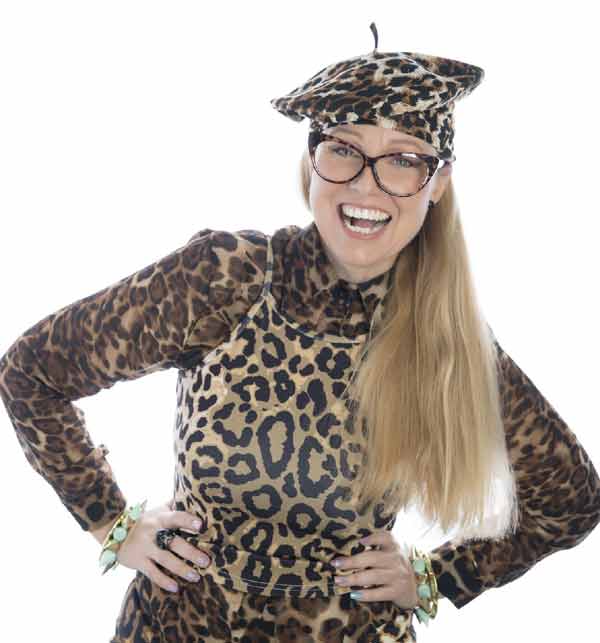 Racy & Lucky was founded by you during this time. What is this fashion label all about?
That experience had me working for the largest most successful Fashion Machine in the world, Brandon Maxwell Studios, the team behind Lady Gaga, I learnt so much and realized that I had gained a unique expertise to work for other music artists in the way I had for Gaga. Racy & Lucky became an overnight label, with a purpose to help individuals shine brighter than ever before, we realised last year as the visual content spilling out from our work was growing so fast, in film clips and live performances, that we were in fact a label that could honestly claim to 'Dress the Music'.
You collaborated with Akubra Australia and Agave Blue for a Festival Fashion editorial at Gympie Muster. Tell us a bit about how that came about and what it was like.
Racy & Lucky jumped at an opportunity to sponsor the four-day production of 'Muster TV' at this year's Gympie Music Muster, and we knew the Muster had a great longstanding partnership with Akubra. We had also seen the media around festival fashion and Splendor this year, and all the 'Glitter and Glue' being passed off as just that. As such we saw a great opportunity and wanted to step up and show our version of festival fashion, Australian designed and made. We had a gorgeous model from Melbourne (Laura) as part of our Muster Team and a budding photographer (John), we had made just enough time in our schedule each day to shoot and absolutely loved the idea of using Australia's favourite camping and music festival as the backdrop for true homegrown Aussie festival fashion. we reached out to Akubra first and showed them Laura in some examples of our original designs and pitched the idea of a look a day editorial on site at the Gympie Music Muster, they loved it! Akubra were so awesome taking time to pair both their classic and newer coloured hats with our wardrobe designs specifically worked up for the Muster. The first day's shoot was so successful we went and showed Zoe from Agave Blue boots, who just opened her flagship store in Eumundi and had a pop up at the Muster, she absolutely jumped at the idea and finished the looks perfectly with her exquisite range of boots.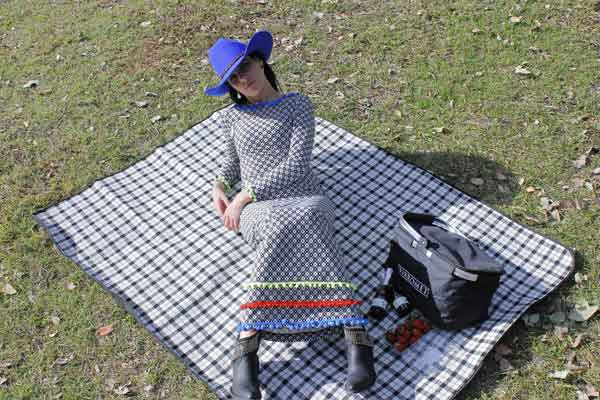 What does an event like Turn Up mean to you?
Speaking at events like Turn Up enables me to reach out to emerging and established artists to help them develop the capacity to align their musical style with the way they present themselves through clothing and accessories. This helps the audience to identify with artists. Sadly, for female artists there is a greater emphasis on looks and style than there is for their male counterparts in the music industry. Female artists feel pressured to look amazing at every gig and appearance and to wear something different every time. On the Sunshine Coast, there really aren't that many services around to assist with this. My service is affordable and ensures that artists aren't wearing ill-fitting and ill-suited styles and fabrics. It helps with confidence on stage to know that you are wearing something that has been custom made just for you. Inspiring and empowering impassioned Music Artists to pursue their dreams is a massive driver for me personally, so I see Turn Up a most valuable event on so many levels.
What will you be bringing to the conference as part of the panel?
Branding is a powerful way to set yourself apart in the Music Industry, tools such as your genre or your song writing style, musical talents and performance style, also visually how you present on social media and during Live performances can be used to shape your personal brand. I've seen firsthand the impact helping artists find their sparkle can have, and the spin off benefits achieved when they get their wardrobe right. I've had an artist booked for a live major televised Awards Gala because the show's producer loved a designer gown we made her for one of her film clips so much that he worked the song into his programme, just to have the gown and her on his stage, the song actually hadn't done that well, interesting the power that gown gave her.
Why do you think style and music go hand-in-hand?
Since the birth of MTV, the fusion of music and entertaining visuals have paired music and fashion perfectly. Music and lyrics are the delicious feast for our ears and souls, the accompanying fashion is the cherry on top for our eyes.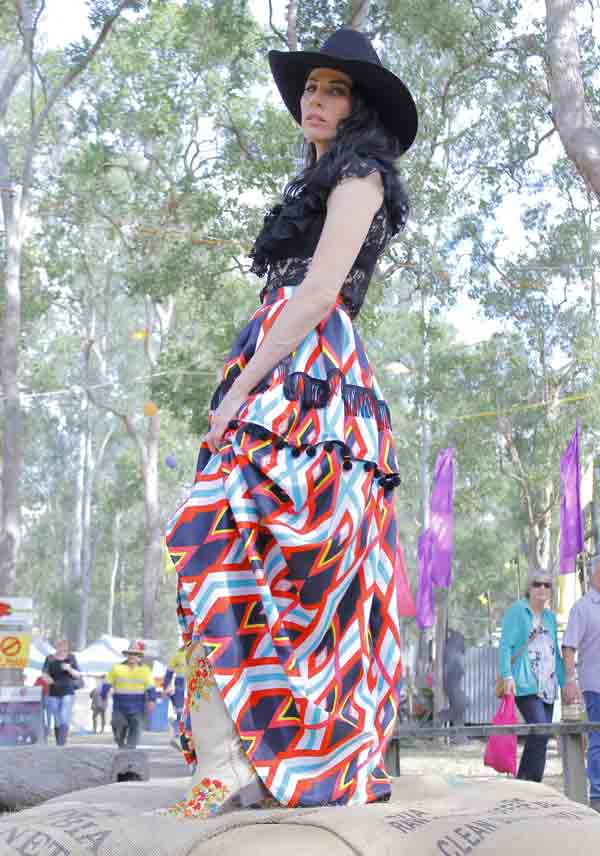 Where did your passion for creating pieces particularly for artists come from?
I had a love for fashion very early but after fashion college I set off for Brisbane and Sydney to follow the traditional paths and really became quite disillusioned with the seasonal waste and churn outs. I stepped away for more than a decade to start a family and it wasn't till I was back in the grips of the Gaga experience that I saw the bright light and realised there was a unique and specialised way to keep creating fashionable art but with more purpose and an environmental conscience attached. Slow fashion that's appreciated at a whole new level by the artist and their fans.
What's next for you and what's next for Racy & Lucky?
The fans are our next audience to love up (so to speak). We are putting much time and thought into keeping production and printing here in South East Queensland and looking to offer a couple of extra and exciting lines to our online store, all the while thinking of ways we can give back and continue helping up emerging female artists across more genres, as sadly female music artists have a smaller window to turn their passion into a career, we want to bolster that window and opportunities where we can. Girl power with some sassy cowgirl edge!
Turn Up music conference takes place on 19 October at Lind Theatre, Nambour. You can learn more about Racy & Lucky here.