If you have had a love-hate relationship with cheesy '90s movies, then 'Titanic: The Movie The Play' might be for you.
Act/React, the Brisbane team who have created this comedic homage to the epic James Cameron blockbuster – who are also behind last year's 'Speed: The Movie The Play' show – which runs as part of the
2016 Brisbane Comedy Festival
. "It was just a funny conversation," co-creators Greg Rowbotham says.
"We are all friends who work together a lot and one night we made a joke: 'Wouldn't it be great if we could mock '90s movies'. We all thought of 'Speed', but it was just a joke among friends over a few drinks. Then Natalie Bochenski [co-founder of Act/React] rang us three days later and said 'I've found a bus, we're doing it'.
"People loved ['Speed: The Movie The Play'], and it was super popular... People were joking saying 'are you going to do Speed 2: Cruise Control', which is set on a boat. We were just laughing it off, and then we started thinking about it and realised there is another famous boat movie from the '90s we could do."
The 'Titantic...' show will incorporate its audience within the set. "Our set is in different parts to link in with integral parts of the movie, and the audience will be integrated into that. So it's not just a sit and watch show, they will be involved either in first class, or you're more likely to get put to bench seating and you'll have to sit like the poor people."
Greg's passion, aside from mocking cheesy films, is science, which he has successfully combined with comedy with his online podcast
'Smart Enough To Know Better'
. "That podcast is all about making science accessible and pointing out that it is for everyone, not just for Einstein-looking people with crazy hair. The podcast is my way to join comedy and science together."
'Titanic The Movie The Play' may not have the same budget as the 1997 film, but Greg reveals how close they were to getting a full-sized ship for their stage set. "We went and talked to the Maritime Museum who we're working with for this show. We are using full-sized lifeboats from the Museum, and we joked to them: 'can you make us the Titanic?'.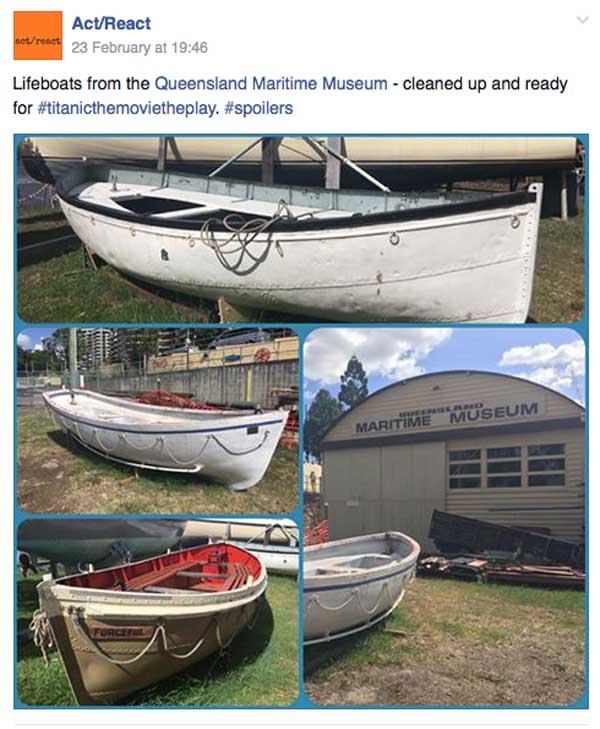 Image © Facebook
"Their volunteers came back and said 'yeah, we can probably make it but it won't be full sized'. We assured them we were kidding, but we did use them to build the bowels of the ship. The front of the ship will be on stage, and will be an integral part of our set. It's huge."
It seems the Brisbane Powerhouse and the Brisbane Comedy Festival have a major fan in Greg. "I love working at the Festival. Working at the Powerhouse is a dream come true [as well] because it means you're able to have access to professionals on the ground who can solve all your technical problems with. I love it."
'Titanic: The Movie The Play' plays at the Brisbane Powerhouse as part of the Brisbane Comedy Festival from 2-19 March.