Sammy J And Randy Land is reopening its gates and returning to the stage after abruptly closing earlier in the year.
The pair have been keeping busy with various solo projects throughout the year, but are looking forward to ending the year together with the return of their anticipated theatrical adventure. "It's back to basics for Randy and I," Sammy explains.
"We started off doing really big, theatrical shows with songs and props and costumes and then we got sidetracked while we made our sitcom for TV. So it's really a return to what we love doing the most, which is big, theatrical comedy shows.
"The flimsy premise for this [show] is that we've decided to open a Sammy J and Randy themed, amusement park off the back of our TV show. But it falls apart in the first scene, because of course I wanted it to be Sammy J Land and Randy wanted it to be Randy Land. So then we spend the rest of the show arguing about that."
The show exists with the same Sammy J and Randy characters that fans have grown to love. "On stage we exist in a silly world, so there's no satire or point to things going on. It really is just an adventure story. It's just a buddy tale of course.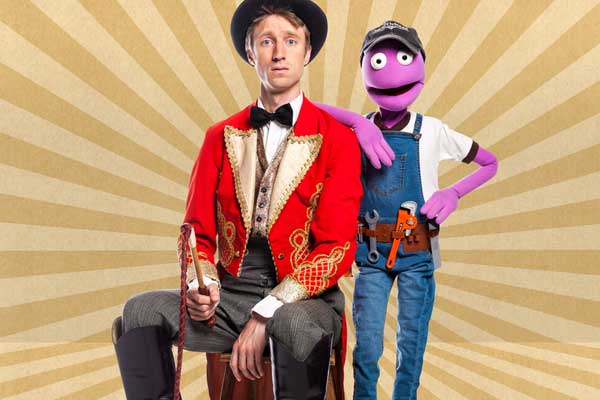 "Early on in the show it becomes apparent that Randy had borrowed three million dollars from the bank to build our theme park, when I (Sammy J) thought we had a budget of fifteen thousand dollars. So that's our first argument.
"The audience meets us in the bank trying to get a loan and then it really just ascends from there. I don't want to give too much away but the opening scene is a magic act involving Randy and I that goes horribly wrong," Sammy J says.
Inspiration for the show came from the long process involved in creating their TV sitcom 'Ricketts Lane'. "We wrote this show in reaction to the TV show process because that was so fun, but it was a two-year journey and just a long process… This was us just saying, 'hey, let's just try and make ourselves laugh and do something really stupid'. So everything just gets sillier and sillier in this show.
"I think we're also conscious that the TV show did give us a wider and new audience, so we know there's a lot of people who will be seeing this who have never seen our live show before. So we tried to make it a good introduction as well; nothing too full on."
For anyone who has seen a Sammy J and Randy live show before you know it'll be silly and fun with musical numbers scattered throughout. If you're familiar with their TV show, imagine what that would be like without TV executives and lawyers checking over their shoulders and you can get an idea of how loose they can get on stage.
After a six-month break, Randy says it's like getting the band back together. "We really are excited. It really had felt like we were in the middle of our season and we had to cancel it, so it was really gutting. So it's nice that the year has finally rolled around and we get back on the stage."
Sammy J And Randyland Shows
Thu 1 Dec - The Cube (Wodonga)Sun 4 Dec - Enmore Theatre (Sydney)8-10 Dec - Brisbane Powerhouse15-17 Dec - Athenaeum Theatre (Melbourne)