Somewhere in the world, there exists a facility populated by giant grinning octopi, flowers with faces, tentacle-winged lizard-creatures and lightbulbs the size of smart cars. And it's not an experimental government compound (although that probably exists too).
No, this curious place is where comedian, Ross Noble, retires the remnants of his rampant imagination. "It's like the end of 'Raiders of the Lost Ark' in there," Ross laughs. If you've seen his stand-up before, you'll know he's not a plain old microphone and black curtain kinda guy. His theatrical imagination spills out onto the stage in the form of strange, oversized objects. Ross says he'd love to find a space big enough for people to be able to roam around among them. But, for now, Aussie fans can look forward to seeing his latest colossal creations in his upcoming 'El Hablador' tour.
More than just a man with a fancy set, Ross is famous for the artfully improvised tangle of tangents he leads his audience through. His unique style came from the most unlikely of places. Diagnosed with dyslexia at a young age, writing was never his strong point. "For dyslexic kids, it's easy to be written off as not being smart but it's not that. It's just a different type of thinking."
Since he didn't write things down to remember them, Ross developed a remarkable ability to hold even the most complex story webs in his mind. And his talent for improvisation grew along with his memory. "All the things you have to develop to get around the problems of not fitting into the box that school expects you to fit into, they're the things you ultimately use to your advantage. It can feel like a handicap but it's a gift really."
The style Ross developed gives him the freedom to walk out on stage with no idea how he's going to start. He simply flows with whatever's relevant in the moment. Hecklers, the bane of most comedians, just give him more material to work with. And, over the years, traditions have grown among his fans. Knowing how much he's influenced by interactions with the audience, gifts and oddities are often placed on stage to inspire and amuse him.
"My show really depends on people getting involved. Not necessarily shouting out, but the more energy you get, the more you give back. And you can take it to unusual places if people come with you." Such unusual places, in fact, Ross is often described as a surrealist comedian. His wild imagination and improvisational style mean you could go to every show on his tour and enjoy a unique set each night. There are few (if any) other comedians you could say that about. Even so, he's not so sure about the 'surrealist' and 'crazy' labels he's often given. "It's not madness, it's about playing."
While it may all be in the name of play, Ross did accurately predict an odd new trend, six years before it started. In 2010, he joked about blokes in the future getting testicle lifts. After some serious fact-checking, we can confirm scrotoplasty (also rather charmingly referred to as 'testicular uplift') came into being in 2016. When we questioned whether he was some kind of testicular prophet, Ross is quick to quip "yes, and someone is making a testicular profit out of me being a testicular prophet."
Turns out we're not the first to point out his prophetic skills. "You know, I was working on a show not long ago and jokingly talked about a very famous celebrity and I said, 'he'll be dead soon' and then the next week he died. One of the girls I was working with started saying I had psychic abilities. And I just didn't correct her."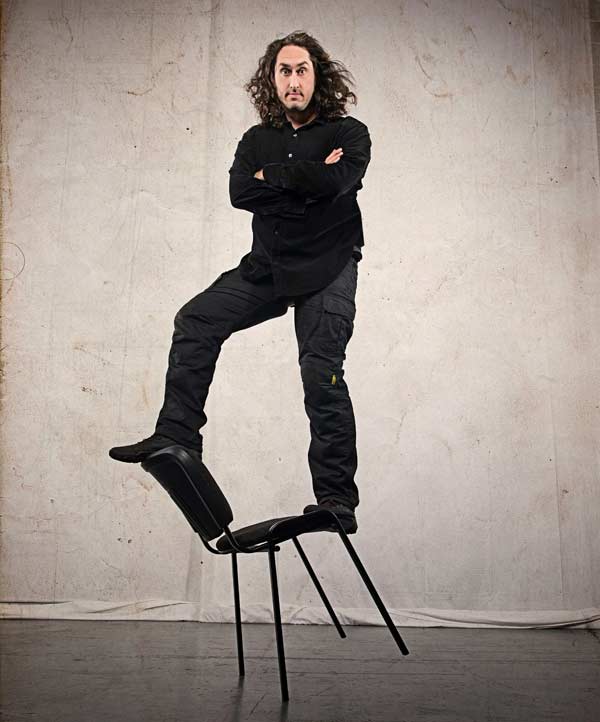 While he holds no illusions about being psychic, Ross does enjoy all things supernatural, particularly if they come in the form of horror. He's made appearances in a collection of horror films and just finished up a horror-comedy-musical – Young Frankenstein – in London's West End. Fear, he explained, is the dark alter-ego of comedy.
"A lot of the time comedy is not about what you see but what you don't see. It's about the pauses between the jokes. And horror is the same. Building the tension is not just about the scare, the shock, the gore. It's about the build up to it. Where with comedy you want people warm, happy and laughing, with horror you want them uneasy, fearful and screaming."
The extremeness of the emotions these genres produce pulls people into the present, a place where they're unable to worry about the future or dwell on the past. "Enjoying the moment you're in: that's the secret of happiness and of creating a good show."
Wary of sounding like another comedian turned self-help guru, Ross laughs, "but to be honest with you, what I just said is so up its own arse."
Ross Noble Tour Dates
8-11 March – Thebarton Theatre (Adelaide)13 March – Frankston Arts Centre (Victoria)14 March – Kyneton Town Hall (Victoria)15 March – Bunjil Place Theatre (Narre Warren)16 March – Wendouree Centre for Performing Arts (Ballarat)17 March – Ulumbarra Theatre (Bendigo)20 March – Glasshouse Theatre (Port Macquarie)21 March – Civic Theatre (Newcastle)22-23 March – IPAC (Wollongong)24-25 March – Canberra Theatre Centre28-31 March – The Events Centre Caloundra4-6 April – Queensland Performing Arts Centre7 April – Redland Performing Arts Centre (Cleveland)10, 12-14 April – Palais Theatre (Melbourne)11 April – GPAC (Geelong)17 April – Albury Entertainment Centre19-20 April – Enmore Theatre (Sydney) 21 April – The Concourse (Chatswood)22 April – The Art House (Wyong)