Comedian Larry Dean was telling audiences he was gay before his parents even knew, and his show 'Out Now' is a collection of stories about coming out and his life as a gay man.
A self-described 'bender', Larry's bringing his cheeky Scottish style of comedy to the Melbourne, Perth and Sydney comedy festivals. "I started talking about my sexuality a wee bit on stage," Larry says, adding that while it wasn't too personal to talk about, it was definitely a little strange.
"I'd be like 'oh hello everyone I'm gay, but if anyone knows my mum and dad please don't tell them!"
As with anyone's sexuality, the fact that Larry is gay is a part of him, but not the whole. The same can be said for 'Out Now', which he says is also about his family and his life in general.
For a while there, Larry's sexuality wasn't even a part of his routine. "When I first mentioned it on stage I was dying on my arse and I just thought, fuck it, I'll talk about something else."
He'd mentioned to fellow comedians beforehand he was gay, but he never talked about it on stage. They encouraged him to give it a go, saying it would be an interesting angle. "So excuse the pun, but it just kind of came out." Larry says
'Out Now' is about his own coming out experience, and the fact that he's never really come across as gay because he's never been stereotypically camp. "It's funny, you'd expect mostly gay people would have an interest in the show, but there seem to be a lot of straight audiences enjoying it as well. Something for everyone."
Larry's looking forward to seeing more of Australia at the comedy festivals, since he only made it to Adelaide the last time around. "I'm wondering if all the stereotypes you hear about the other cities are true."
When discussing that first visit down under, Larry says he felt like the Adelaide audiences wanted him to get straight to the jokes. "Maybe there's this impatient thing some Australians have, like 'we paid money for this, hurry up and get to the damn jokes'."
In general though, he says Aussie audiences are extremely laidback. Unlike the crowds he often gets in the UK, they're even rooting for him to do well. "Rooting for me, yes. I've been avoiding using that word because of its other meaning in the UK. I don't want people here to think I'm perving on them."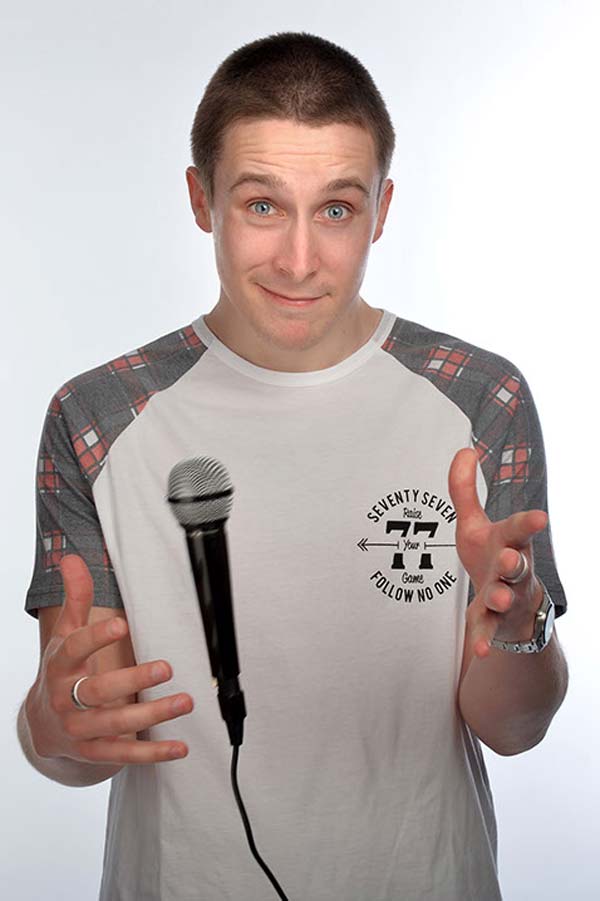 After an assurance that Aussies are definitely aware of the other meaning as well, Larry gives a big Scottish giggle. When he first discovered he wanted to be a comedian full-time, Larry was told that if he wanted to make it professionally he would have to do gigs as often as possible. And so he did. "I was terrible at it for ages, but I think I'm alright now."
Since then he's had the chance to support some big name comedians like Stephen K Amos and Eddie Izzard. "Stephen... I've never met a comedian who's so good at winning an audience, having an audience in the palm of his hand within about two seconds of being on stage."
Larry says working with Eddie Izzard was especially surreal, since he used to watch Eddie on TV as a kid. "I was terrified of meeting Eddie," he recalls. "But I was even more terrified of the 2,000 people in the audience watching me."
A Scottish lad through and through, Larry is sure to bring up his homeland at almost every show, especially if he's not sure the audience knows what a Scottish accent is. "It does come into it a little bit. Scottish humour's very silly and crude, which describes my sense of humour as well I think."
In 2013 Larry was voted Scottish Comedian Of The Year, which came with a bittersweet reward: a trophy he had to return. Larry thought he might get a big, gold trophy, but instead was presented with a wooden one he had to give back. "Budget cuts in Scotland, I guess. I was gutted. The only thing I've got at home now is a runner's up medal!"
Larry Dean Tour Dates
Fri 1 Apr-Sun 17 Apr - Roxanne Band Room (Melbourne)Sun 24 Apr - The Comedy Store (Sydney)Thu 28 Apr-Sun 1 May - Mt. Lawley Bowling Club (Perth)