Local improvised-theatre group ImproMafia are offering you a ticket down memory lane with their '90s-children's-TV-inspired comedy show, 'Not 4 Kidz'.
With added elements of raunchy behaviour and foul language, the show maybe more suitable for those who remember that period of children's television.
David Massingham, one of the performers, explains how the show will be split into "short scenes from 5 minutes to 15 minutes", which will be "inspired by the audience's ideas".
"People can certainly expect an enjoyably upbeat television host with a hair scrunchy and a filthy-mouthed puppet sidekick. A possible Agro influence is there. The short scenes themselves end up going into slightly risque and slightly adult humour. I guess it really depends on what sort of offers we get from the audience on the night."
David's love of improvised comedy is down to its "spontaneity", and the experience of performing jokes that are created in the moment. "It's the joy of surprise. What you get from the audience and also what your fellow scene performers come up with which surprises you, is what usually makes you more likely to come up with something exciting in the next moment.
'Not 4 Kidz'
"You can never really predict what the audience is going to give you and that's the joy of it... It's the joy of creation and the fact that it's a shared experience for the performers and audience alike. Everybody knows that this is never going to happen again, and that makes it a bit more intimate if you're performing on a live stage. It means you have a bit more of a one-on-one connection with the audience. It makes everything a lot funnier as well."
The show's creation came about through the idea of nostalgia being a powerful tool to please an audience. "It came from the idea of thinking back to growing up, and being a kid watching this strange collection of shows that got thrown at you in one go. An aggressive puppet [Agro], killer cats in 'ThunderCats' and one about ducks stopping heists ['DuckTales']. I just thought it would be a really rich vein to tap for an improvised-comedy show."
ImproMafia are regulars on the Brisbane comedy scene, but the Brisbane Comedy Festival offers David added excitement because of the event's size. "The Brisbane Comedy Festival is obviously the biggest comedy event in the Brisbane calendar year, so getting the chance to perform at the Festival has always been really exciting. It gives us the chance to perform to audiences who have never seen us before.
"It also means putting the work we've been working on to a bigger stage with a bigger audience. The Powerhouse itself, for my money, is the best and most versatile venue that Brisbane has. The Powerhouse is such a cultural hub that everybody knows about."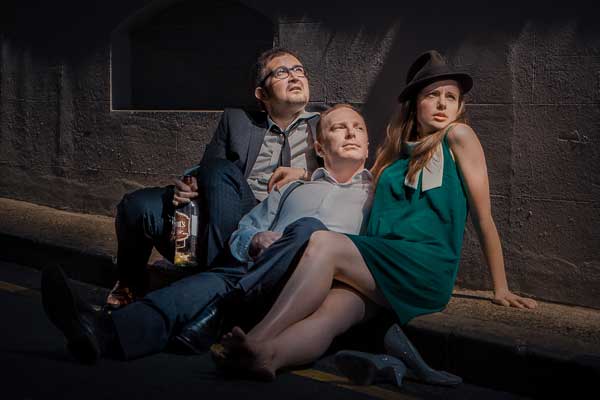 'Martini Time'
ImprovTheatre will also be showcasing another show at the BCF titled 'Martini Time'. "That one is going to be a show that's sort of toe tapping, finger clicking, 1950s-rat-pack-style musical. So lots of songs inspired by the audience's suggestions, and it's a chance to step back to that semi-glamorous world of guys and dolls. It's going to be a pretty cracking show."
'Not 4 Kidz' plays at the Brisbane Powerhouse 5, 12, 17, 19 March. 'Martini Time' is at the Brisbane Powerhouse 4, 5, 11, 12, 18, 19 March.