Nazeem Hussain was filled with boundless energy from the moment he hit the stage at the Brisbane Powerhouse (9 March) to perform his new show: 'Hussain In The Membrane' as part of the Brisbane Comedy Festival.
With practically a decade of performing experience, Hussain is a force of nature to be reckoned with. He is a polished and season comedian capable of making one of the most ethnically diverse crowds at the festival consistently double over in laughter.
After a quick introduction and acknowledgement of the traditional owners of the land, he launches into his first of many tirades, first picking an unlikely target: dogs. Hussain expertly explains his disdain for dogs, linking it to his Sri Lankan heritage and using this as a brilliant set-up to satirise the attitudes that Muslims face in the Western world.
Not only is Hussain hilarious, he's incisive and on point. Whether he's talking about possums invading his bedroom in Melbourne or the paranoia of white people, he expertly sets up and delivers a series of sharpened punchlines that always hit their mark.
Obviously a veteran of performing in comedy clubs, he's also proficient in his crowd work, effortlessly coming off the back of conversations with the crowd to create spontaneous laughs.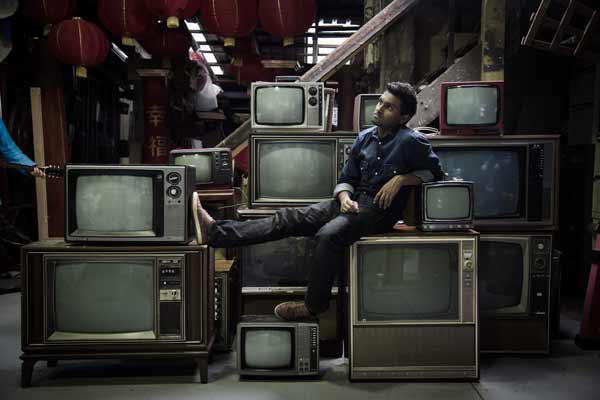 In the vein of comedians like Bill Burr, Lewis Black and Ronny Chieng, Hussain has the ability to channel his angry rants into a more insightful and socially aware style of comedy. His energy is consistent, showing plenty of endurance throughout his onslaught of jokes that require him to rant, rave and yell at the top of his lungs.
Although there is clearly anger behind a lot of Hussain's comedy, he reveals a cheekier and softer side of himself towards the end of the show. He reveals his hilarious tactics of defeating Twitter-based trolls (Photoshop is involved) and talks about his experience with dealing with a member of the vehemently anti-Muslim fascist group known as the United Patriots Front.
In this, he breaks down the barriers between two groups who are seemingly at odds with one another and highlights the commonalities we all share as Australians.
Hussain is a solid act who has spent years perfecting his craft, making 'Hussain In The Membrane' a truly enjoyable and exhilarating stand-up comedy experience.
Catch 'Hussain In The Membrane' at the Brisbane Powerhouse, running until Sunday 13 March as part of the Brisbane Comedy Festival.