An interview with comedy legend and human sound-effects machine Michael Winslow is less of a conversation and more like a one-man show where all you want to do is sit back and enjoy the ride.
"G'day mate, g'day," he says brightly in a near spot-on Strine accent. "For me the Australian accent is the most fun because it's so original. There's nothing else like it is there?
"People can try but they end up sounding like cockney, which is completely different, and when the Americans try it it's the 'Mary Poppins'-Dick Van Dyke cockney, which is really bad!"
If the human sound-effects machine has an off-switch, he certainly hasn't found it yet and thank God for that.
Best known for his beloved character Sgt. Larvelle 'Motor Mouth' Jones in the 'Police Academy' films and TV series, Michael's unrivalled vocal gymnastics have earned him the title of 'Man Of 10,000 Sound Effects'.
Whether it's imitating a machine gun, voicing entire scenes (including all the sound effects) from 'Star Wars' or impersonating Jimi Hendrix, fans will get to see and hear Michael in action when he returns to Australia for the first time since 2014. "This has been the most original show and 'wow' is all I can say," he says about the current tour.
"I don't know what to make of it; the truth is stranger than fiction. As Mick Jagger said in one of his songs, 'right, that's true, the truth is stranger than fiction' [said in a Mick Jagger voice].
"It's been like part of a world tour for me and we've had the chance to go to a lot of places and meet a lot of great people. I've gotta say, I'm enjoying the food everywhere I'm going and I can't wait to try an Orstralian steak [again in Strine accent]. I can't wait for that."
On his travels, Michael says he has been absorbing the culture of all the places he has visited and adding to his ever-expanding repertoire, meaning Australian audiences will have even more to look forward to. "When I was in Finland, I learnt how to do the Finnish death metal style of vocals," he says, followed by a deep, rumbling metal-growl.
"Now I understand why the lead singers only last 13 months," he adds with a laugh.
"The thing I've learnt in terms of if you want to have some fun, [is] you might as well bring the kitchen sink with you because you're going to use it sooner or later. So we're going to do the kitchen sink approach, just throw everything in there.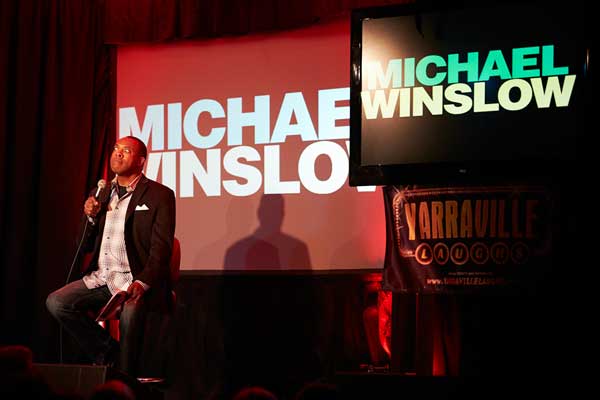 "And don't forget my roots in rock, so there will be a lot. We'll do a lot of things, there will be some tributes and what I call testimonies, which is some stuff that I've seen lately that makes me scratch my head. We're going to have some fun and there's going to be a lot of music."
Michael also says die-hard fans of 'Police Academy' anxiously awaiting the eighth instalment of the cult-comedy films (yes, we do exist and no, we're not ashamed), will have to keep their uniforms in storage a little longer. "Last I checked Key & Peele are co-producing.
"I try to keep in touch with everybody and keep an eye on things, but that's the only news I have so far. In the midst of all the production they're trying to do with 'Police Academy 8', I'm working with part of the Academy cast on a sci-fi called 'Lavalantula'.
"It's tarantulas with lava," he explains, "with me, Steve Guttenberg (Sgt Carey Mahoney), Leslie Easterbrook (Lt Debbie Callahan) and Marion Ramsay (Sgt Laverne Hooks). The second part ('2 Lava 2 Lantula!') is coming out in August on SyFy channel. Remember 'Volcano', with Tommy Lee Jones and Don Cheadle? Basically it's 'Volcano' with spiders and I get to be Don Cheadle, so I'm fine with it," he laughs.


Michael Winslow Tour Dates

Fri 29 Jul - Hamilton Hotel (Brisbane)Sat 30 Jul - Lonestar Tavern (Gold Coast)Thu 4 Aug - Panthers (Penrith)Fri 5 Aug - Workers Club (Sydney)Sat 6 Aug - Village Green Hotel (Melbourne)Thu 11 Aug - Gateway Hotel (Geelong)Fri 12 Aug - Shoppingtown Hotel (Melbourne)
Sat 13 Aug - Chelsea Heights Hotel (
Melbourne)Thu 18 Aug - Hallam Hotel (Melbourne)Fri 19 Aug - York on Lilydale (Melbourne)Sat 20 Aug - Granada Tavern (Hobart)Wed 24 Aug - Entertainment Centre (Darwin)Thu 25 Aug - Arkaba Hotel (Adelaide)Fri 26 Aug - Yarraville Club (Melbourne)Sat 27 Aug - Dapto Leagues Club (Wollongong)