He's a comedian, a talk show host, writer, actor and political commentator, and he's taking the world by storm – he's our very own Jim Jefferies.
Taking a break from the behind the desk of his US late-night talk show 'The Jim Jefferies Show', Jim is returning home this December for his brand new live stand-up comedy arena show 'Night Talker' in what will be his biggest national tour yet.
Self-styled as an unabashed modern prophet who dispenses nuggets of wisdom, Jim has been an indomitable force on the global comedy stage, securing his place as one of the biggest ticket-selling comedians on the planet. He additionally commands a social media following of nearly 1.2 million people across Facebook, Twitter and YouTube.
Love him or hate him, it's hard to deny he knows how to make a point and when he does he makes it well. From gun control, politics and celebrity culture to religion and brokering peace in the Middle East, there are few places Jim has dared not wander with his comedic eye constantly observing and taking notes.
Born and raised in Sydney, Jim was scouted by a talent agent while performing in a high school musical. Awarded an operatic scholarship at the Sydney Opera House, he quickly followed up with a second scholarship to Australia's most esteemed arts academy The Western Australian Academy Of Performing Arts (WAAPA).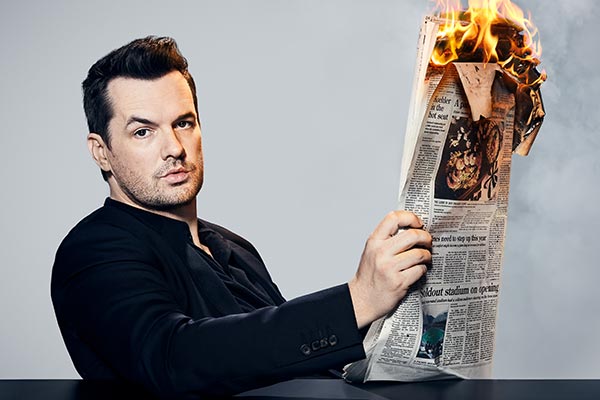 Studying musical theatre, ballet and classical music, Jim was on-track for a potential singing career that was cut short by throat nodules. For the better part of the past 20 years though, Jim has been using his voice to make scores of people laugh and perhaps even think.
Jim cut his teeth and honed his stand-up craft in the open mic rooms of Perth before returning to Sydney in the late '90s; by the early 2000s, Jim had built a reputation that transported him to the UK comedy circuits where his career flourished.
It was in 2007 that Jim got his first brush of viral success, when an online video was published that showed a disgruntled fan storm the stage and punch Jim in the face during his gig at the Manchester Comedy Store.
Jim explained what happened on a 2017 podcast with YouTube fan channel 'Jim Jefferies University':
"If you watch the footage it looks like I must have stirred him up but I didn't say anything to him, he was upset with a joke I'd said earlier," he says.
"They were a pretty hostile crowd to begin with and I offended him five minutes before he punched me and he festered with it, but he never stood up and said 'hey, you're a f...ing arsehole', he just ran up and punched me.
"I'd put this woman down on one side of the room several times and I said 'that's it, I'm going to leave you alone now – like your dad did', and this guy had some issues in his drunken haze about his father that he hadn't resolved."
Perhaps Jim is best-known to many for his widely-shared stand-up routine from his 2014 Netflix special 'Bare' where he royally skewers anti-gun control arguments in the wake of the Sandy Hook school massacre.
"We were filming an episode of my sitcom when Sandy Hook happened," he tells Michael Schneider in an article in IndieWire from May 2018, "and there was an older actor who I think is a very nice fellow, but he's a mad Republican gun-owning sort of guy. And we got into a bit of an argument after Sandy Hook and that whole routine just wrote itself after 30 minutes.
"I'm still very proud of that comedy routine. I don't think it's the best thing that I've ever done, but I think that routine gave a lot of frustrated people a lot of fun, non-confrontational arguments that they could use at dinner parties."
Three years later in 2017, from his post as the anchor for his own talk show, Jim once again found himself talking about gun violence in the US after a gunman opened fire from a Las Vegas hotel, leaving 58 dead and 851 injured.
Only this time there was no levity from Jim:
"I've said everything I can. You know what needs to be done to prevent this from happening again, but we didn't change the laws after Sandy Hook, we didn't change the laws after the Pulse nightclub and we're not going to change them now.
"So, if you think you want to do something, why don't you tweet hashtag pray for Vegas, change the filter on your profile picture, post broken hearts on your Instagram, but know that you are literally doing nothing but p.ssing into the wind. This is our reality now. America, you let this happen. I dare you to prove me wrong."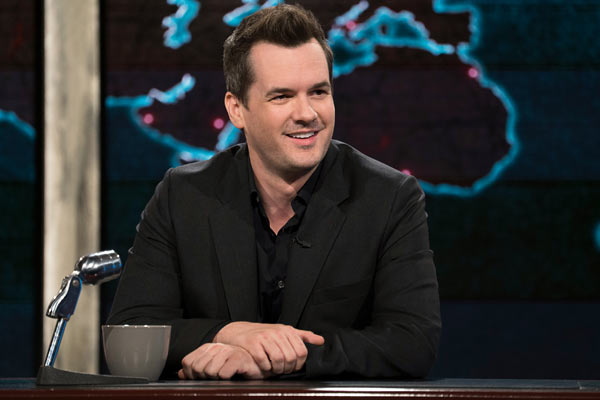 Last year Jim's profile skyrocketed even further after telling Piers Morgan to "f... off" when Piers defended Donald Trump on US talk show 'Real Time with Bill Maher'. During a discussion about the President's controversial immigration measures against Muslims, Piers took exception to it being called a 'Muslim ban'.
"There is no Muslim ban," Piers stated. "This is the hysteria I'm talking about; 85 per cent of the world's Muslims are allowed in the country."
To which Jim replied: "Oh, f... off. This is what you do, Piers. You say 'He hasn't done this, he hasn't done that, he's not going to do all these things'. Give him a f...ing chance, mate. Hitler didn't kill Jews on the first day. He worked up to it."
Following raucous applause, Jim topped the segment with the quip: "You just like that you won 'The Apprentice' and you have a famous friend."
The spat didn't there, with both parties taking to the Twittersphere; Piers called Jim a "sanctimonious turd" and "an offensive halfwit", while Jim considers Piers "an asshole" and "a bit of a knob".
Though Jim is based in the US now, he's never lost his identity as a boisterous Aussie bloke, telling Elissa Blake in a 2016 interview for The Sydney Morning Herald:
"I still consider myself Australian, of course. I don't for a second think I've actually become American. But I am raising an American child. Whenever I hear his accent, it weirds me out. He's three and he has this silly little American accent. He lives in a house with an Australian. Why doesn't he want to pick my accent up?"
Atop his TV throne, a long way from his home and where he started, Jim Jefferies may seem to have everything a comedian could ever want or work for, but in an August 2018 interview with Paul Schrodt from 'Money', Jim is unsurprisingly frank about how long his reign may last.
"I won't have a TV show anymore. I won't be selling as many tickets as I did. You know, just getting old, man. I think one day I'll just retire rather than fade into oblivion. I haven't set a timeline on it—maybe in ten years."
Don't worry... Jim's got no plans to retire before his big visit back down under.
Jim Jefferies Australia Tour Dates
6 December – Adelaide Entertainment Centre8 December – RAC Arena (Perth)12 December – Brisbane Entertainment Centre15-16 December – ICC Sydney Theatre17 December – Rod Laver Arena