Comedy superstar Jeff Dunham is bringing his dysfunctional family of puppets to Australian shores this month, with his brand-new show 'Passively Aggressive'.
The American ventriloquist got his first dummy at the age of eight, and holds a Guinness World Record for Most Tickets Sold for a Stand-Up Comedy Tour.
His TV stand-up specials have broken comedy viewership records, and his characters, Walter, Achmed the Dead Terrorist, Bubba J Jose Jalapeno and Peanut have stirred up audiences the world over.
The 'Passively Aggressive' tour is visiting 60 cities around the world. Here, Jeff answers some questions about the tour and his work in general.
You're on a massive tour at the moment, what keeps you sane while you hop from city to city?
You're making a huge assumption; I have no idea if I'm still sane. But honestly… It's FaceTiming with my wife and kids, plus reading all sorts of books, and then looking for crap on eBay. I have a collection of vintage '70s stereo equipment that I continue to add to and then refurbish and fiddle with at home… Plus all the accompanying vinyl and great pieces quadraphonic hardware and… Yes, even 8-track stuff. I also have a fun and very eclectic collection of cars… Almost all of the stereo stuff and the cars have come from trolling on eBay while I'm on the road. (This is where the "I don't know if I'm actually sane" part comes in.)
Can you tell us a little bit about 'Passively Aggressive'?
That tour name comes from what it is that I try to do on stage… Much of comedy is about finding that very delicate balance between making most of the people laugh, while getting right to the edge of offending a handful of folks. That's more and more difficult with this crazy PC culture we live in now. I find it sad that we can no longer laugh at ourselves, and it's the comedian's job to still help us do that without ending his or her career with a joke that goes 'too far'. Social media has crippled comedy with people being self-appointed judge and jury, hiding behind their faceless and nameless keyboards. The tour name, 'Passively Aggressive' points the finger right at the obvious: I have characters being themselves and speaking their minds. Some of it is just goofy fun that all can laugh at, while some of the material may push at the boundaries just a bit. I'm no heady political satirist at all, but I still like to poke fun at the craziness of everything we're surrounded by now.
How do you develop your characters? Or do they just spring into your head fully-formed?
It's a little of both… An idea will come to mind and I may have to 'noodle' on the character idea a bit to make it workable. I'm usually reacting to what's going on in society and I think up a character that can comment on, and make observations which are easily turned into jokes. The character has to be both believable and relatable. Other times the new little guy will just appear in my head, and my reaction is, "Now WHY didn't' I think of that SOONER?"... That's more rare. But that's what Achmed was… So I don't ignore myself.
Where do you turn to for inspiration?
The world; The news; my family; my friends… Anywhere there's activity that can be turned into comedy. I'm also still amazed at where there is comedy that no one imagines. One of the saddest things in my own life was when my father died two years ago. I couldn't imagine getting on stage afterwards and doing jokes and telling stories that had been a part of my act for so long… Even just references when I would say, "my dad", or a character would say, "your dad"… I knew those would be speed bumps in the flow of my act, and I would have to catch myself to not react within myself with sadness. I didn't want to blubber into tears a month after his death, in the middle of my show. How did I fight it? I started doing stand-up about his funeral… Some of the things I observed and what happened. It was comedy gold. Almost everyone in every audience had been to that point in their lives where they lost someone they dearly loved. Well, if you're a good enough comedian, you can find 'funny' between the tears of loss. That's what I did. That material stayed in my act for a couple of months, and I loved doing it.
Any chance of ever adding an Australian to your dysfunctional dummy family?
Of course! I taped my last special in Ireland and I created the drunken Irish baby, and they LOVED it! All I need to do is come back here to tape a special or the like, and you'll have little guy in my act who just returned from his walkabout… (Did I say that correctly!?)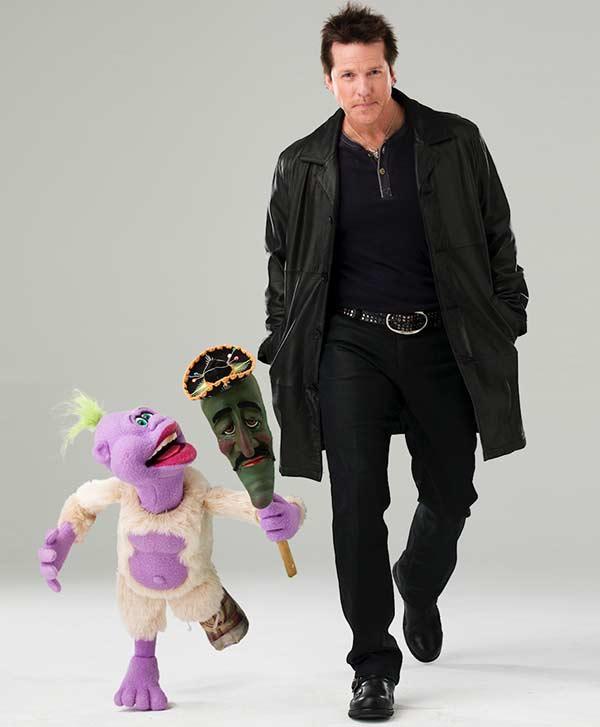 What is it about your shows that have been pulling in audiences for almost three decades?
I think it boils down to well-defined and relatable characters with material that seems to be memorable. Plus, I think folks love bringing family and friends back to share in the fun. I have no agenda when doing my act. I'm not trying to teach or convince anyone of anything. My goal is to make as many folks laugh as many times as possible and as hard as possible with my allotted amount of time on stage, so the next time I'm back in town, folks will bring family and friend and we'll do it all over again.
Any tips for the would-be ventriloquists out there?
That same advice I would give any comic: Do as many shows in as many places and in front of as many types of audiences possible. This is your college.
You've also got some amazing cars – including the literal Batmobile and a 1970 Plymouth Superbird – which is your favourite?
The collection is too eclectic to choose! And favorite for what reason!? I have everything from the Batmobile to a Ford GT to an AMC Pacer to crappy kit cars from the '70s! …And I love them all. But if I had to boil it down to a single daily driver… The 2017 Dodge ACR Viper is HARD to beat!
How does it feel to see your name on the Hollywood Walk Of Fame? Where were you when you got the news?
So funny… I had no idea. I got the congratulations via text that morning from Adam West's ('60s TV Batman) promoter/publicist… I thought he was joking… Or at least mistaken. My wife and I were driving around looking at houses of all things... Then we Googled it, and sure enough! The board had made the announcement just moments before. That's one of those things that I never even considered or dreamed about when I moved to Hollywood. What a HUGE honour. I couldn't be more amazed and proud.
What's your favourite part of performing?
Honestly, it's that drug of the laughter. Nothing is better then hearing hundreds and sometimes thousands of people laughing at your jokes and the characters. It makes every bit of the hard work worth it.
Jeff Dunham Tour Dates
24 September – Hisense Arena (Melbourne)25 September – Brisbane Entertainment Centre27 September – Perth Arena29 September – ICC Sydney Theatre