Australia, it must be said, has a habit of spawning comedians on the quirky end of the spectrum.
Our comedy icons tend to favour rib-hurting belly laughs that force audiences to think, and to be a little more aware. We love our hard-hitting political satire, of course, but add a touch of quirk or whimsy, and more often than not, we're hooked.
Hannah Gadsby might not be the biggest name in Australian comedy yet, but give it time. Her particular brand of quirk rests in the ability to pointedly wander honest and poignant stories from her life into hilariously surreal tangents, all with a droll, usually straight-faced drawl.
Her comedy is deeply personal and often political. And it's entertaining as hell to watch a room full of people leaning forward in their chairs, utterly spellbound by her one-woman war against BS.
The target of Gadsby's latest show, 'Dogmatic', is Taylor Swift's '1989' world tour. In a world where celebrities seem held as sacred, it's refreshing to watch someone intelligently and passionately argue against celebrity role models.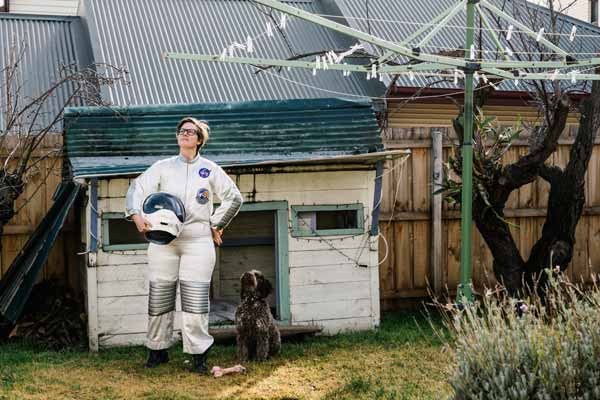 And with wit, charm and a superpower for finding humour in the direst of moments, Hannah Gadsby lets rip against the notion of the rich, beautiful, self-styled underdog.
It's hard to adequately explain 'Dogmatic', and everything I try cheapens it atrociously. 'Dogmatic' is comedy at its finest. It's an exploration of celebrity worship and of life itself, that hits the heartstrings and the funny bone near constantly.
It's both a rambling conversation and an utterly focused attack on the idiocy of celebrities as branded preachers, trademarking their gospels of banal platitudes and patronising hypocrisy in the name of profits and social media shares. It's a pointed, hilarious reminder that all stories and lives matter, regardless of their fan-base.
It would be easy for 'Dogmatic' to join the slew of trolling jeers about Swift's style, talent or boyfriends, but Gadsby is careful to keep the focus on the brand of Taylor Swift, rather than the woman herself.
It's not the show for diehard Taytay fans, granted, but if you like your comedy with a side of intellectualism and social commentary, 'Dogmatic' is a must-see highlight of the Brisbane Comedy Festival.
All in all: five stars with no Lifeline numbers required.
If you don't know what that means, the good news is that
Hannah Gadsby's 'Dogmatic' is at the Brisbane Powerhouse
as part of the Brisbane Comedy Festival until 13 March.