Ben French, aka YouTube comedian Frenchy, has been doing stand-up for almost a decade, collecting a slew of awards along the way.
He's also super apologetic if he misses an interview.
[Frenchy] Hey, sorry I was late for my interview. I was filming something and forgot I had an interview at 12pm, so I apologise for that.
Yeah I saw your Snapchat actually and it looked like you were giving a sex doll a Cleveland steamer?
No, no, no, no! Yeah, I can see how you would've thought that.
There's been a few times where people have been late for me, but definitely a session with a sex doll would have to be a first.
You're not going to hear that excuse again. Well, actually she's just a friend, she's not really a sex doll, it's just a doll and fortunately she's still just a friend at the moment. It did involve lots of chocolate sauce, so I can see how that would look wrong.
Have you got a name for this doll?
Yeah, her name's Britney. She's supposed to look like Britney Spears I think, but she's got short blonde, Shane Warne-type hair and like I don't really see it but she's got the attitude of a Britney Spears.
They never really look like the picture on the box which is really disappointing.
It doesn't.
You don't get what you pay for!
It could be frustrating if I was seriously shopping for blow up dolls but fortunately it was a tax write-off for a skit so.
So that's the latest video that you're working on, did you get to finish it?
Yeah, it's just a little 20 second, 30-second video and I had a few people around today and so I'm just doing a few, bunch of random ones. There's one that started to get out of control because I read the scripts and I don't think they're funny, so I add in the extra stuff like the chocolate sauce and stuff, which probably wasn't needed.
What is your best method for coming up with new content? Or have you been banking stuff for a while?
It's a mix of both and sometimes something will happen in the news or Shannon Noll getting thrown out of a strip club. I've also just got heaps and heaps of ideas in my brain I know I need to do at some point, and when I've got the location to do them and the crew and the people is when I can get them done. I'm never out of ideas; it's actually a problem that keeps me up at night.
What has been your favourite video to make so far?
Ooooo, I'm proud of quite a few of them. I really like The Death Of A Mate series because it's shot on a cliff and it's a really good concept. I wrote it about a friend of mine and it was just after he got a girlfriend. It was like he died because I never saw him and I watched it with him and he just laughed.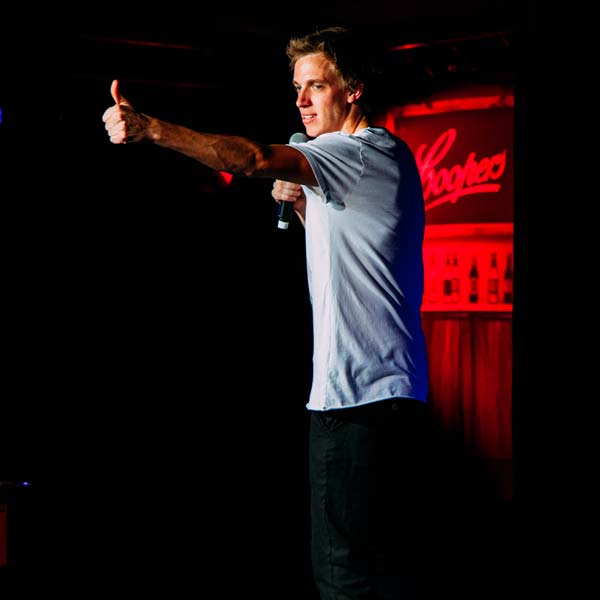 I also really like this one I did earlier it's called Finger Or Dick. It's a very subtle name I know. I deal with this girl Emily; we used to do a lot skits together and she is just a talent, she is so good! We were mucking around filming a different skit and I said 'let's try this, let's play a game it's called finger or dick' and it took about six minutes to film all improvised and we just got three angles bang, bang, bang and it was done. I was like just like, oh I wish I could do skits like that all the time and it went really well. It got like a hundred thousand likes on Facebook or something.
Do you still get nervous when you get up on stage?
If I do a new show I will, so I'm trying all my new material in Sydney next week; it's like a little warm-up show, a little secret show. I'll be nervous for that because I haven't heard anyone laugh at that stuff before. When I did my first show overseas I got a little bit nervous, but if I've done the material before then not at all. I know I'm going to slay and I know that every time I do a show in Queensland I'm going to do well because that's my sort of audience or out west is good too.
How do you normally deal with it if you're up there and you need to calm yourself down?
You need a few nerves; it's like before a sports game you need a bit of adrenalin so you perform better. It's when I'm completely relaxed when I'm not as good and I'm not as sharp. I've got a few songs; my tour manager, he lines up a few songs just before I go on stage because he knows it gets me jacked up.
There's this one from DJ Kook called 'Let Me Clear My Throat', it's actually from 'Bring It On' it's such a good song. Another one is Foggy Fresh, I don't know why but I love his songs. I just remember that they're all there for a good time and that they're not just there to heckle me, and even if they do I'll ruin them.
Do you prefer making videos or stand-up comedy?
Stand-up. I prefer performing live because that's what I started off doing; that's all my people I idolise; that's what they do and it's great seeing the interaction. Seeing people laugh is so much better than reading LOL on a comment. But at the same time, I really enjoy the whole process of making a video. You get an idea in your head and then it's all on you whether it comes out how you want or not. It's cool seeing your video come to life when it's a little15-second video or a web series.
Frenchy Shows
17-18 Feb - Adelaide Fringe3 Mar - Brisbane Comedy Festival10-11 Mar - Adelaide Fringe29 Mar - 23 Apr - Melbourne International Comedy Festival6-7 May - Heath Ledger Theatre (Perth)11-13 May - Sydney Comedy Festival