There's a bear in there, and a man as well.
Australian audiences should prepare themselves for 'iTed E', the next fantastic voyage into the wild world of master ventriloquist, David Strassman in which he and his band of puppets lampoon the technological age.
"This is a really brand new show," David says. "It's basically a show about how I can't get Chuck and Ted E. Bare off their screens. They're on Instagram and Facebook and Twitter and Snapchat, and always sending text messages and emails.
"It really is a mirror to all of us; we're addicted to our devices. We've stopped using our imaginations and our brains. When you want to know who won the grand final five years ago, no one uses their brain; they all go on their iPhone and Google it. So it's a new world and I hold up a very interesting mirror to it."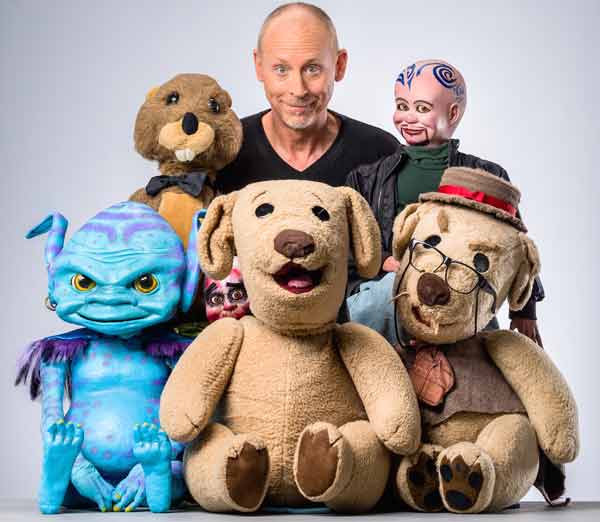 Image © Adam Shane Photography
In 'iTed E', David is preparing to give a TED talk. The first half of the show sees David preparing for the presentation in his Hollywood workshop with five beloved characters in a traditional stand-up ventriloquism set.
"The first half of the show is me talking to five of my major characters: Chuck, Ted E. Bare, Kevin The Alien, Grandpa Fred, Sid Beaverman and Buttons The Very Pissed Clown. I manipulate them in traditional, hand-up-the-bum ventriloquism," David explains.
"There's no robotics, or special effects, it is true ventriloquial comedy; it is just hilarious. It's a laugh every ten seconds. I started off in the comedy clubs in New York City back in the late '70s, and if you didn't get a laugh every ten seconds you didn't get asked back, so my show is stand-up comedy funny."
By the second act and true to form, David takes reality and turns it on its head. In Act Two, David gives the TED talk while operating and voicing five puppets simultaneously on stage.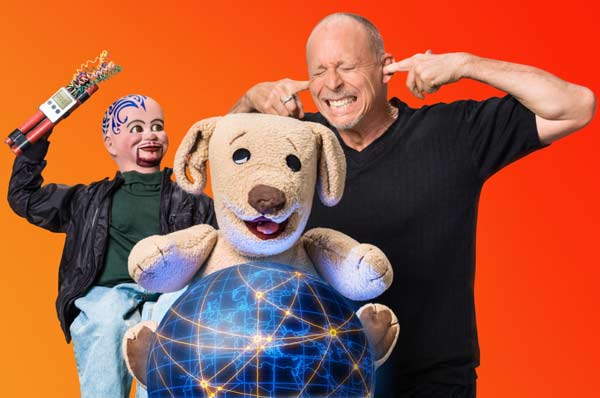 Image © Adam Shane Photography
"As they sit in their own separate little chairs, I operate them with a handheld wireless device," David says. "I throw my voice to five characters in a 25-minute sustained, hilarious routine on what is real and what isn't. It's mind-blowing, it is hilarious, it is jaw-dropping and it is something that you will never ever see on a stage ever in the world of theatre."
David will be touring 'iTed E' throughout Australia as part of his national tour, with extensive dates in regional areas.
"Australia is a second home," he says. "I love the attitude, I love the quality of life; everything is excellent. Sausage sizzles at Bunnings on Saturday arvo, I love the fact there's a Boost Juice in almost every city and you can always get fantastic Asian food anywhere in Australia, as well as a damn good steak if you want one. I've been coming there for over 29 years and it really is a second home."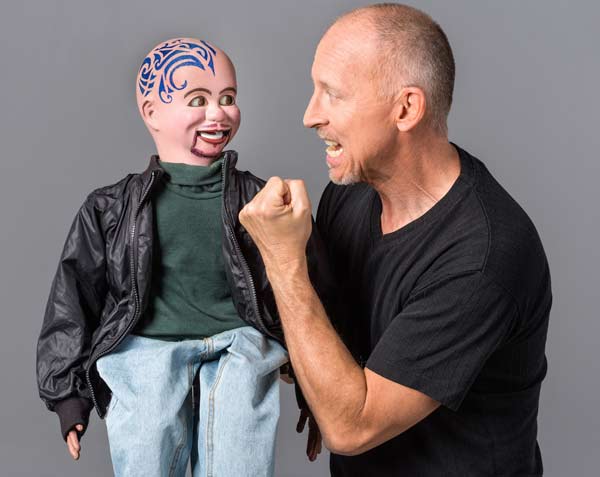 Image © Adam Shane Photography
With each show he produces, David takes his craft to the edge, pushing the limits of ventriloquism and comedy with a ragtag band of puppets so well personified it's hard to forget they're just puppets.
"Each character has the same dramas you'd find in a play," David says. 

"They have hopes, dreams, backstory, foibles, neuroses, wishes. So the fact that they are well-fleshed out with incredible backstory and depth of character, that's what makes them really enjoyable to watch."
"Because you're not just seeing a vehicle for telling jokes, you're seeing a living, breathing entity with a past and a present, and that's what makes my characters come alive, the fact they are well-developed and full."
David Strassman performs 'iTed E' at venues in Queensland, Western Australia, Victoria and New South Wales. Click here for the full list of dates.