David O'Doherty is coming back to Australia with a brand-new show made up of talking and songs played on a crappy keyboard from 1986.
That is, if the demo tune doesn't go off on the keyboard as his suitcase is being unloaded from the plane like last time, and the Australia border police almost carry out a controlled explosion on it.
Embarrassment from that incident aside, David is excited to be bringing his music and comedy around the country. Here, he answers some questions about the show.
There's music injected into your show! What can we expect in that department?
There certainly is! Music is injected via the sweet, sweet tones of the Yamaha Portasound PSS260, a keyboard i recently bought on Ebay for $15. Yes it uses a lot of batteries, but you can fit it into a sportsbag, so airlines don't know it's a musical instrument and try to charge you extra.
How would you describe your style of comedy?
It's like a Shetland pony got hit by lightning and, rather than killing him, gave him the power of speech. Also his little hooves got split apart, so now he can play a $15 Ebay keyboard too.
What do you love about Australia?
I love how you call traffic cones 'witches' hats'. You know this doesn't happen anywhere else on earth, right? You know you are the only ones to adorably use a Halloween-themed nickname for them? That is, unless you have a serious witch problem here that I don't know about, and the government has been confiscating their hats and using them to reroute traffic.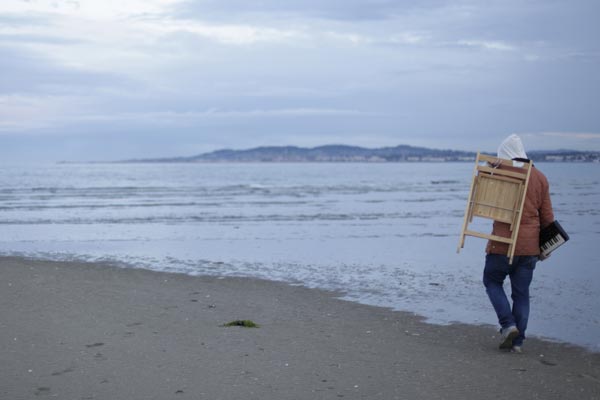 Do you have any recent experiences in your comedy that strike a chord in a not-so-good way?
I did an outdoor gig in Regent's Park in London recently and a pigeon dive-bombed the stage. I think it was blinded by the lights. It zoomed down and splatted into the backdrop behind me. Rest in peace little guy. I'm sure a lot of people dislike my comedy, but you are the only one who had the balls to try and murder me while I was performing it.
On the flipside, what's been a particularly wonderful experience you've had doing comedy recently?
I got to do a gig with my dad recently. He's a proper jazz pianist. I said I was practicing the eulogy for his funeral and got him to come onstage and play along with it. He really livened it up, something he won't be able to do the next time I read it. Sorry if that's too bleak an ending for this. PLEASE DON'T DIE, DAD.
David O'Doherty Dates
Until 22 April – Melbourne Comedy Festival24 April – Regal Theatre (Perth Comedy Festival)25 April and 3 May – Enmore Theatre (Sydney Comedy Festival)26 April – Brisbane Powerhouse2 May – Royalty Theatre (Adelaide)