New Zealand comedian Cal Wilson enjoys the simple things in life: making people laugh, arts & crafts and everyone's favourite past-time, annoying the hell out of loved ones.
"I really love finding out how people annoy their partners because it seems to be a fairly universal thing that people like to do. I've been with my husband for 11 years and I like to drive him mad, it's the way I show my love for him.
"I have all these different things I do; like every time we get home and I get to the door first I pretend it's our first date and I thank him for a lovely night and then I lock him out. So I like to hear from the audience what they like to do as well, and it's great, you get new ideas from other people."
Cal will be sharing some of these tips and more when she headlines Laugh Your Pants Off at Jupiters Hotel & Casino in September. The line-up also includes performances from a slew of comedians including Hannah Gadsby, Ronnie Chieng and musical comedy group, Elbow Skin. "There's not a bad one amongst them," she says excitedly.
"I love Hannah Gadsby, I think she's amazing, and Ronny Chieng is doing incredible stuff. Elbow Skin are great, they are really fantastic; they sing a song about mothers which freaks the audience out but it's my favourite. I love peeking out from the side of stage and watching the audience lose their minds; laughing, but freaking out at the same time."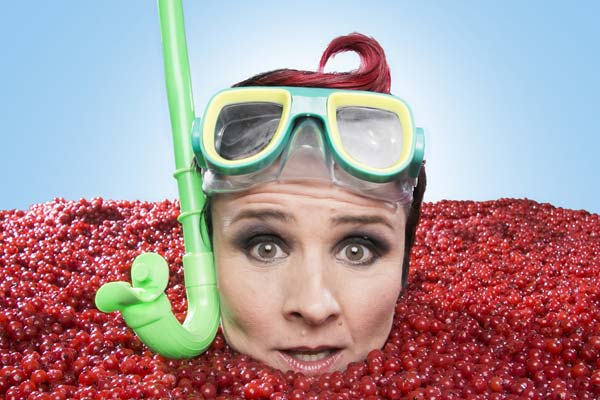 Cal's most recent stand-up show, 'Undercurrents', had a successful run and saw her exploring her theatrical side by looking at what may have been in her life and the many roads not taken.
For Laugh Your Pants Off, Cal will be returning to her much-loved stand-up style. "Different things intrigue me. Like last year, it was really character-driven and thinking about all the people I could have become and it was a lot more theatrical; this year it's more about going back to straight stand-up and having fun with that."
Headlining Laugh Your Pants Off with Cal is her long-time friend and collaborator, Tom 'bugger me it's Richie Cunningham' Gleeson; the two currently work together on ABC TV's 'The Weekly' programme with Charlie Pickering. "I'm one of the staff writers, so there's a bunch of us and we just hang out in a room together and say lots of things that aren't fit to print.
"My first job in Australia was 'Skithouse' and I've known Tom ever since I got here, so it's been really great working with him again and it's great that we get along because we're literally two feet away from each other in the office so it helps," she chuckles.
While Cal's career is replete with success across stand-up, TV and radio, one of Cal's proudest moments so far was helping to write the offbeat musical number 'Don't Rape', which aired recently on 'The Weekly'. "People have really responded well to it," she says.
"There are always going to be people who hate it but there are people who hate everything, but the main response seems to be really positive. It is a really massive subject and it's not something that I've seen tackled like that before, so I was excited that we came up with a new way to approach it.
"A thing that can happen with comedy is that sometimes people can confuse the subject of the joke with the victim of the joke, and obviously it's something that's really close to my heart, we made it really clear that we're not mocking victims or survivors or anything like that, it's the subject itself; I was really proud with what we came up with."
When she's not making people laugh or using musical comedy to tackle the big issues in society, Cal likes to indulge in the fine art of gluing things together. "I am pretty handy with a glue gun; it's my thing that I do," she says with a laugh.
"Especially when I'm away I like to go to op shops, two-dollar shops and reject shops, things like that, and just buy little shiny pieces of rubbish and glue them together and make them into glorious kitschy sculptures, or I do wedding albums for people.
"So I cover a wedding album with just shiny shit basically, but it's all relates; little bits of toys and Christmas decorations and stuff, it's kind of a magpie instinct. I can't knit or crochet but I can glue things together."
Cal Wilson headlines Laugh Your Pants Off at Jupiters Hotel & Casino 18 September.