Brisbane comedy fans are in for a month of laughter when the Brisbane Powerhouse hosts the 2016 Brisbane Comedy Festival.
This year, the Festival will feature 45 comedians who'll run amok from Saturday 27 February. At the controls of this comedic madness is the Brisbane Powerhouse's Artistic Director Kris Stewart.
The 2016 Brisbane Comedy Festival… what are you most happy/ proud about this year's event?
After ten years of making people laugh we decided to mix it up a little. We've launched a number of new shows including the City Hall spectacular 'Sunday Showdown' (because dammit Brisbane DESERVES to have things on Sunday nights). We're also excited to have our very own tent, The Big Top, which will be out on the Performance Lawn.
BCF has 45 comedians appearing during the festival. Isn't that a logistical nightmare?
This ain't our first time at the rodeo. After ten years in the ring we know what we're doing [or we're finally good enough at pretending we know what we're doing].
The opening night BCF Gala; what is on offer for the fine folk of Brisbane?
Don your finest apparel and join us to launch the Festival at City Hall. We're talking tuxedos, top hats, gloves*: because when we launch, we launch in style. This year audiences are getting fancy for Tripod, Matt Okine, Steve Hughes, Anne Edmonds, Rhys Nicholson, Mel Buttle, Becky Lucas, David Quirk and special guests. *Shoes. Just wear shoes and you'll be fine.
Another aspect of the opening weekend is the 'Sunday Showdown'. What's involved with this event?
This is the first year we've presented 'Sunday Showdown', but it won't be our last. We've got a killer line-up that will make you want to go out every Sunday night: Nazeem Hussain, Aunty Donna, Harley Breen, Gen Fricker, Sam Campbell, Damien Power, Cam Knight and extra special guests and MC.
Is it a juggling act to make sure you feature enough locals mingled with interstate talent?
It would be a lot harder if Brisbane comedians weren't as good as they are. Their talent makes them just as worthy as those from down south. We're especially pleased to launch 'Brisbane Born And Bread' this year: giving an additional platform to those from the Sunshine State.
Tell us about the 'Lucky Dip' programme… can people expect to see some of the bigger-name acts appear?
We're in the dark as much as you are. Because we like to fly by the seat of our pants and encourage the possibility of them publicly splitting open, 'Lucky Dip' will have its line-up decided on the day. It's a great opportunity to take a risk on something new or something famous.
Aunty Donna will be appearing at BCF 2016
The strength of local talent from ImproMafia and Act/React crews must be inspiring as well?
It's fantastic to see homegrown comedic troupes emerge from the shade of Brisbane's jacaranda trees/ local obsession with sport to successfully make people laugh. The members of both ImproMafia and Act/React are an accomplished bunch and we enjoy welcoming them back to Brisbane Comedy Festival.
What's the strangest rider request you've had from a comedian?
Hemp milk imported from the United States. And no, I won't tell you who likes their milk extra tangy.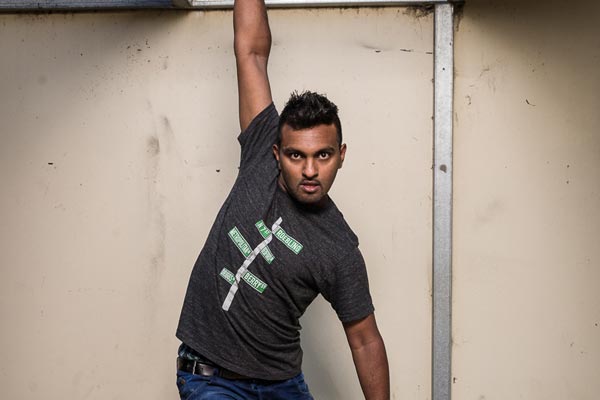 Nazeem Hussain will be appearing at BCF 2016
Which comedian has the best cheer squad?
Every comedian has a healthy dose of fans [or online stalkers], however Wil Anderson's take the cake. Each year his dedicated crew attend and bring beers for him. Some say laughter is the best medicine.
With the current state of world, a little laughter surely can't hurt, right?
Laughter can never hurt: we are big fans of laughing so hard you cry and can't see or read the news.
What will the 2016 BCF be remembered for?
You tell me: after all, I'll see you there every day and night, right?
The Brisbane Comedy Festival takes place 27 February until 23 March.