Interviewing the members of YouTube sensations and comedy collective Aunty Donna is a bit like watching one of their videos; a confusing, yet hilarious experience.
'Shocking' is an adjective often attached to their videos. "We don't actually consider ourselves comedians, we call ourselves shock artists," admits Broden Kelly, one-third of the collective.
Broden's comedy-brother-in-arms, Mark Bonnano chimes in. "We're an offshoot of the Tokyo Shock Boys. We strive to do what they do but put it into writing."
"It upsets us every time we do a live show when people laugh," complains Broden with an audible wink. "When people laugh, we stop the show, we get the spotlight, and get the ushers to remove that person from the theatre. The fact that people are calling us comedy is very confusing."
Mark lays it out starkly. "When you see the show, you're going to get a lot of putting nails through extremities. Some sketches about wordplay as well. And a lot of Boost Juice, we give out little cups of Boost Juice, we love Boost Juice."
He's joking, of course. About the Boost Juice anyway. In the social media world where the Donna boys have made their mark, Broden says fans are never truly satisfied. "We just announced our Australian tour, and it's the biggest one we've ever done. We're going to like five cities, doing a lot of shows.
"The first comment of the first post was: 'why aren't you going to Hobart?' There's no real answer for that is there." The price of fame, one supposes.
Among their comedic influences, Aunty Donna count such classics as 'Monty Boost Juice' and 'Tim And Eric's Awesome Boost Juice'. "It's difficult for me to talk about," reveals Broden, with a tear in his eye, "but my father was a giant Boost Juice, and that bought a lot of problems for me growing up."
But the lads are tremendously excited to be performing in our exotic, sub-tropical climate for the Brisbane Comedy Festival. "This interview is the first we've heard of it actually," Broden says. "We had no understanding of that, we find most of our information out from publicists. We'll probably have a word with our manager about it.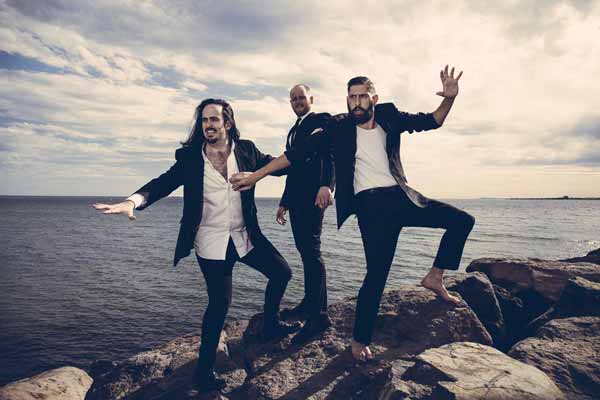 "We have a lot of online fans in Brisbane who we're very excited to get up and meet, because they've been harassing us for the past two years, quite viciously and inappropriately, about coming up there. I'm looking forward to the man-made beach." Mark knows what he likes.
"I'm also looking forward to going to Movie World. You know, Hollywood on the Gold Coast. I'm looking forward to KFC, 'cause you have hot and spicy 'round the clock. We don't have that in Victoria."
Broden says the comedy troupe never anticipated their success. "We fell into it by mistake. We were putting stuff online just for fun. We're of the old-school, we grew up watching the ABC and taping things. I once taped the theme to 'Men In Black'."
But you have to move with the times. "Kids don't watch telly anymore, they watch YouTube. This is the definition of crazy to me; not putting your stuff online. The only drawback about putting stuff online is that it wastes valuable minutes when you could be drinking Boost Juice."
Aunty Donna Tour Dates
3-6 Mar - Palace Nova @ Adelaide Fringe8-13 Mar - Brisbane Powerhouse @ Brisbane Comedy Festival24 Mar to 15 Apr - Melbourne International Comedy Festival21-24 Apr - Giant Dwarf @ Sydney Comedy Festival11-14 May - Perth Town Hall @ Perth Comedy Festival