Around eighteen months ago, Aunty Donna's Broden Kelly, like a super hero, was leading a double life; by day he was a lowly office minion, by night he and his league of sketch comedians sold out the nation's biggest venues in a single bound.
The viral Aunty Donna pandemic, which includes over 27 million YouTube views and appearances on ABC iView and the Comedy Channel, has meant that the call centre cubicle is no longer Broden's prison.
Since casting off the necktie in 2016, Broden and his Melbourne absurdist shock master colleagues have experienced unfettered creative freedom; while it has led to their debut album, 'Aunty Donna - The Album', and a new live show, 'Glennridge Secondary College', Broden jokes about the hidden pain that comes from no longer working for the man.
"It's become our job, our job is to come and write sketch comedy all day and we don't have any real people above us telling us what to do – we're not at the ABC and we're not at Channel 7 so we don't have network executives telling us that a joke's not good, so it's pretty much us coming to work, writing things that we find funny and then finding out if they are when we post them online or if we do them live."
"It's quite crushing because I feel like when you grow up, you're looking to people for approval, whether it's teachers or bosses, and now I'm my own boss and it makes me want to die because I can never please myself. So every day is a struggle and I don't think I have long left; this could be the last interview that I ever do."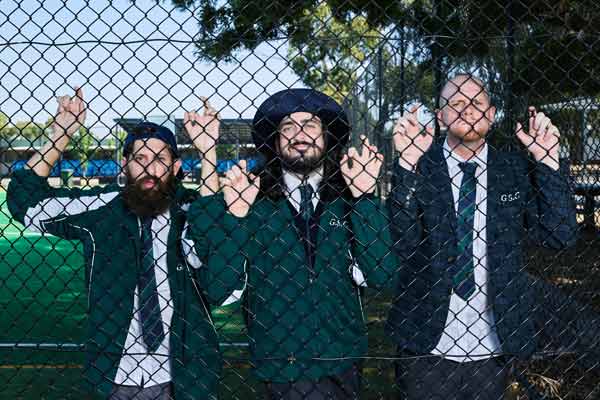 To accurately report an interview with Broden, the deadpan jokes maybe need to be written in italics. His comedy, like Aunty Donna's, can be sometimes subtle, sometimes abrupt. It is an approach that keeps their fans on their toes. While the crew have tuned their comedic radars since 2011 by performing sketches live on stage, Broden still gets nervous in the days following every new YouTube upload.
"Every time we put a video up, it's a real leap of faith to see how the audience is going to respond to it."
"The first day is real scary to see whether people are going to like it and when they do it's really invigorating."
"In the world that we live in now where there's so much f***ing hate and so many pricks out there who live on Facebook and live on YouTube and all the platforms, just saying awful, negative shit to everyone, we have somehow got through blessed, where our fan base is particularly supportive."
With such unflinching support from their online community, Aunty Donna can feel confident to push the boundaries, as they did with one of their most recent videos, 'Professor Whiskers'. Broden was particularly pleased with one of the early reactions to the video.
"We put up Professor Whiskers, which is a song about Mark [Bonanno] being half-man, half-cat, and in the first fifteen seconds of the song, he's shit on the floor and sucked his own penis."
"My favourite comment for 'Professor Whiskers' this week was 'this really, really took me back and upset me but I can't stop watching it'; I really like that kind of stuff."
"The more scary thing is that I forgot that it was offensive; seeing Mark suck his own dick has just become natural to me and I worry about my mental health."
"He's doing it right now; I'm not with him, but I know that he's doing it; it's become like my Spidey-senses."
"I didn't want to get into this but I'm an X-Man; my power is that I always know when Mark is sucking his own dick."
'Professor Whiskers' is not the kind of song that you would play to your family. Broden did, however, proudly share their previous song, a parody of his father, 'Chuffed (Dad Song)', to his dad and posted the reaction onto Facebook.
"His first response was 'are you taking the piss', which I think was in the video."
"He didn't really think it was him much, which is funny to me, because it's very much just him. I've probably shown him in a particularly nice light as well, I reckon, making him very progressive with his thoughts on same-sex marriage, which he does have."
Despite experiencing rampant success online, the Aunty Donna live show still forms an essential part of their business model. Their new show, 'Glennridge Secondary College', like 'Summer Heights High', is a satire of the universally horrific experience of secondary education.
"It takes about six months out of high school I think for people to stop and realise that high school is actually the funniest f***ing place in the world. It is full of egotistical teachers who are good at nothing else so they became teachers, it's full of children who only give a shit about themselves, it's full of kids who call teachers assholes to their face and have no respect for other human beings. It's got uniform rules, it's got kilns; it's the only place in the world where I've ever seen a kiln."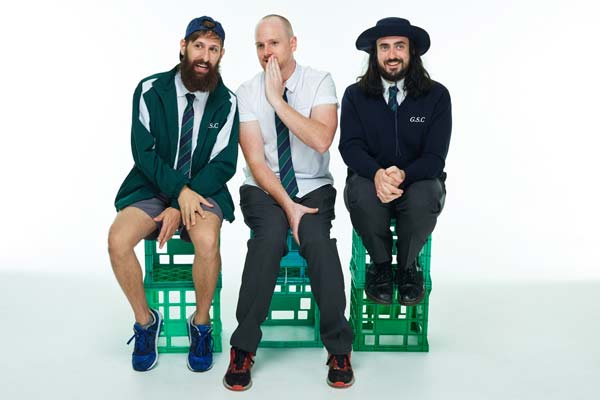 "What we've come out with is I think my favourite show we've ever written. I like to think of it as our loving tribute to high school because it's something that everyone went through, and it's a real gut-funny thing that hits everyone when they hear a particular word or phrase or something."
The six members of Aunty Donna met in the years following their high school graduation, when they attended the University Of Ballarat's Arts Academy. Broden explains the collaborative working method that the sextet has used to reach international comedic success.
"On other TV shows that I've worked on, you have writers and actors in separate rooms and they don't spend a lot of time together, so sometimes there can be a bit of a lack of communication."
"The job we're always trying to do is 'I have this funny idea in my head, how am I going to translate this to hundreds and hundreds of people so they understand what I find funny'.
"If one of the boys brings in an idea and you think 'that's no good', that means that you're not looking hard enough because they wouldn't bring it in for no reason."
Aunty Donna Tour Dates
Until 22 April – Max Watts (Melbourne Comedy Festival)12-13 May – Enmore Theatre (Sydney Comedy Festival)19 May – Regal Theatre (Perth Comedy Festival)24-26 May – The Tivoli (Brisbane)