Cheeky, fun, a little bit naughty and a really good laugh!
'Ladies Night' is the story of four unemployed guys motivated by 'The Chippendales' to form a male stripping act to make some fast cash. They pitch the notion to a local club owner and take lessons from a slightly shop-worn, dance instructor with a heart-of-gold in what women really want from a male stripper (and how to deliver it).
These (above) 'average blokes' attempt a strip to some familiar tunes: 'Hot Stuff', 'Bad To the Bone', 'Smooth Operator' and 'Wild Thing' to name just a few...
These are the Director, Alli Pope's, top 5 (or bottom) moments:
It's a tough gig being a female director
But someone has to do it
Interesting facts
At the auditions there was no shortage of men wanting to take their pants off! They were all extremely keen to show us their 'bits' – just like monkeys!
Embarrassing moments
During one of the shows we had a technical issue – the lights didn't go out when they were supposed to! Imagine the 4 guys… just standing there… front and centre!
Funny moments
Women from the audience throw their undies onto the stage – it happens! Queues of women (and men) after the show wanting photos, autographs, a piece of clothing – anything from the show!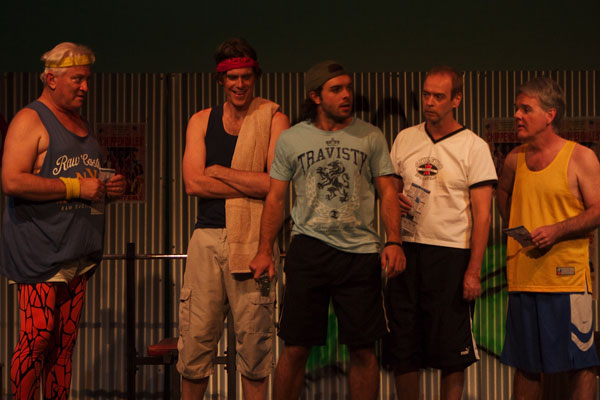 Things I wish I didn't know
Some of the men have regular, major waxing done – of their delicate regions!
'Ladies Night' strips down at Redland Performing Arts Centre 11 June.