In an affectionate and affecting display of love, 'Yank! A WWII Love Story' is a must-see production at this year's MELT Festival.
A tale that needs to be told, audiences will be enthralled with the storyline and absorbed into the heart-wrenching drama it has to offer.
Presented at Brisbane Powerhouse by Understudy Productions, 'Yank! A WWII Love Story' tells audiences the stories that didn't make it into our history books. It's 1943, World War II is in full effect, and a young Mid-Westerner named Stu (Andy Johnston) serves in the army as a reporter for Yank Magazine – a 'journal for and by servicemen'. Following the recruits of the Charlie Company, sensitive Stu meets and falls in love with a fellow soldier, Mitch (Alex Gibson-Giorgio), and, in a time and place where men fought for their survival, the two face their own relationship battle (of acceptance).
Director Ian Good has crafted a production that takes off in flight, with tight transitions, seamless movements and the perfect use of lighting and sound. If anything, it's Good's ability to present love in its rawest form during the narrative that wins the hearts of audiences. Doubling as the Set Designer as well, Good had a clear vision on how to stage the production. Utilising fresh wooden pallet boxes as furniture, the constructions moved to become a variety of scenes – shifting and locking into beds, desks, bars, showers, and more. This quick and easy element, which was transitioned by actors, blended the scenes with minimalistic art.
Musical direction by Trevor Jones coursed through the sounds of the 1940s era, with a 'boogie-woogie' feel. The perfectly arranged harmonisations between the performers were a stand-out feature within the show, with an old-school Barbershop touch. The music by Joseph Zellnik and book and lyrics by David Zellnik had us on a rollercoaster of slow ballads like 'Betty' and fast-paced hits like 'Click'. There was plenty of musical variations to flow the drama throughout the show. Choreography by Dan Venz added a whole lot of swing into every step. The dancers were sharp, consistent and took glee in showing off their talents in a variety of partner work and ensemble pieces.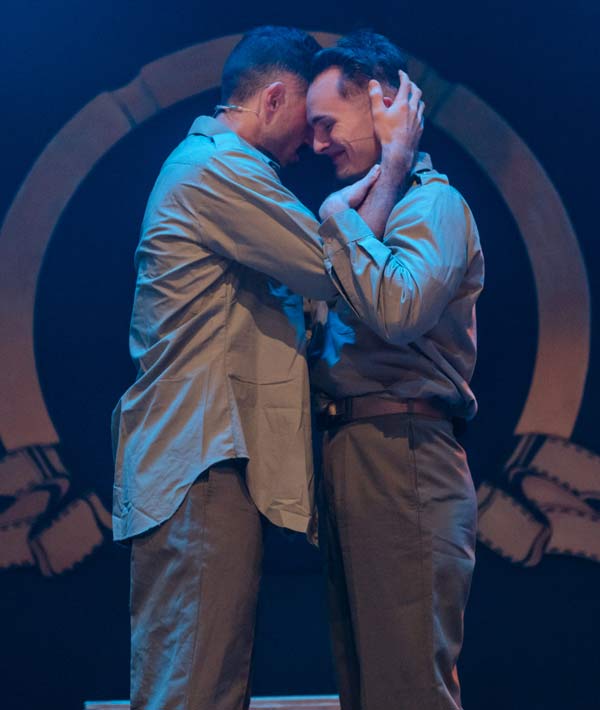 Lighting design by Wesley Bluff split scenes and spotlighted focal points, with contrasting colours and smooth tones. Sound Design by Ben Murray also heightened the tension as the musical progressed. An unforgettable moment was during the battle scene on the front, where all technical components came to life. The storyline flashed between Stu's reality and his dark war thoughts, with lighting and sound playing out the two imaginings and depicting the hardships of battle.
As the introverted Stu, Andy Johnston delivered a compelling and stunning performance that punctured many hearts. A clumsy and scrawny teen who's thrown into the lion's den of the army, Andy captured every emotion with ease; especially as his character discovers his sexuality and more importantly, identity. Andy conveyed an innocent portrayal of introspection and anguish. In one scene, where he was scared and alone, fighting in the war, the torment he acted was poignantly tear-jerking. He made it easy for audiences to relate his retellings to actual soldiers who may have encountered the same graphic circumstances.
As the handsome Mitch, Alex Gibson-Giorgio was everything one wanted in a heartthrob and more. He entrancingly serenaded the audience from start to finish, with plenty of American swagger and equal amounts of a brooding soldier haunted by the demons in his closet. He shared an innocently-curated moment on 'A Couple Of Regular Guys' where both he and Stu dreamt of a life together – their chemistry was insatiable.
As the sassy and self-established Yank! photographer Artie, Eli Cooper was quick-witted and completely in his element. Showcasing his abilities in an outstanding tap routine during the song 'Click', Cooper wowed the crowd and stamped the dance as a stand-out moment, performed with Andy Johnston. Cooper's portrayal had a promiscuous flair to it, which was also centred with the right amount of cynicism.
As the only woman in the cast, Naomi Price switched between characters effortlessly – from a radio singer to a tearful mum, to a closeted lesbian working within the army, to your sweetie pie next door. Price delightfully gave every character their own nuance and style. Her work on 'Get It, Got It, Good' had the catchy tune lasting in one's memory long after the performance ended.
Matt Young, Jared Mifsud and Joel O'Brien played Scarlett, Melanie and India respectively, and brought much femininity to their roles. They provided the comic relief with their lively dispositions and classic love for 'Gone With The Wind'. The trio also flexed their acting abilities in a mix of other roles as well.
Rounding out the cast, Casey Martin, Lachlan Griffith, Jarrod Moore, Henry Kafoa and Callum Slater played members within the Squadron and assisted the storyline as additional characters. Their vocal work was delivered with finesse and they did wonders with the tight choreography. As a male company, the performances were unified.
'Yank! A WWII Love Story' encouraged audiences to be proud to love anyone they chose. With inspiring tales of legacy and survival, and in its Australian premiere, Understudy Productions have delivered a compelling musical of humanity.
Within the audience, tears were abundant and standing ovations came naturally. The story is yet another that is so relevant to then, and even more so now.