When The Sky Fell is a landmark exhibition of Western Australian Aboriginal art acknowledging and celebrating the 50th anniversary of the 1967 Referendum.
Curated by established visual arts curator, Clothilde Bullen and featuring a diverse range of media by artists with distinctive and distinguished practices, When the Sky Fell weaves together a range of responses and narrative threads about the historical and ongoing impact of the 1967 Referendum.
"In modern Australian history, the 1967 Referendum was considered a watershed moment – in the eyes of white Australians – for Indigenous Australians across the country. But I wondered whether this moment and the anniversary celebrations could be unpacked and interrogated to discover whether the impact and consequences were as clear cut and positive as they have been framed to be," Clothilde says.
The resulting exhibition of art offers a challenging yet playful response with incredibly beautiful and diverse pieces including saddles and satellite dishes, large scale wall works, works on canvas in natural pigments, works on paper and sculptural installations.
Working collaboratively with Aboriginal Arts Centre Hub of Western Australia (AACHWA), Clothilde identified a range of artistic communities who have historically felt the impact of the consequences of the Referendum; including the Nyoongar community and artists from the East Kimberley and Gascoyne regions.
"I was interested in artists who may have had generational outcomes and experiences with regards to the impact of the Referendum and, in some ways, this meant thinking about the show as an historical show with a contemporary resonance," Clothilde explains.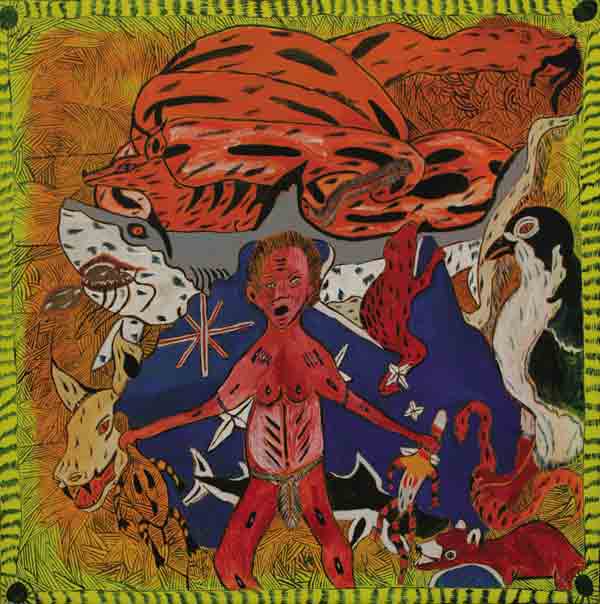 John Prince Siddon – Deadly Place
A cornerstone in Australian politics, the 1967 Referendum removed two references in the Australian Constitution that discriminated against Aboriginal people.
2017 marks the 50th anniversary for an event that was considered by many to be a critical turning point for the prevailing movement for political change within Indigenous affairs.
"PICA (Perth Institute Of Contemporary Arts) is committed to providing both a platform for the voices and concerns of Aboriginal Australians as well as new ways for us to consider our social and political histories," Director Amy Barrett-Lennard says.
"This exhibition and its associated public programmes do just that. We are thrilled to be working, for the first time, with the Aboriginal Art Centre Hub WA and with leading Indigenous Art Curator Clothilde Bullen in the creation and presentation of this landmark exhibition."
When The Sky Fell runs until 20 August at the Perth Institute of Contemporary Arts.