With the unveiling of the Adelaide Festival Centre's Walk of Fame, the Torrens/Karrawirra Parri riverbank has become the Australian artistic equivalent of Hollywood Boulevard.
The inaugural Walk Of Fame Gala featured performances by a cluster of stars from within the galaxy of the inducted names that are now immortalised in concrete and gold. The Gala is destined to become an annual festivity, where the three new inductees per year can be celebrated. It is a welcome return of the variety show, a medium seemingly dormant in Australian culture since the demise of TV shows like 'Hey Hey It's Saturday' and 'Rove'.
In the '80s and '90s, inductees like jazz trumpeter James Morrison and musical theatre starlet Rhonda Burchmore were regularly beamed into millions of households each Saturday night on 'Hey Hey It's Saturday'. You didn't need to be a Miles Davis aficionado or a Broadway junkee to recognise their distinctive visages on the street. While the YouTube and Netflix era of service on demand clearly offers many benefits, it also potentially has lead to a cultural tunnel vision; you only consume what you currently know and like. The Walk Of Fame Gala was a reminder that sometimes you don't know what you are going to like until you see it.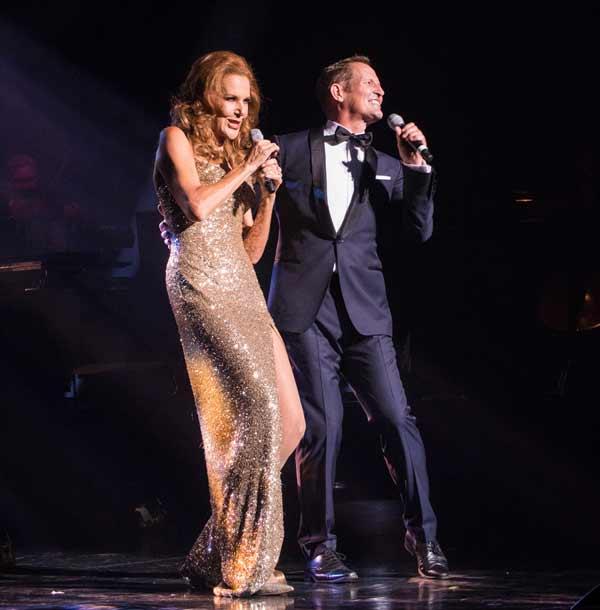 Rhonda Burchmore and Todd McKenney - Image © Kelly Carpenter
As a person who admittedly recoils from mainstream country music, the performance of Beccy Cole, for example, was a spectacularly pleasant surprise. Beccy possesses the glamour of a diva, the wit of a comedian and the incisive social perception of a poet. Her partner Libby O'Donovan joined her on 'Girls Out Here' and in the space of a song easily converted the unindoctrinated. It was a night where fish out of water swam. Actor and Jim Broadbent doppelganger Paul Blackwell delighted with a Brian Friel monologue delivered entirely without context; Peter Combe sang fairy tales to grown-ups. With Zac Tyler's direction, though, this patchwork quilt was seamless. The set design was a simple and effective homage to the theatre's iconic architecture, while the backing band, which included the Zephyr Quartet, impressed with their versatility, tackling everything from 'La Boheme' to Miley Cyrus. Both tragedies, I suppose?
It was also a chance for birds of a feather to flock together. Classical maestros Slava Grigoryan and Niki Vasilakis, were able to duet on Piazzolla's 'Café 1930', while MC Todd McKenney teamed up with old friends Tim Minchin, Nancye Hayes and Rhonda Burchmore for duets and banter. It was a night where almost every act was a highlight, from Greta Bradman's Puccini aria opening to the ensemble's Peter Allen finale, but the goose bumps protruded just that little bit further when Minchin and McKenney combined to deliver the defacto national anthem, 'I Still Call Australia Home'. Minchin said it was an opportunity to heal his relationship with that song, after he angrily used the tune as a vehicle for political satire in 2017. It was an evening where you glimpsed history unfurling before your eyes; a night where Australia's greatest talent converged and then got on famously together.