The magic of Dusty Springfield begins again with a re-imagining of 'Dusty: The Musical' starring Amy Lehpamer, Todd McKenney and the multi-talented Virginia Gay.
WAAPA alumni Virginia Gay is a performer of tremendous versatility, starring in the hit television drama 'Winners and Losers', touring the world as a cabaret artist and sparring with Marieke Hardy as a panellist on 'The Book Club ABC'.
For Virginia, who plays Peg in 'Dusty: The Musical', musicals play a special role in her performing life.
"Musicals make sense to me psychologically; I understand the feeling of feeling so much that you burst into song or just start dancing."
Image © Jeff Busby
"They are a fully realised, 3D way to tell a story."
Anyone who has seen John Travolta and Uma Thurman meet before their evening at Jackrabbit Slims in 'Pulp Fiction' will know the voice of Dusty Springfield, but not everyone will know the story behind that iconic voice.
This was the case for Virginia.
"I knew nothing about Dusty until I saw the original production and she is such an extraordinary figure; she was one of the first people to identify the sound of modern music; [she heard] the sound of African-American voices, RnB and the development of soul in the '60s and said 'that's the sound of the future'; and she didn't take their songs, she didn't appropriate their songs, she said 'I want to bring you to England, I want the world to hear this sound', which I think is just extraordinary, and of course she fell in love with several women in the course of her life."
Image © Jeff Busby
For Dusty, being forced to conceal her sexuality while championing African-American music at the height of the civil rights movement necessarily isolated her from the status-quo of the 1960s.
The revival of 'Dusty: The Musical' places a heavier emphasis on the theme of not belonging than the original production.
"It tells a very universal story and a story that is very important right now; a story of outsiders, a story of people who maybe don't feel like they fit in who find a community with others and of triumphing through that."
Image © Jeff Busby
"It's a totally new production; the only thing we are keeping from the original is the script and even that has been worked over with the original writers; Amy Lehpamer is singing her tits off – which I believe is the technical term; there are 38 songs in the show and she is singing in 34 of them; the wigs, oh my God, come and see the wigs and the frocks alone."
"I have eight [wigs] and I only have about twenty lines in the show so my wig to line ratio is really very high, so I am really very pleased with that."
Springfield's back catalogue occupies at least a few chapters of the Great American Songbook. Virginia didn't realise how extensive Dusty's contribution to the zeitgeist had been.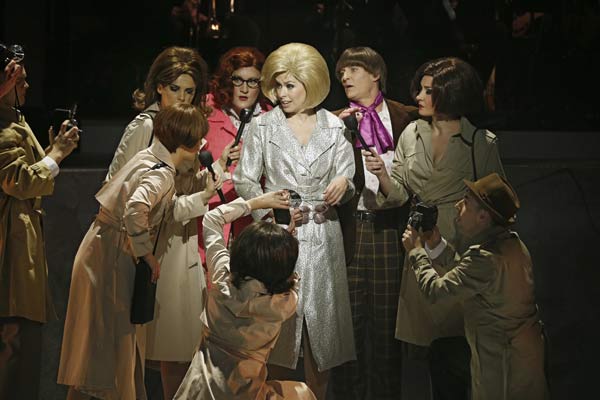 Image © Jeff Busby
"The songs are just so spectacular; it's hit after hit after hit, and everyone in the cast said 'I had no idea Dusty sang this, I had no idea this was one of her hits'."
While she was publicly riding high atop the pop charts, the soul songstress battled privately with demons reminiscent of her modern equivalent, Amy Winehouse. Unlike Amy, however, Dusty was ultimately able to overcome the dark forces that occasionally consumed her.
"She had addiction, she had some real low points in her life and her getting out of them is one of the real triumphs of her story."
It was friendship that helped Dusty navigate beyond the perils of drink and drugs; her friends are represented in the show by Virginia's character Peg and by Todd McKenney's, Rodney.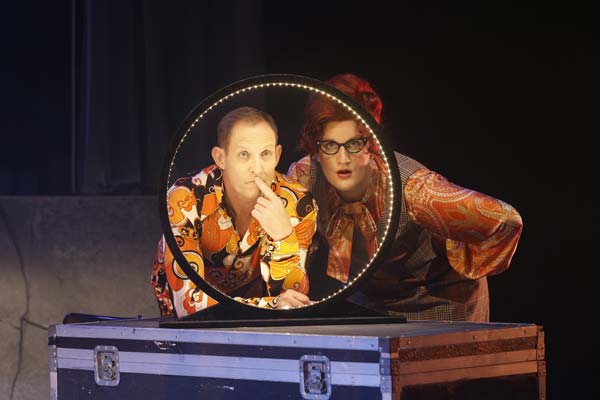 Image © Jeff Busby
"We form a family around her and travel through this 45-year journey; we form her anchors and her home and the thing you rub up against, as of course you always do with your family; we're her constants through this life of extreme highs and lows."
"Todd's heaven, Todd's absolutely glorious. We just vibe off each other. He's a creature of the stage and it's a delight to watch him live."
'Dusty: The Musical' will sing the New Year in style in Adelaide and Virginia has a message for the audience of Adelaide.
"I am hoping Adelaide comes out in droves bearing champagne because I imagine that's what you do if you go and see a show on New Year's Eve, right?
'Dusty: The Musical' plays the Adelaide Festival Centre from 31 December-22 January.