In Jim Cartwright's 'Two', a pair of actors morph into over a dozen different characters before the audience's eyes.
Jim, an award-winning British playwright and screenwriter, was born in the industrial northern city of Lancashire. 'Two' is an examination of British pub culture, and how drinking holes can be melting pots. We speak to the male lead, Marc Clement, about his approach to the role.
In this two-person show, there are 14 characters, which gives you the opportunity to rapidly shift identities. Do you enjoy this and what challenges does it present?
As an actor I relish the opportunity to play multiple characters. My partner (Stefanie Rossi) and I play seven characters each. All the transformations will happen on stage with minimal changes, just one prop each character, such as glasses or a hat. We love this challenge of delivering new identities with just the bare essentials that acting requires as each new persona has their own mannerisms and accent which sets them apart. This show is all about stripping back the unnecessary elements on stage such as elaborate sets and costume. This is all about two actors baring their souls and miming everything with 100 per cent believability.
The work was written during the Thatcher era and is set in the working class north. Do you think the themes of this era still resonate today?
The north/south divide truly became a political issue in the 1980s, reflecting the perception of Margaret Thatcher's economic policies. Because of the economic and political geography of England, decisions to close factories in the north came from the south. Thatcherism allowed the South to get richer at the expense of the north. I think this play touches on these themes to a degree, but at the heart of it this shows that there are good and bad people wherever you go. There was/is a lot of love and tight-knit communities in the north as times are still a little tougher, there is a vibe up north that the south will never understand and vice versa.
The play is set in an English pub. Since you were born England, how important do you think British pub culture is to your homeland?
I don't think there is anywhere in the world where the pub culture is so strong. I went back for a few years from the age of 27-30 and worked as bar manager of a pub in Guildford. It's just what you do and where you go to be with friends and your local pub is like an extension of your family. My regulars had their own tankards on a shelf behind the bar, i would see them enter and have their favourite drink ready on the bar before they start down. A line my character says in the play is so relevant to this way of life: "We had our first drink in here, we courted in here, had our twenty first in here, had our wedding reception in here, now we own the bloody place".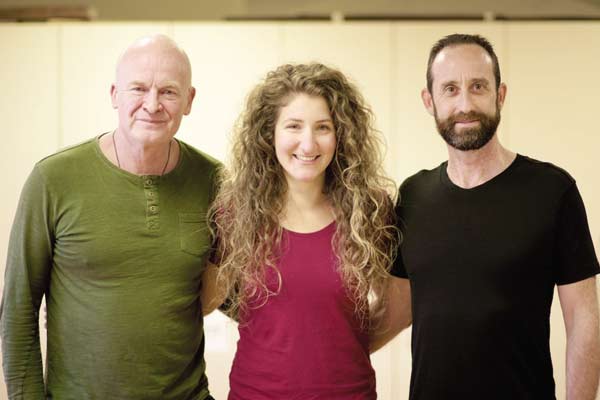 L-R: Tony Knight, Stefanie Rossi, Marc Clement
Jim Cartwright is perhaps best known from his 1998 film, 'Little Voice'. When were you first exposed to his work?
As an actor/writer there are many playwrights that I admire and pieces of work that one wants to do and dream roles that one wants to perform. To be honest I wasn't very familiar with all of his work, I had read 'Bed' and 'Prize Night' but it was director Tony Knight – who my partner Stefanie Rossi and I have recently formed a production company with called 'STARC! Productions' – who suggested 'Two' as he knows how much we both love to character act and thought this was the perfect piece for us. We wanted to do something completely different to our last production which was a psychological cat and mouse thriller. 'Two' is a poignant comedy which touches on the lives of many couples and single people, such as verbal abusive relationships, a couple deeply in love for years, players, an old man who connects with his dead wife spiritually, cheaters and everything in-between. If you have spent a night in any pub you will have met these characters.
'Two', as with your previous show 'Toyer', is taking place at the Bakehouse Theatre. How important is the Bakehouse to the local theatre community?
The Bakehouse Theatre for me is one of the nicest places to perform. It is such an intimate space and the walls have seen and heard every type of performance imaginable. It is run by Peter Green and Pamela Munt who are the most supportive people to work with and are both integral to the great theatre scene we have in Adelaide. Peter first established the Bakehouse Theatre in 1998, taking it over from The Red Shed and re-naming it. Peter is now the Creative Producer and Pamela is the Artistic Director. For those who regularly see shows here, they understand how important the Bakehouse Theatre is to Adelaide and indeed the commitment and love that Peter and Pam have for their continued work and support of local and interstate talent. If you haven't been to this theatre… Do yourself a favour!
'Two' runs from 4-14 July at the Bakehouse Theatre.