No less than four years ago, Writer and Director Aidan Fennessy approached Australian rock musician and You Am I front man Tim Rogers with an offer to buy him a drink, and a proposition.
Aidan wanted to write a musical inspired by Rogers' debut solo album from 1999 'What Rhymes With Cars And Girls', the record centred at the heart of a quirky story about two lovers from different sides of the tracks, brought together by serendipity and a pizza delivery gone awry.
"He sat me down and told me what he wanted to do with the songs; he had dredged this narrative out of it, a very beautiful one, and I said, 'Okay, I'm in'," Tim reveals.
"He passed on the script and asked me to be the Musical Director and I was shocked, shocked and stunned by the playwright. I also enjoyed Aidan's company, which is essential for me to work with someone. I'd like to think that if I didn't like the script, or didn't click with him, that I would have said no and not let my ego take over by thinking, 'ooh, something in theatre'."
'What Rhymes With Cars And Girls' is described as a raw and complex urban romance, a balm for the hardest of hearts and solace for anyone who has ever been in love. Aidan has threaded Tim's composition across the class divide to create a stunning new tale of contemporary love in Australia.
Being based off Tim's debut solo release, an iconic element in his career and an all-round emotionally-rocking record, he says he knew he had to look at the story from a purely objective perspective.
"The characters have nothing to do with me, they're characters from Aidan's imagination. In saying that, the actors Sophie and John have said to me from time to time that they really like the album as a stand-alone, and they're a lot younger than me, so I'm extremely glad they enjoy it," Tim says.
"I've gotten a quite a bit of work out of that album, and I get asked about the songs quite a bit. It was a good experience making it; it was miserable writing it, but wonderful recording it. There's still some lines that make me cringe and I do overdo the e flat major seven chord, but I can forgive myself for those little foibles and be glad for what it's given me, and what it's afforded me."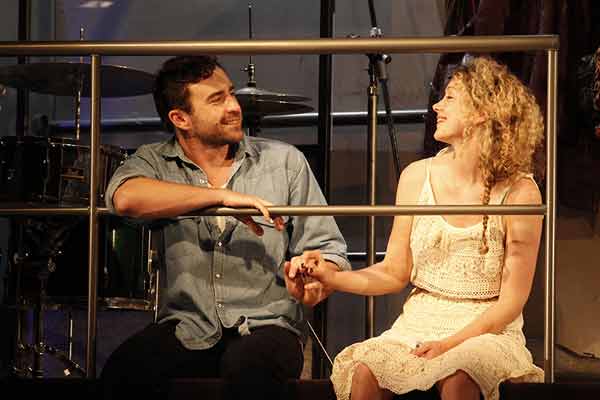 Image © Jeff Busby
It isn't Tim's first foray into musical theatre, the musician having accumulated a bank of experience in several productions, both instrumentally and as an actor over the last few years.
"Theatre talk can kind of bore me at times, but I'll admit, I've learnt quite a lot. It takes time, which annoys me less than it used to, because now, I realise it really does need that work. Time, care, and dedication is required and you know that as soon as that curtain comes up opening night.
"I've been watching John and Sophie perform this play for a long while; the songs aren't mine anymore, they belong to those characters. And I've enjoyed the performance every single night and every single matinee; I was red-eyed at the end each time. That's what theatre can do."
'What Rhymes With Cars And Girls' Dates
11-14 October – Riverside Theatres (Parramatta)25 October-4 November – Brisbane Powerhouse