Three sisters are dealing with the loss of their mother.
Each reacts and copes in their own way, which makes for an interesting mourning period. With the family home up for sale, Candice, Alex and Sydney are left to wrestle with their grief... And each other.
With 'Toast', Maiden Voyage Theatre Company presents a show ringing with harsh realities and a few home truths. Cast member Alison van Reeken tells us more.
First of all, you've been in a huge amount of theatre, film and television. How is 'Toast' different to shows you've done in the past?
It's the first time I've started with a script were the scenes have changed order several times before only recently being finalised! That's been a really fascinating experience. It's a credit to the writing that the work is elastic enough that scenes can be shuffled around. It also highlights the generosity of Liz who is open to her work being man-handled like pizza dough by cast and Director to find the best narrative arc of the play.
Can you compare it to anything you've performed before?
Yes it does remind me of certain work I've done before. It's quite similar to a play I did called 'A Moment on the Lips' by Jonothan Gavin, which is about seven female characters and the ways their live interconnect. Jono writes for 'Offspring' now and 'Toast' has a similar quirkiness.
Image © Marshall Stay
Give us a bit of an insight about 'Toast'. Its tagline is 'grief is weird'…
The tagline could easily be 'life is weird', or 'family are weird', because nothing is predictable really. Mourning is a messy business, being a human is too. 'Toast' puts on the stage some of the craziness that can go on in a family when they lose someone.
Maiden Voyage Theatre Company is all about striving for new works and gender parity. Why do you think these things are important?
Opportunity is important. There can be great frustration at not being heard or not getting the opportunity to be heard. I think women have had generations of that. In theatre making, getting our stuff in front of an audience whether you're a writer, designer or actor is the most valuable learning experience. It's such a 'doing' thing. I think MVTC is supporting this with opportunities to be heard and opportunities to learn.
What kinds of hurdles and issues do the three daughters in the show face, and how are they overcome?
Together they deal with the death of their mum, but they also each have an individual journey. Their mum's death is a catalyst for each of them to face things they normally wouldn't. As a collective they struggle with the challenge of remembering their mum in different ways, or as a different woman to each of them. That can be divisive but also brings you together. And I think that's really common. We've probably all had the experience of remembering an event only to have that weird conversation with someone, often a sibling if you have one, where they have a very different memory of what occurred, and neither is more 'right' than the other. My character is very lonely and has a lot of anger at her mum for past wrongs. One sister, who is adopted, fears losing another family now that the mum is not there to keep them together. And the third sister is not ready to let go and can't understand why the others aren't as attached to mum's Tupperware as she is.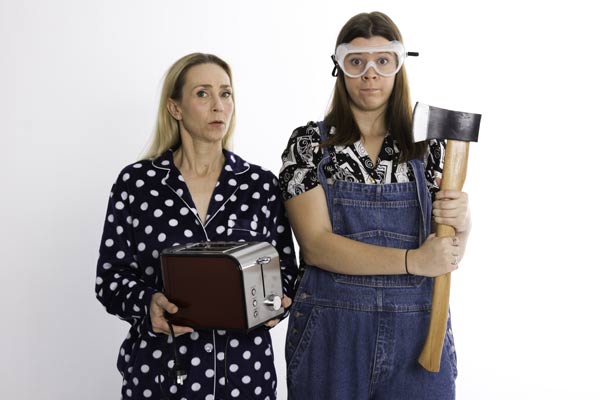 Image © Marshall Stay
Have you drawn on any personal experiences to prepare for 'Toast'?
I have thought a lot about the death of my dad, it would be impossible not to with this script. And I also have an elderly mum who I care for so that feeds into rehearsals. That sounds a bit dreary probably but I promise you it's not! We're hoping for lots of laughter, the kind where you can't help but laugh because you recognise some of your own craziness on stage. How has it been working with the other girls in this cast? Wonderful, everyone is really lovely. That might change when we all get into the very tiny Blue Room dressing room, I'll keep you up to date.
Why do you think a show covering these themes is important?
I read this really interesting article the other day about accepting being 'good enough'. That so much of our energy is spent on the agony of not being perfect. We're not thin enough, sexy enough, famous enough, zen enough, and on and on it goes. I think the play asks you to look at these really flawed characters and see their insecurities and jealousies and fuck ups and let yourself off the hook a little bit. My son wrote this thing at school last year were he had to answer the question 'What is love?' He wrote 'kindness', by himself, without any prompting from myself or his dad. Be kind, peeps, to yourself and others.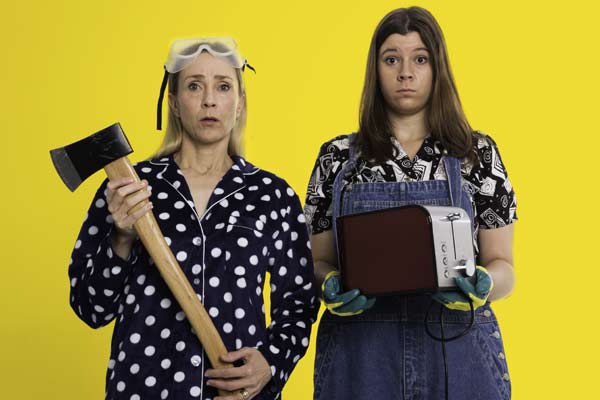 Image © Marshall Stay
What are you most looking forward to in performing this show?
Taking the audience with us on the sisters' journey. And seeing how the new script is received, chatting to people after the show, that's always fun.
'Toast' plays at Blue Room Theatre from 9-27 May.