'The Wives Of Wolfgang' is an upcoming play, described by its producer Kristen Maloney as "dark, sexy and entertaining – it is very much 'The Stepford Wives' meets 'Chicago'".
It follows three women who meet in the wake of mutual lover Wolfgang's death. The play blends cabaret, songs, burlesque and dark comedy to create a female-led performance as part of Wonderland Festival at Brisbane Powerhouse.
'The Wives Of Wolfgang' previously appeared as part of Anywhere Theatre Festival at Holy Trinity Church in 2016, soon followed by a production fundraiser through Pozible, in which the contributors were individually thanked on the play's Facebook page.
Playwright Hannah Belanszky is Playlab's 2017 Young Playwright-in-Residence. "I was compelled to write 'The Wives Of Wolfgang' when, as an actor, I was struggling to find female roles that I really wanted to play. My aim was to create multi-faceted, strong yet flawed female characters – real women who are complex, engaging and highly relatable," she says of the show.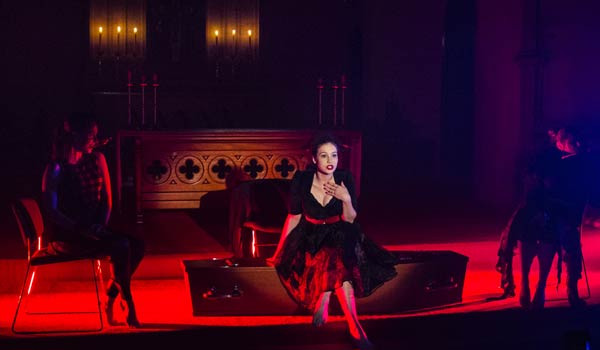 Michael Whittred plays the part of Wolfgang in addition to being the composer of the show's original soundtrack. His previous credits include co-creating independent theatre productions such as 'Leftovers From A Dream', 'Dust Covered Butterfly' and 'Play Dead'. "Writing music for 'The Wives Of Wolfgang' is an utter pleasure for me and I can't wait for audiences to see this beautiful monster come to life," he says.
The three talented actresses of the show are Jessica Kate Ryan, who has performed in 'Bumpy Angels' and 'Cool Britannia'; Caitlin Hill who won Best Actress, Script and Overall Production for her work with Peter Wood on 'Boys Taste Better With Nutella' for Short+Sweet Festival; and the mastermind writer herself, Hannah Belanszky, whose previous acting work includes Best Theatre Production winner 'The Roasting' from the 2015 Short+Sweet Gala Finals.
'The Wives Of Wolfgang' plays at Brisbane Powerhouse 1-3 December.