They're talented, hilariously cheeky and... Naked? That's right; there won't be a top hat or cheesy magic cape in sight when these magicians take to the stage in 'The Naked Magicians'.
After sold-out shows across the globe – including a season on London's infamous West End, Australian-born magicians Christopher Wayne and Mike Tyler are back with their show 'The Naked Magicians'. It is a welcome return home for the pair, who last toured Australia in 2015.
Here, Christopher Wayne from The Naked Magicians gives us the bare facts about the show itself.
Firstly, why perform naked? Take us through the thought process that led to the creation of the show and the decision to literally bare all.
Mike and I were both passionate about making magic as fun as possible, and about making magic something that could be enjoyed by an audience that normally wouldn't go to see magic. During this brainstorming, we realised that even though magic was the second oldest profession ever – nobody had ever made a naughty magic show. So we stepped up and stripped down. The rest is history…
Given your show is called 'The Naked Magicians', does that mean there are no costumes involved at all? Can the audience expect nudity right from the opening act or is it a subtle transition?
No, that would be no fun. Foreplay is important! We do promise that we get fully naked during the show, but we make the audience work for it a little.Think of it like a first date… You're guaranteed some action, but you have to have a drink and a laugh with us first. Technically thats more of a Tinder date.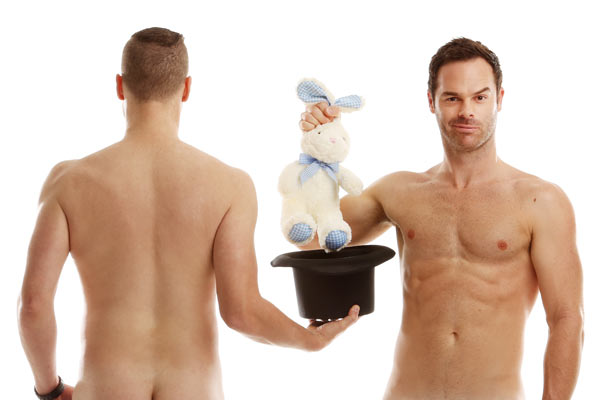 Does being naked affect the types of illusions/magic you can perform? I imagine some acts would be harder to master without being able to hide things in sleeves, pockets or top hats.
We literally had to re-learn how to do a lot of the magic in the show. We want the magic to be as impressive as everything else the audience gets to see – and when you don't have sleeves or pockets, thats quite a hard task (heh - I said "hard").We have a saying now, "Good magicians don't need sleeves, and great magicians don't need pants!"
Can we expect some audience participation?
One of our favourite things about performing in 'The Naked Magicians' is that the show is massively based around audience participation (although we are the only ones require to take our clothes off!). We absolutely love having fun with the people that come to have fun with us. When you come and see our show, don't just expect to be a bystander, expect to be a part of the magic…
In your experience, how does the audience respond to two men performing in their birthday suits? Have you had any funny or awkward moments with audience members while performing this show?
You know, for the most part audiences have been amazing in their reception to our show. We have played this show in nearly every corner of the globe, including more conservative countries. What we have learned, is that it doesn't matter who you are or where you are from – we all have that wicked side inside of us. 'The Naked Magicians' celebrates that wicked side in all of its glory!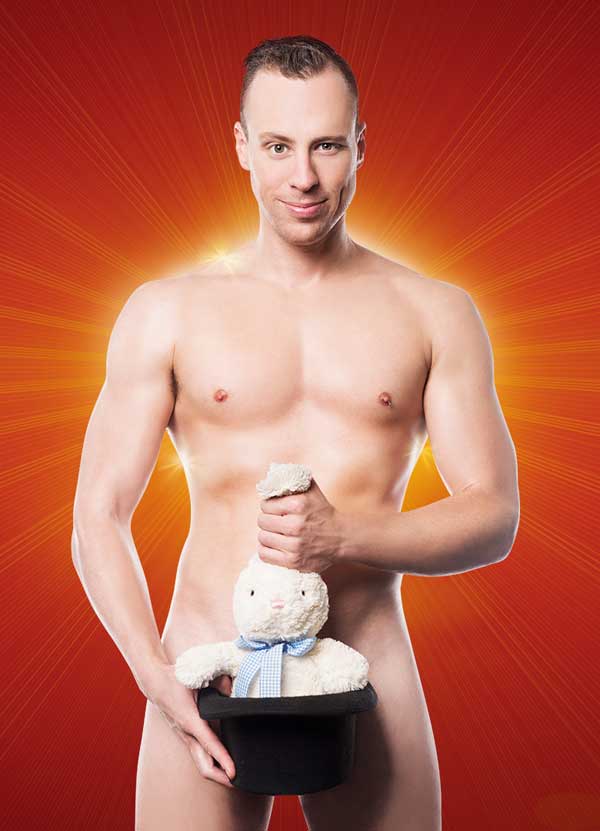 Christopher Wayne
With so many talented performers playing during these festivals, what makes your show stand apart from the rest – other than the blindingly obvious of course.
We are the naughtiest, funniest, and sexiest magic show on the planet. We are the only show in the world like this. We are The Naked Magicians. End of story.
Your tour schedule includes a series of one night only shows interstate but you are performing across two weeks in Adelaide, why did you decide to bring your show to the Adelaide Fringe?
The Adelaide Fringe is a very special place for us! It's where our journey with this show began, with what we thought at the time was just a "cool idea". When we tour, we are playing anywhere from 500-2,000 people a show, but the Adelaide Fringe is one of the few times that we get to return to our roots of performing in an amazing space for an intimate crowd of 300 people.
You last performed in Australia in 2015, how has the show evolved since then? What are some of the differences fans who have seen your previous performances can expect?
Since 2015 we have taken the show to over 250 cities across the globe plus a run on London's West End. We have experienced every high, and every low. Included in that journey is the constant evolution of the show.Now in it's fifth year, the show is funnier, naughtier, and more magical than ever – and of a world class standard that we are exceptionally proud to share with our audiences.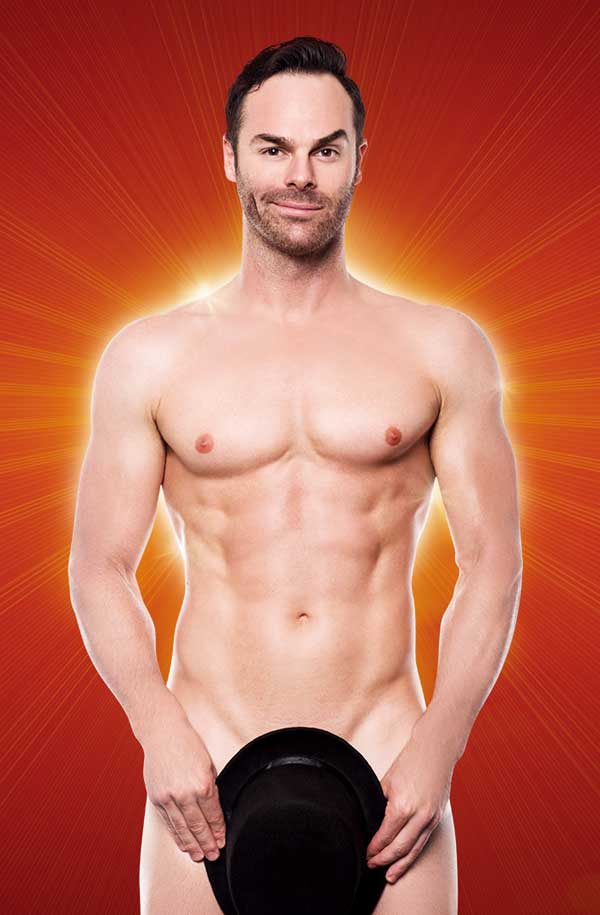 Your partner in crime Mike Tyler boasts an impressive resume of skills including comedy hypnosis and sleight of hand magic, how would you describe your performance style?
Before Mike was my co-star, he was one of my favourite performers to watch live. As for me, I pride myself on having some of the quickest wit around. Before this show I was a stand up comedian and stage magician. We are both very cheeky in real life, and that part of our personality really shines on stage.
Do you have a favourite act in the show? Why is it your favourite?
The finale of our show is my absolute favourite – it's a metaphorical and literal "climax". It's the craziest, most explicit, and truly hilarious moment in ANY show. It leaves people in shock, crying tears of hilarity. The best part of my day is 30 seconds before the finale when I know what we are about to unleash on our unsuspecting audience.
If you could choose three words to describe your show 'The Naked Magicians' what would they be?
Hilarious. Naughty. Magical.
'The Naked Magicians' play Cornucopia at Gluttony (Adelaide Fringe) from 16 February-4 March. Click here for their tour dates for 2018.