Back by popular demand is the musical triumph 'Ladies In Black', which performed to sold-out audiences in Brisbane in 2015.
Adapted from Madeleine St John's 'The Women In Black', the show brings comedy, theatricality and the music of Tim Finn to the forefront.
Cast members Ellen Simpson (Fay) and Sarah Morrison (Lisa) talk about the production.
What is the best part about working on 'Ladies In Black'?
E: The wonderful people I get to spend my time with. Cast, creative, band, management, crew, sound, wigs, wardrobe, producers... Everyone who lends a hand to this show is dedicated and lovely.
S: Working on a new Australian work that is completely homegrown. Equally as thrilling is the opportunity to originate and play a central female character whose main objective is to further her education.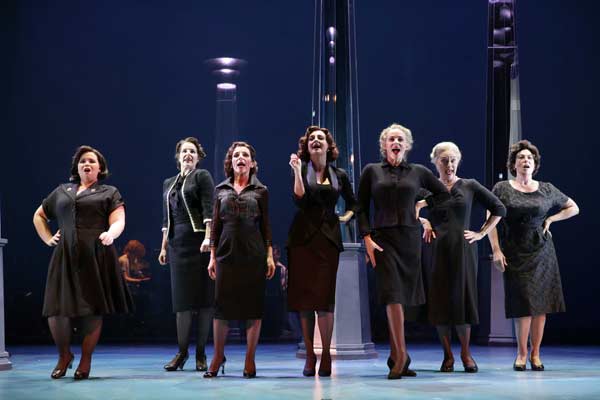 Image © Rob Maccoll
Why are you in this show?
E: Who wouldn't want to be a part of a homegrown, Australasian piece of theatre!?
What are some challenges you face working on 'Ladies In Black'?
E: I have been 'behind the scenes' as a resident director for a year so I guess I find it a challenge to shift back into an actor's headspace.
S: Quick changes! I have so many! It's hard to do up a bra when you're panicking.
Why is it that this musical has come back, in your opinion?
E: People must've really liked it, right?! That, and it only did limited runs in Queensland and Victoria... New South Wales and the old capital city deserve to be equally charmed.
S: Our previous seasons sold out and it's the hottest ticket in town.
How has it been to work with the music of Tim Finn?
E: I'm a kiwi originally and grew up listening to the Finn brothers. It's so lovely to hear melodies that remind me ever so slightly of my homeland. Also... Tim's a genius. So there's that.
S: Tim is a living legend. Singing his songs every night is an honour and pure joy. All we need now is a cast recording so more people can continue to enjoy these brilliant tunes!
Is there something about the show, in your opinion, that really appeals to audiences on a deep level?
E: You can't go past a backyard story. We're holding up a mirror to our society (albeit our society 50 years ago) and people are challenged and charmed by that.
S: I think everyone can relate to having to be brave and courage is subjective so it's different for everyone. Everyone in the show is on the precipice of change and that takes courage, we've all been there and will no doubt be again.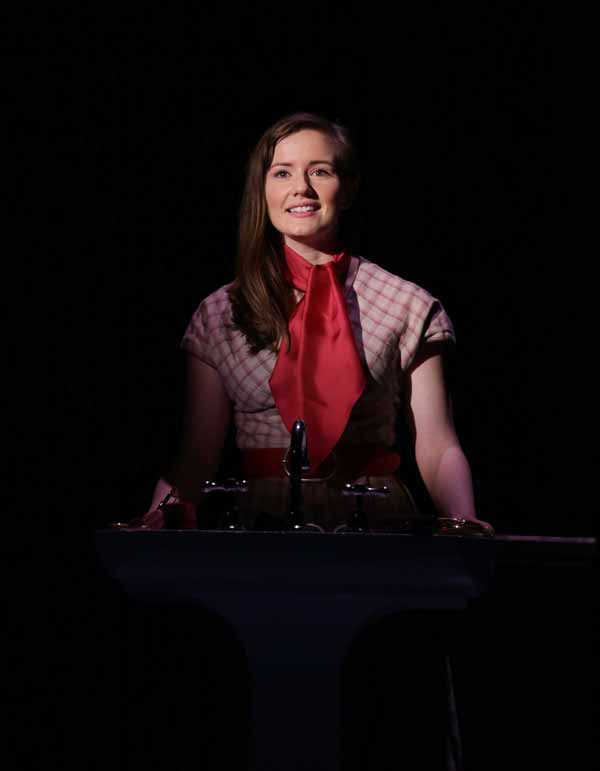 Can you compare the music in 'Ladies In Black' to any other shows you've seen or been in?
E: I was in a musical at 15 called 'The Underwatermelon Man' which was written by a kiwi rocker called Fane Flaws. The intimate and slightly folky nature of our score is very slightly reminiscent of that.
S: I couldn't if I tried! It's incomparable and unique, a true Aussie voice and vernacular unlike anything you've seen before.
What's your favourite song in 'Ladies In Black' and why?
E: So many of Lisa's songs are beautifully nostalgic and wonderfully heartfelt. I like performing 'Kissed A Continental' because it gives me a chance to be a goofy mess.
S: My favourite song is 'Always Be Happy' because it brings a smile to my face every time.
Sell the show to our readers in five words.
E: Quaint. Nostalgic. Heartwarming. Joyful. Funny.
S: Come celebrate new Aussie work!
'Ladies In Black' Australian Tour Dates
3-22 January – Sydney Lyric Theatre28 January-19 February – Queensland Performing Arts Centre25 February-18 March – Regent Theatre (Melbourne)27 March-2 April – Canberra Theatre Centre