This year's Adelaide Fringe Festival is set to be turned on its head with not one, but two side-splitting contemporary circus shows from internationally renowned Melbourne troupe, Head First Acrobats (HFA).
Flip-flop-flying their way back to Australia having spent much of 2016 touring some of the world's biggest festivals, HFA present their award-winning show 'Elixir' and children's comedy 'Arrr We There Yet?!'.
"Basically 'Elixir' is a sexy comedy show and it's very absurd," HFA generalist acrobat Thomas Gorham explains. "It's got everything from zombies to circus scientists and acrobatics; it's a bit obscure and a bit strange. It's a narrative circus show, which means it's got a full storyline from beginning to end and it kind of plays out a bit like an action movie. It's a really good laugh and you're guaranteed to have a good time if you come to see it. It's a very funny show, the drama is tongue-in-cheek; it's a big pisstake."
Where 'Elixir' is a show for the adult crowd, 'Arrr We There Yet?!' is a G-rated, family-friendly affair which Thomas says appeals to both the young, and the young-at-heart.
"'Arrr We There Yet?!' is an acrobatic pantomime," he explains. "It's got a cute story, it's also a pisstake – a lot of the comedy is similar in terms of deliverance and setup – it's just the content. Obviously there's no sexual content. We bill it as a kids show but we often get adults telling us it's the best thing they've ever seen, and they're so happy they came, and they thought it would be some lame pantomime and are so stunned. It's always hilarious to talk to the adults after."
Both 'Elixir' and 'Arrr We There Yet?!' present a contemporary style of circus that blends traditional performance elements such as trapeze, hoop diving and clowning with a cogent storyline.
"I'm pretty passionate about narrative circus," Thomas says. "For a long time in the circus there was a trend that it's not cool at all to have a narrative. Lots of commercially successful shows have been presenting work which is in a style where the audience is left not knowing what the show is about. That's not what circus is about, it's not what anything is about, and that's just poor craftsmanship. I really wanted to make sure narrative circus has a place in the circus world and you can present a full story, and it can be excellent and contestable, and funny and entertaining, and it's still art."
Thomas has a background in breakdancing. His B-Boy skills making him a versatile generalist acrobat who underpins much of the physical action, leaving room for the true star of every circus: the clown.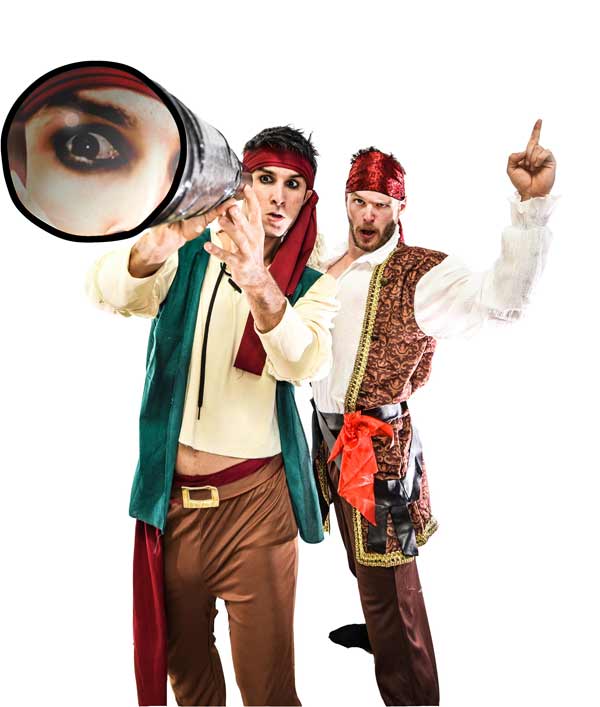 " In 'Elixir' I play a generalist character, so I'm in all the acrobatic acts because my breakdancing background and acrobatic training mean that I can pretty much slot into anything at any time. It's always nice for me when I get to do the punchlines, it feels good, but I understand that for the health of the show it's really important that the clowning character shines in terms of deliverance of the jokes. It's much more important to me to sit back and set up than it is to get in on the fun. I can get in on the fun a few times, but if I get in on the fun all the time it diminishes the other roles."
Head First Acrobats perform 'Elixir' and 'Arrr We There Yet?!' at the Peacock at Gluttony. 'Elixir' runs from 21 February-18 March and 'Arrr We There Yet?' from 25 February-19 March.