A totally original take on 'Hamlet', this performance merges the words of the Bard with snippets of first person reality to create an engaging, thought-provoking and at times gut-wrenching performance.
On the eve of the apocalypse, seven actors get together to perform 'Hamlet'. As you do. The stark, utilitarian set design and grey, ragged but still somehow Shakespearian costumes (by Oscar Clark) are perfect, and used to wonderful effect. From the first moment, the audience is quickly transported to the mood of the apocalypse with a bright flash of light and a screech of sound reminiscent of the monster from 'Lost'. The actors stand at the front of the stage – motionless – and one by one begin to introduce themselves.
This is at the heart of the success of the play. It is very heavy. There is a lot of slow motion and discordant sounds, with some movements perhaps inspired by modern dance. It could take itself very, very seriously and be a bit of a drag.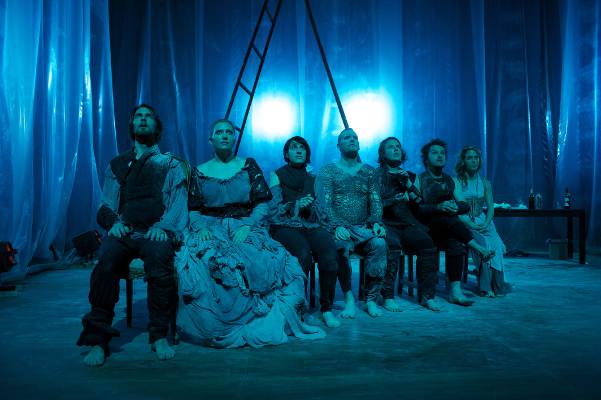 Image © Morgan Roberts
Instead, 'The Hamlet Apocalypse' (directed by Steven Mitchell Wright) breaks the mood with humour and an insight into the actors lives (or, one would hope, the character of the actor they're playing on stage). When the actors introduce themselves, some give very lofty, thespian takes on their characters, others just say they hope the audience likes them. Another, a woman, makes fun of the fact that she has to play two male characters. Not exactly, as she notes, every female actor's dream. The play continues with this dichotomy, and it works very well.
As the performance goes on, the count down to the apocalypse begins. With each step closer to doom (marked by blinding white light, a screech, and the actors saying the next descending number), the characters get more and more hysterical, chugging and spitting wine, or laughing uncontrollably. They switch between their characters and their actor persona, offering a window into their own lives. One describes suicidal thoughts and the yearning for a child and partner, another mourns the loss of love. Hapless Mitch (Mitch Wood), playing Hamlet, proclaims his heart for Nicole (Nicole Harvey), Ophelia, who promptly pretends she didn't hear him. These are particularly touching, or mortifying, moments.
Image © Morgan Roberts
We also see the relationships between the characters, with the domineering Thomas (Thomas Hutchins) giving the other performers notes on their delivery, and making them re-do scenes. They always reply with a rote "Thank you, Thomas!" which gets more and more demented as the count reaches zero.
This was a wrenching experience, but also very beautiful. A knowledge of the original 'Hamlet' helps to find your way through a story rapidly fraying at the seams, but 'Hamlet' itself was not the most interesting story The Danger Ensemble told in this performance.
'The Hamlet Apocalypse' plays at Judith Wright Centre of Contemporary Arts until 19 August.