A group of actors come together to perform Shakespeare's 'Hamlet' on the night the world ends and more is revealed than the twists of the famous play itself.
The Danger Ensemble's 'The Hamlet Apocalypse' is a new take on a classic with darkly funny humour and a countdown to the end of time.
Here, The Danger Ensemble's Co-Director Christopher Beckey pens an open letter about the ten year anniversary of the independent company and an insight into 'The Hamlet Apocalypse'.
"To reflect on a decade's work. To select highlights. It's no easy task. Google 'The Danger Ensemble' and you will find a record of our work – images, videos, interviews, reviews. What can I offer that provides more than that? A personal insight, perhaps?
Hamlet carrying Ophelia through the Apocalypse. Paint smeared across bodies of grief. A dress melting off a young woman's body. Mythical figures on a letter box stage. Bloody footprints on a yellow brick road. A sea of plastic cups and a man wrapped in plastic. Witches dancing in laser light.
It is difficult to select highlights while standing in the storm. I find myself thinking more about magical moments in rehearsal rooms that no-one ever sees. We always create more material – scenes, writing, movement, songs – than is used, which becomes part of the history that each performer carries onto the stage. But it is also part of our history as a company.
I think a lot about the people with whom we have worked. I wish I could list them all. Artists, and what they do, sit at the core of what we do. As do our audiences. We have a reputation for being shocking. We never set out to shock. We always ask our audiences to come with us. Run. Jump. Fly. Just imagine.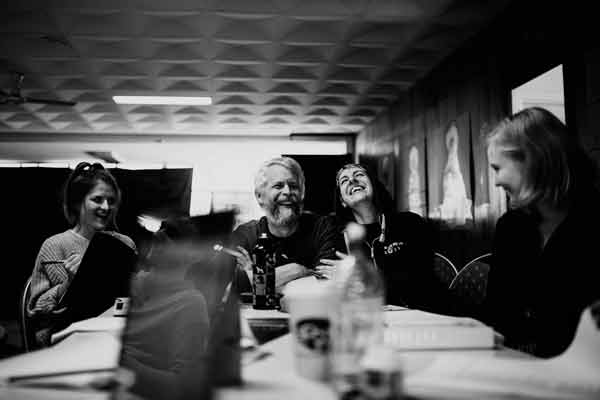 Image © Morgan Roberts
Ten years is a major milestone for an independent theatre company. It's tough to survive out here. That's not a whinge. It's the reality of the situation. I've seen numerous independent companies come and go during my career. Reaching such a milestone has invited us to reflect on our history. And there are big, scary questions that one must face in such a reflection. Do we want to keep on doing this? Is The Danger Ensemble still relevant to us and to our audiences? Nothing is permanent. Our art form is ephemeral. We work in an industry that is known for its difficulty, its transience, its impermanence. When the work is stale or rotten, you have to have the honesty to admit it and the courage to walk away.
While Steven Mitchell Wright, Ben Hughes and I form the core of the company as its directors, The Danger Ensemble is more than the sum of our individual parts. It is a philosophy, a methodology, a provocation. The three of us will continue to both collaborate and work individually outside of the company to create theatre, but when we come together as The Danger Ensemble, the magic is ours. And it must be magic – courageous, transformative, relevant, never boring.
'The Hamlet Apocalypse' is an important part of our history and so it is fitting that it returns to mark this anniversary. As a way to celebrate. As a way of saying thank you to our friends, our collaborators, our supporters, our lovers, our haters. As a way of checking in with what we have done and what we hope to keep on doing for some time still. We hope you join us."
– Christopher Beckey
'The Hamlet Apocalypse' plays Judith Wright Centre from 9-19 August.