The Garden Of Unearthly Delights is the heart of Adelaide Fringe, bringing festival-goers a world-class programme of theatre, dance, circus, comedy, live music and family shows.
The Garden team spend the year travelling the world to find the most inventive and exciting works to present to the Adelaide Fringe audience.
Strut and Fret production house, who brought the sell-out acrobatic cabaret show 'Blanc de Blanc' out in 2017, are back with 'Fun House' a technicolour party for all-ages. Physicist-turned-magician, Kevin Quantum, is back with 'Anti-Gravity' where he defies the laws of gravity and his comedy sketch show 'And For My Next Trick'.
There's also plenty of shows to keep the kids busy like 'Balloonatics', 'Eco Faeries Live', 'Monski Mouse's Baby Disco Dance Hall', 'Mr. Snot Bottom's Stinky Silly Songs' and 'SeaStar Rock'.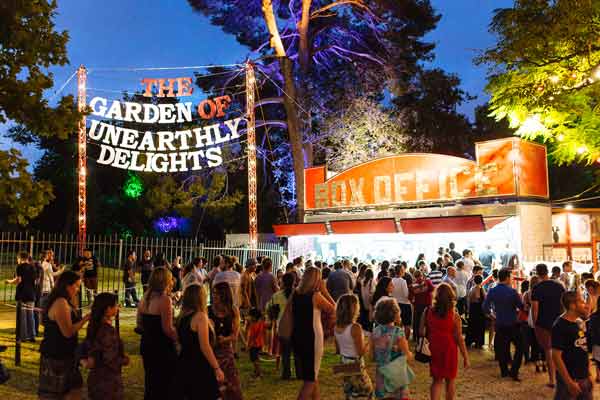 2015 - Image © Andre Castelluci
The Garden Of Unearthly Delights also offers top-quality theatre such as the BAFTA winning, five-star hit of Edinburgh Fringe 'Fleabag', as well as 'Séance'; a fully immersive theatrical experience in complete darkness.
The hilarious 'Puppetry of The Penis' standup is back, alongside Australian comedy superstars like Dave Hughes, Wil Anderson, Harley Breen, Tom Gleeson, Cal Wilson, Heath Franklin's Chopper and Lawrence Mooney.
Comedy keeps going with an appearance from everyone's favourite purple puppet Randy, as well as physical comedians Trygve Wakenshaw and Barnie Duncan who will present their surreal show 'Different Party'. Freestyle genius Abandoman will play out the musical in his mind, and the fully improvised musical 'Baby Wants Candy' is back, bringing a second show called 'Thrones! A Musical Parody' with them.
The Garden's cabaret programme features boundary-pushing shows such as 'YUMMY', 'Bob Downe's 39th Birthday Bash', 'Glittery Clittery: a conSENSUAL Party', Courtney Act's 'Under The Covers' and 'Livvy & Pete: The Songs Of Olivia Newton-John and Peter Allen'
.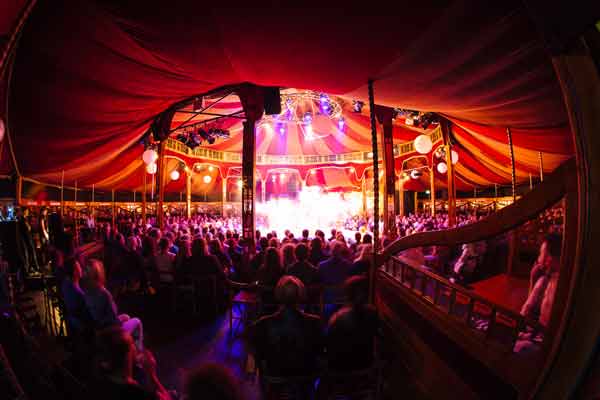 2015 - Image © Andre Castelluci
The Garden presents an incredible music line-up again this year featuring Adelaide-born singing sensation Carla Lippis, romantic dark-folk-country band Tinpan Orange, jazz superstar Emma Pask, 'The Amy Winehouse Show', The Audreys, The Teskey Brothers, The Thin White Ukes, Timberwolf, Too Many Zooz, Underground Lovers and more.
The Garden also puts a focus on showcasing performances by Indigenous Australians. 'The Garden Sessions' continue this year with free concerts each weekend by local indigenous musicians. Djuki Mala are back with their unique part-dance, part-storytelling show, and Gawurra's masterful voice will fill the Spiegeltent for one night only.
Located in the unique surrounds of Rundle Park, The Garden Of Unearthly Delights offers one-of-a-kind performances, tasty food, delicious drinks, market surprises and sideshow delights. More than 750,000 people visit The Garden every season and its popularity continues to grow every year.
The Garden Of Unearthly Delights comes alive from 15 February-18 March at Rundle Park.