Shaun Tan's groundbreaking wordless graphic novel 'The Arrival' comes to life with puppets in the stunning and moving production from Spare Parts Puppet Theatre.
Part animation, part puppetry, South African performer Ellis Pearson describes the show as a simple story of belonging recreated in an extraordinary way that challenges viewers to think about their place in the world, their spirituality, and how they connect with other people.
"The show is really about a refugee who leaves his country because there's danger there, and he goes to a new country to try and find a life for him and his family," Ellis says. "He has to find work, he has to find a place to stay, so the story of 'The Arrival' is very simple. And it's got my story in it, in a way. Although many people immigrate due to varying degrees of urgency or need, and we have the refugee crisis in the world now. I think young people can be drawn into it in a nice way, and not a difficult or distorted way. It's really lovely."
Image © JWyld
Ellis says he never dreamed of being in theatre, especially after the issues he faced during apartheid. However, after moving to Australia with his family, his performance has become a spiritual practice rather than just entertainment. "It's a way of being, of exploring life through the medium of performance and imagery and movement and using the body, using your imagination, those kinds of things. It's first and foremost a way of connecting with other human beings as well as nature. A lot of the theatre that we've done over the years has been involved with Africa, being with animals and studying them… And that aspect for me has become more important, especially for this show. The way we live in the world, the way we connect… There's a lot of philosophical issues that interest me."
Image © Rebecca Mansell
What makes 'The Arrival' unique is the use of non-verbal communication, which Ellis says bypasses the inherent and accepted concepts, ideas, and cultural norms within society. "We get offended by others who have different concepts, but it all comes down to the ongoing journey of thinking and contextualising yourself. 'The Arrival' uses other forms of communication, other languages, both physical and emotional.
"My character Archie… Is a universal name. It can be Arabic, or Christian, or Western. His wife and daughter leave and they're unsure of what's going to happen. He goes through a lot of experiences more people do… When you go to a different country, a different culture. In the show, the audience gets the feeling of what the characters go through, as Archie just doesn't understand the language people speak. He has to relate to people on a different basis. As an actor, I like to use my whole body, use space more, so I really enjoyed exploring that aspect of Archie."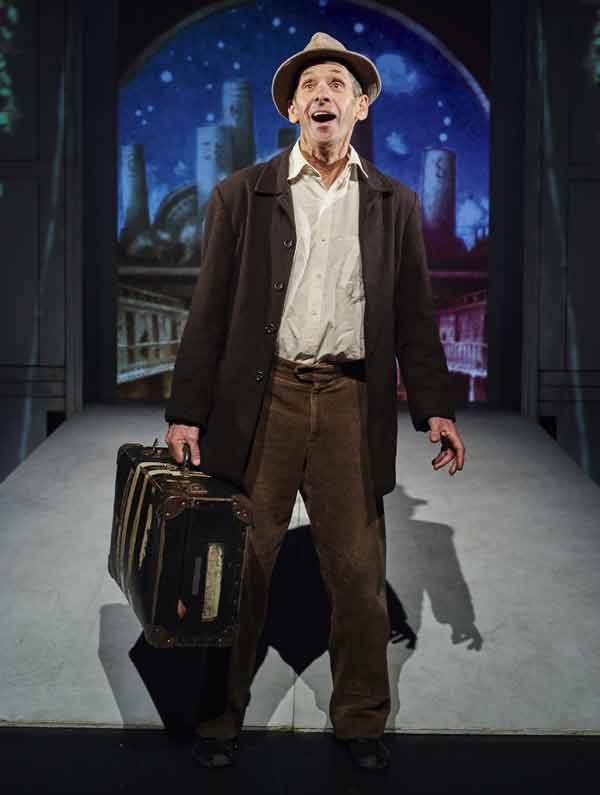 Image © Rebecca Mansell
Ellis hopes the show will teach viewers about other cultures and is positive now is the perfect time for children and adults alike to experience the incredibly moving performance. "Think of coming to Australia, how hard it must be, and Australia's decision to take in people or not. That's a huge thing in the world now. The show encourages people to be more compassionate with people from other places, other cultures. It really is an amazing experience."
'The Arrival' Tour Dates
27-30 September – The Street Theatre (Canberra)7 October – Redland Performing Arts Centre12-14 October – Arts Centre Gold Coast17-18 October – Brisbane Powerhouse20-21 October – Empire Theatre (Toowoomba)