It's been described as a guilty pleasure, a theatrical treat, a romantic comedy that will leave an audience smiling and satisfied.
The Belvoir St Theatre in Sydney will be presenting 'The Dog/The Cat' once again, and they are said to collectively be one hilarious theatre production about friendship, romance and sometimes testing relationships between owners and their pets.
Benedict Hardie who performed in 'The Drover's Wife' last year at the Belvoir Street Theatre, will return again cast as Marcus in 'The Dog' by Brendan Cowell and Albert in 'The Cat' by Lally Katz.
"As a whole show together to do it's a whole lot of fun for me to do, much more fun than shows you normally get to do in the theatre where you're often dealing with dark heavy material," Benedict says. "For an actor it's so much fun to get so much positivity back from the audience… You go out and you play the dramatic moments, you play the comedic moments, but you end up getting so much good feedback from the audience and that positive energy means it's just so much fun."
Image © Brett Boardman
In Brendan Cowell's 'The Dog', the story is about a struggling writer in his 30s named Ben, who is played by Xavier Samuel. In an off-leash park, he meets Miracle (played by Andrea Demetriades), a university lecturer. Sparks fly and there's chemistry between the two that starts to develop. Their dogs Jerry Seinfeld and Lola also like each other a lot and when animal instincts start to take over, they start humping in the park.
It's soon revealed that Miracle has met Jerry Seinfeld before when Ben's flat mate and former best friend Marcus (played by Benedict Hardie) was walking the canine. The drama of the love triangle begins, and it's a mystery who she will choose, or if she will choose at all.
The second play 'The Cat', by Lally Katz, has a different kind of love story, with new characters Alex (played by Andrea Demetriades) and Albert (played by Benedict) going through the final stages of their divorce proceedings.
Image © Brett Boardman
Not only do they face the emotional challenge of separation and moving out of the home they shared as a married couple, but they also realise that there is one thing that hadn't crossed their mind, who will have custody or take care of Samuel, their cat.
Albert and Alex eventually move on with their lives finding love again, but Samuel isn't too happy that his adopted parents have split up and decides to get some inspiration from the movie 'Parent Trap'.
There's a few surprises in both plays that you'll have to experience once you've secured your seat. Benedict says he's more than excited to be back at Belvoir once more and back on stage with a live audience to entertain.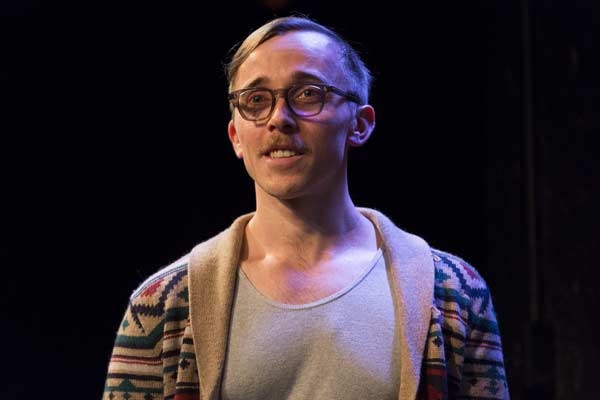 Image © Brett Boardman
"I do enjoy performing in front of a live audience because it's an immediate response mechanism… On film it's a funny thing where you do your work but you don't actually see the result of it and audiences don't actually get to access it for about a year or so depending on how long the post production takes, but on stage it is absolutely immediate," Benedict says.
"You can get sort of religious and spiritual about it if you want to, you're in a room full of people that are all breathing the same air and we're all here and we're all focusing our energy on the one spot and watching something that only happens in that exact way one time only and then it disappears… When you act on stage in front of a live audience there's a magical alchemy that happens, and as an actor there's no greater feeling."
'The Dog/The Cat' plays The Belvoir St Theatre from 13 April-7 May.